4 Corners Alliance Group is a matrix system at its best.
I decided to review this system because they make it seem like it is so easy to earn money from their system.
4 Corners Alliance Group or Four Corners Alliance Group is an old Matrix scam that looks pretty simple to do.
I reviewed similar ones. These systems are complicated to make big money as they claim.
When I watched a video that explained how it works, it seemed easy and rewarding, but the reality is, it's not.
Let me tell you why it is a mess before you start getting people into a slew of a mess.
Specs About 4 Corners Alliance Group
---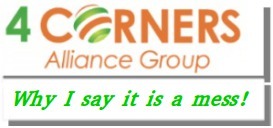 Product Name: 4 Corners Alliance Group
Year: 2013
Free Access: No
Price: Starts at $18
Website URL: 4cornersalliancegroup.com
BeginAtZero.com Overall Rating: 2/10
---
The Rundown
What Is 4 Corners Alliance Group?
It's an MLM or Matrix business.
How does it work?
4 Corners Alliance Group is a 4 X 6 Matrix system. You pay $18. $8 goes to an administration fee and the $10 goes into the Matrix system.
What you get is some digital product at each level. How it works is by finding 4 people willing to pay $18, then you will earn a commission and move up to the next level.
How much does it cost?
$18 investment
$29.95 a month newsletter commissions
$10 a month product volume commissions
Who can join?
Globally
18 years or older.
My Take
Like I said prior, I've reviewed similar messes that claim with a small investment, someone can make some big money.
It's just a matter of finding people who are willing to invest. I did a review on Feeder Matrix and another one called AndThanks2U.
Those systems are very similar.
If these types of the system really worked, wouldn't everyone be doing it?
I know people don't because it's more or less a Ponzi scheme.
Those systems like to add a product, but the bottom line is that people don't want the product.
What they want is money.
To get that money, you gotta recruit people into their system who are willing to pay.
What Are 4 Corners Alliance Group 5 Income Streams?
---
4CAG has five streams of income.
I noticed that most of the members who were presenting people with a comp plan used the most straightforward comp plan system.
The most straightforward system is the one that makes the most sense to people and the reason why people tend to join them.
4CAG List of income potentials
Instant Commissions
Sponsor 100% Commissions
Monthly Newsletter Commissions
Sponsors 100% Newsletter Match Commissions
Retail Commissions
I noticed with 4CAG one of the messes I came across is the qualifications up-sells they have.
They have a $29.95 Newsletter Commissions that you have to pay on a monthly basis.
Another commission is the Retail Commission.
You would have to pay a monthly fee of $10 or sell a product volume of at least $10 to receive your commissions on this earning potential.
First Mess It Seems Easy
---
If the Matrix system is something you just discovered, you're probably thinking wow! I just won the lottery. I mean 4CAG shows some big dollars. I myself like dollars too! We all want big dollars, but big dollars take work, time, and patience.
They even show the math that seems to make sense. With just a whopping $18 investment, you can be making some big money.
The concept is pretty simple. If you're familiar with any pyramid or matrix scheme all you have to do is recruit 4 people into the system who are willing to pay $18. Once they pay the $18, they are in the game. All they have to do is get 4 other people. This brings me to the next mess.
Second Mess Comp Plan
---
When you come across something like this, as I experienced. It's very enticing. I understand how you feel. They show a presentation of the earnings you can make, but that's all that is. It's a scenario of what-ifs with the potential money you can make.
I'm being honest here, and I want you to understand the reality of things. Usually, they like to explain how easy it is to find 4 people. It Sounds easy, but is it really? This brings me to the next mess.
Third Mess They Say It's Only $18
---
Yes, it is only $18, but if you were to get others into the system, you do have to reinvest some of the earnings you made to get to the next level.
So that potential money you just made automatically goes back into the system until you're able to get more people in. If you don't, that money just sits there. Which brings me to the next mess!
Fourth Mess The Team
---
Most of the time these MLM and Matrix system you need to be on a good team in order to generate anything. If you're on the wrong team with a bunch of people sitting on their you know what, you won't be making a dime.
Even though that $18 investment wouldn't put you into the poor house, the time you spent trying to build an income with a bunch of lazy A**** is enough to piss anyone off. One person can only find so many people. I don't mean to sound harsh here, but that's the truth.
Usually, what happens is, someone will put their full efforts in the beginning, then as time goes by, most likely they will be watching their favorite shows on TV, playing Candy Crush, or looking for the next big thing. Then you have a bunch of inactive people that will count their $18 as a loss. You will end up on a Dud Matrix Team. Which brings me to the next mess!
Fifth Mess More Potential Ways
---
Usually, when people get involved in these MLM businesses, they start with the easiest way to make money and they don't tell you about all these other potentials.
For $29.95 a month, there's another potential way to earn more money yep, it's up-sells. The product you will have to buy is newsletters. You will be selling these newsletters to other people in the Matrix system.
Yes, those Vogue or Sports Illustrated magazines are a lot less than these monthly newsletters you will be paying for.
Some people will end up paying a monthly fee of $29.95. If they decide to do the other up-sell which is the Retail Commissions that could be an additional $10 a month. Now someone may be spending $39.95 a month. They may not make any commissions on these up-sells.
I'm pretty sure most people really don't want these other earning potentials until they see some real money coming through the first earning potential. I sure as heck wouldn't want to pay more money until I see some money coming in. That's what I suggest people do. Which brings me to reality.
The Reality
---
---
The reality is that it's really difficult to earn the income potential that these systems claim. Even 4CAG says it in their earnings disclaimer.
I wanted to point this out to you because if you look at the presentation, it seems fantastic, it seems logical, and it seems attainable until you get involved. I've been in the MLM industry and know how difficult building a downline is.
People, in general, will question the legal aspect of these systems. Most people just don't want to get involved.
Even though a simple $18 seems reasonable, the reality is, it seems like more work. When people keep hearing those NO's, they will count their $18 as a loss.
Is There A Way To Make Money From Home?
---
Of course, if you really want to build your own business and generate income from home, you gotta get your OWN website. That's where it all begins.
It doesn't begin with building some other company's business. Build your OWN business. To do that, I would suggest you check out My #1 Heroic Site. They will give you lessons on how to get started and the process of generating income from your own website.
Many people are doing it including myself. I'm not going to sugar coat anything, No, there are no millions in three days, it takes time, work, and effort. You can check them out for free. You get 10 free lessons, a website, and hosting. This will give you an idea if this is the route you want to take.
All In All
I understand I may sound a little harsh on this review. It's just that a lot of these MLM and Matrix systems make it seem so easy to do, when it turns out, you will be wasting your time and money.
Building your own business is where the reality is. If you look at any company that is generating a substantial income, they built their own business. If that's what you want to do, then I suggest you check My #1 Heroic Site.
What is your take about 4 Corners Alliance Group, Tweet me @evelynbaz!
Looking For Ways To Earn From Home?
Check out a list of opportunities!
There are many ways you can earn from home. In this list, you can find other options that can help you make money online. Each opportunity is either earn some extra coins, find work, or start a business. Click the button below to see if any of these options fit your needs.

We earn a commission if you click this link and make a purchase at no additional cost to you.