When I landed on the 5 Figure Day site, it didn't have a lot of content on there.
I listen to what Brian Winters had to say in his video.
He told his life story.
He also indicated how you can make money with his product and services.
What stood out for me was this list you can build and fresh new website of your own each month.
I'm like wow, a new website each month.
I thought, what kind of website am I getting to build a list? What will I be doing to generate me a 5 figure income?
I just had to review this product and learn more about it.
I'm sure there are red flags because most of the time when I come across a site that just asks for your email address and not much content, it's most likely not FREE and it's not as simple as it seems.
Specs About 5 Figure Day
---

Product Name: 5 Figure Day
Year: 2012
Free Access: No
Price: Starts At $27
Website URL: 5figureday.com
BeginAtZero.com Overall Rating: 3/10
---
The Rundown
What is 5 Figure Day aka 5FD?
It's a list building system.
How Does it work?
You promote 5FD ( Five Figure Day) through free and paid advertising.
How much does it cost?
If you decide to become a paying member your first month is at a discounted rate of $1.00.
Affiliates – Free
Basic – $27 a month
Premium – $97 a month
Who can join?
My Take
When I saw enter your best email address, that was a red flag.
This tells me right there that I may be spammed with a ton of stuff that I don't want.
I've stated before, I'm not against email marketing, but I'm curious about how these types of services obtain their list.
When I listen to Brian say how people get their list. It sounded a little spammy to me.
Let's get into 5FD and get into their business model.
What Is 5 Figure Day Unleashed
---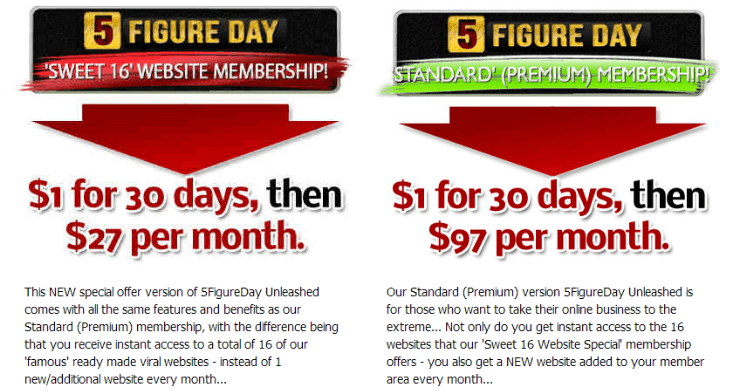 It's a list building service. You can promote 5FD as an affiliate for free or become a paying member for $27 or $97 a month.
Affiliates
---
As an affiliate, you get free promotional tools. What you do is sign up for a ClickBank account and add your affiliate links to the tools they give you on 5FD's website.
You can make a 50% commission on anyone who wants to purchase 5FD's memberships. You're able to build a list with the free promotional tools 5FD offers.
$27 A Month Membership
---
For $27 a month, the only difference from the affiliate program is that you get 16 viral websites. The members that sign up through your link you will get to add to your list plus the leads they get.
$97 A Month Membership
---
Their premium membership is $97 a month. The biggest difference is, you get a new viral website each month, plus of course everything that a free affiliate and the $27 a month member gets.
5FD Promotional Tools
---
Banner Ads
Solo Ads
Landing Pages
Viral Websites
Free Promotional Training
The good part about 5FD is that they do provide you with free information on how to get traffic to build your list.
These ways are what everyone else is probably going to do to promote 5FD. The way they have you promote their products is similar to 10 Dollar Miracle.
You do have to do your duty by promoting 5FD to obtain an income. These viral websites and promotional products are not going to rank at the top of the search engines.
---
Viral Websites
---
These so-called monthly viral websites may be great for Brian because everyone is promoting his viral websites. I'm sure these viral websites will not be going viral for you.
Everyone will get the same info on these sites, so the engines look at them as duplicated content.
This is why Brian has people promoting them through paid traffic or places like Facebook.
The List
---
What is a list though? I mean I can make a list. I have a list of movies, a grocery list, a list of family members birthdays, and so on.
All kidding aside, when I learned how people obtain a list through 5FD, I was not impressed at all. So if I'm one of the paying members, I get the list of everyone who I signed up through my affiliate link. Meaning, their list is my list.
We all will be spamming people with the same list. Not only that, did you think about Brian Winters? I'm sure he has the master list of every Affiliate, Basic, and Premium Members.
I know he didn't say that, but if I can have my opt-in's list, why wouldn't Brian have everyone's list?
If You Decide 5 Figure Day Is The One
---
If you decide that 5FD is the one for you, I highly suggest you start off as an affiliate. I suggest being an affiliate because of the way you will be marketing 5FD. Not only that, but you could also end up spending a lot of money through paying traffic.
If you're thinking about becoming a paying member to get these viral websites, you're going to have to market them the same way you would as an affiliate.
Why spend your money if this way you can find out for sure if this system is going to work. You still will be able to build a list, even though, the person who you signed up through will have the same list as you.
One More Tidbit
---
In the video, Brain said his return rate was low through ClickBank. Which is really good!
I also want you to understand that maybe the return rate is so low is because everyone who is promoting 5FD is Affiliates and not paying members. What I'm getting at is, what is there to return if people don't pay for a product.
All In All
If you feel 5FD is the one that will make you the 5 figure income you've been looking for, then, by all means, go try it. I suggest you try it as an affiliate first and see if it's worth making an investment.
If you would like to learn how to build a website and not one of those duplicate content kind, then I highly suggest you check out My #1 Heroic Site.
You can check out their FREE membership and see if it's the pathway you'd like to take. Read my review here.
What is your take about 5 Figure Day Unleashed, Tweet me @evelynbaz!

We earn a commission if you click this link and make a purchase at no additional cost to you.