Hello, My name is Evelyn a mother of two teenage children, a lovely daughter, and a son with special needs.
I enjoy watching shows such as Shark Tank, Project Runway, Master Chef, and Top Chef are just a few of my shows.
I love to read books and spend time on the Internet learning new things.
I also enjoy spending time with my children and love watching them blossom into young adults.
About My Family
---
My children are very special to me. I'm a widow and it's been hard to watch my children grow without there father.
In the image below these are my children who are growing into young adults.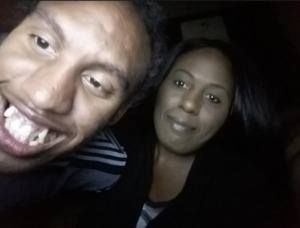 As they get older, it's a new level of a relationship that I have made with them.
As you can see, in the first image, my son is cheesing very big.
He loves taking pictures and despite the fact that he can't wear braces due to his autism.

He has no shame about his teeth and I love that about him, that is my boy right there!
The second image is when my daughter was around 10 years old.
She likes this picture so I decided to add this one with me and her imitating each other.
The Lessons I Learned In The Online World
I have an entrepreneurial spirit and since I have a child with special needs, I figured I would venture out into the online world and see if I could put my entrepreneurial spirit into good use.
When I ventured into the Internet world, I found out quickly that there were a lot of business opportunities and information out there.
I tried a few businesses and I lost money with businesses claiming I could make money with them.
It was hard to find help. When I Google something I got more of the same, a bunch of scams.
Even though I didn't succeed yet, what I did is took a step back and did some research.
It became time-consuming and I found out that the good reviews and the bad reviews are sometimes fake.
So who do I trust online when there is so much "money-making drama" out there?
The first lesson I learned, if it is fast, quick, and easy, don't even think about it, click it off.
I knew there were people out there making real legitimate money online.
I just had to find that right anything and I did.
I came across someone who I now call my mentors.
His website has great information and everything was free to join.
I did my research even though it was free, Lol, I took the plunge and things turned around for me.
Why I Want To Help People Make Money Online!
---
I know there are others like me out there looking for the right resources.
I feel for people who lost their money and time on scams.
My goal is to help others out there who experienced the "money-making drama" as I did.
I put time and effort into what I'm doing and each day I do that, I get to help others out there find what they are looking for.
I hope I can help you, as I know it is overwhelming out there in the Wild Wild West.
What Is My Goal With Begin At Zero.com
---
Okay, when I started my website BeginAtZero.com, as I said earlier, I too tried other opportunities online.
I named my website BeginAtZero because I knew I was starting all over again.
At the beginning of anything you do, it begins at zero and the slate is clean.
My goal with my website is to help you find information, strategies, and business opportunities that will help you achieve your goals.
Again, my name is Evelyn and I look forward to helping you reach your goals to become your own hero.
If you have any questions, leave a reply below.
You can also email me at evelyn@beginatzero.com or contact me on my website.
Blessings,
Evelyn
beginatzero.com