Have you read your emails and noticed a survey that says you can get an Amazon Gift Card worth $50 or more?
I've gotten quite a few emails and thought I'd give you the rundown of why you should be cautious.
I know that these Amazon potential gift card rewards are quite appealing; however, what seems appealing could lead to a not so attractive deal.
So let's dive right into what is going on with these Amazon email gift card scams.
What Was The Survey About?
---
I noticed when I clicked on the link there were several surveys that came up.
One was a series of questions about Amazon. They asked questions like:
Gender
How Often you shop at Amazon
Special offers from Amazon
Experience at Amazon
Do you have an Amazon Prime Account
The device you use to shop online
Where are you at
These questions really don't matter how you answer because the whole goal is to get you to the offers that they want you to take a look at.
What's In The Offer Page?
---
Once you reach the offer pages, what was displayed are a number of products that say you can get a great deal and your first payment is a low shipping fee.
The offers I saw were mainly products like: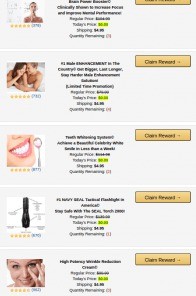 Anti-aging
Male skin cream
Weight loss kit
Male Enhancement
Hair Growth
Brainpower booster
Testosterone Booster
iPad (not in stock)
When I examine these products it seemed to me they were targeting people who are little riper in age.
If you look at the list above, I'm not that young either.
I could see a number of people who I personally know that may find value with these products and on top of that those low shipping fees are a temptation.
The Ways They Get People To Try These Offers
---
Most of the time offers like these will come through your email, but the way they get you in is by using some clever marketing tactics.
I've seen a number of ways that they try to get people to pay those low shipping fees, it could be by:
Surveys
Gift Cards
Credit Cards
Coupons
Credit Scores
If you look at this list above, it appears that it could benefit you. This is why people tend to check out what is going on.
If You Think About It
---
People are in business to make money. Sometimes you have to sift through what is really going on when you see a deal that is practically for free.
Most of us are cautious though. We tend to have our guard up when we see something too good to be true. However, offers are offers no matter how they try to mask what they are doing.
If it is something that looks beneficial to you such as a $200 gift card, people may be inclined to pay that low shipping fee because they feel that they are getting ahead and making more than $180 and on top of that receiving a product that may benefit them.
Why You Should Be Cautious Regarding Offers
---
If you're not careful and don't read the fine print that these offers make, what seems to benefit you turns out to benefit the company.
What seems like a shampoo that can make your hair nice, thick and full, will end up costing you nearly $70 a month.
Not only that, but some of these offers will also bill you on a monthly basis and you may not even receive the product on a monthly basis.
You're looking around $70 or more a month for a product that is probably not equal to those Salon hair products that you would buy at your Salon shop as you need.
If you read the little print, you will have to return the product before 30 days are up, and on top of that, you paid shipping for nothing.
If You Are Tempted
---
Of course, you should take the time to read the fine print before you order anything when you decide to try an offer. Each product offer has different disclaimers, but the similarities are those monthly fees.
If you read the fine print in this one, you will notice that you have 14 days to cancel.
As you can see they state right there that you will be billed almost $94.97 on a monthly basis until you cancel.
How Do You Get The Gift Card?
---
I looked and I didn't see anywhere that I have a chance at obtaining a gift card worth any money of any kind.
At least with the review, I did about the Facebook survey, people had a way to try and get their gift card or any reward.
As for this one, it was an email, and from there a survey and from there offers.
The offer page did explain their terms if you take the time to read the fine print.
The only fine print I found within the survey was this one.
If you noticed in that disclaimer they talked about consumer-response.info.
What I did is a Google search and was hoping to find out where and how the rewards work. But instead, I have seen a number of results in Google that show how to remove the consumer-response.info virus.
---
---
You can go look it up yourself.
I'm calling this one a scam because, from my research, I didn't find any rewards at all for any gift cards.
On top of that, if you're not a satisfied customer, some offers require you to send back the product you tried and you lose out on the product, the shipping fee, and in my book those offers are overpriced.
All In All
In my book, this is another way for a business owner to make money.
I feel that it could be a little misleading especially for those who don't take the time to read the fine print.
When you see a deal that is too good to be true, in reality, it is. Offers are offers and they usually come with high charges, shipping fees, and sometimes they require you to return the product, and yet, you still paid a shipping fee for nothing.
Please stay safe.
What is your take about Amazon Email Gift Card Scam, Tweet me @evelynbaz!
Looking For Ways To Earn From Home?
Check out a list of opportunities!
There are many ways you can earn from home. In this list, you can find other options that can help you make money online. Each opportunity is either earn some extra coins, find work, or start a business. Click the button below to see if any of these options fit your needs.