When you're looking for a job online, no one wants to get misled.
I understand why people love data entry jobs, and a lot of people look for those types of jobs.
So when people see a promising data entry job listing that is a work from home opportunity, I'm sure it grabs a lot of people's attention.
In This AolEDirect.com review, I'm going to show you why it is a misleading job.
Specs About AolEDirect
---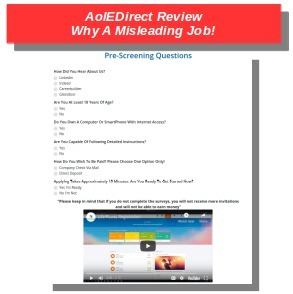 Product Name: AolEDirect
Year: 2019
Free Access: Yes
Price: Free
Website URL: aoledirect.com
BeginAtZero.com Overall Rating: 1/10
---
My Take
At various times of my life, I got misled by jobs online. Finding jobs from home is a task.
There is always something that never fits. It could be,
Location
Equipment
Special qualifications
Internet speed
Not hiring at this time
Not a real job
No-one contacts you
It can get frustrating, especially when there are so-called "jobs" that mislead people that it is a job.
That is the case with AolEDirect. I'm going to cover all the misleading info I uncovered.
I Like To Start With The Job Listing
---
---
I always like to cover the job listing first because that is what entices people to move forward.
People are looking for an opportunity to work from home, and when they finally find something that seems promising, it is not what it seems.
In the image above, I already knew it's another way to get people to complete surveys.
If you don't know this already when you read a job listing, you will learn in their job listing these telltale signs it's completing surveys.
What I'm going to do is list the survey masking words.
Data Entry Work
Panelist program
Sharing opinions
Surveys
Help shape the marketplace
Get to see products before the general public
Participate in testing
Shape the marketplace
There are people out there who have never participated in any surveys online.
So these words they list isn't a red flag for them, whereas people who are familiar with completing surveys will know that the job listing is a misleading ad.
Okay, I know the word survey is a visible word. But for people who are unfamiliar with completing surveys, it probably wouldn't phase them.
Another enticing part of the job listing that may get people to apply is the pay rate. $20 to $28 per hour will raise eyebrows.
As you can see in the image above, right under the pay is where they direct you to apply, and that is AolEDirect.
What Is AolEDirect?
---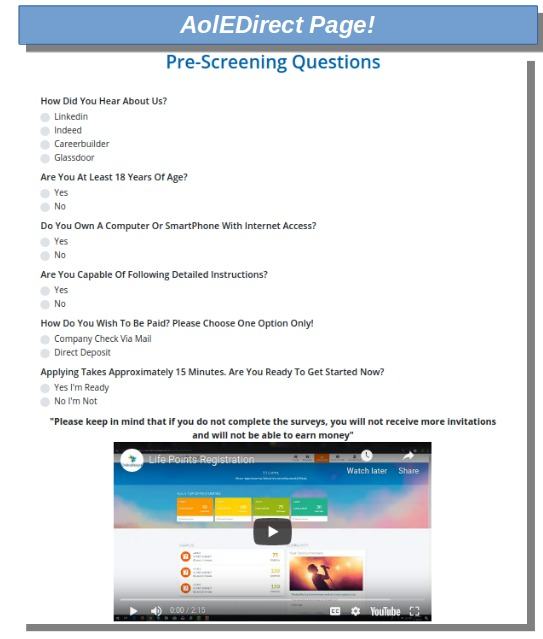 ---
It is s a pre-screening questionnaire page. Just like the pre-screening questionnaire page from a review I recently did called Work At Home Job.net.
The questions they ask you are general questions that the majority of people will answer identically.
The only difference between Work At Home Job.net and AolEDirect is that AolEDirect has a video added to the page.
And after the video, it says to go to step two.
You don't even have to answer their questions. You can skip all the questions and go to step two.
What Was On The Video?
---
If you didn't watch the video, they would cover the survey site they want you to join, which is called Life Points.
In the video, they cover precisely where they direct you and supposedly explain what you need to do to make money from home.
In that video, they make it sound like you're going to get a job by completing four different questions that must get completed.
What is going on when you sign up for surveys, they want you to go through a series of questions so that they can match you with surveys that match your demographics for you to complete.
Even though you complete those series of questions, it does help companies find surveys for you, but it doesn't mean you are going to get paid the kind of money that AolEDirect indicated in their job listing.
All survey sites tend to have these demographic questions, and it does help, but you're looking at pennies on the dollar for the amount of time you put in to complete surveys.
More Info About Life Points
---
---
Let's say you come across another ad that is similar to AolEDirect, and you find out it's completing surveys.
It's your choice if you want to move on, but if you're curious, it is a good idea to go to a site like Survey Police.
I like this site and I even done are review about them. Survey Police have been in business for years. They cover survey sites, market research companies, focus groups and paid to sites.
It's a free members area that many people who complete surveys for extra cash write reviews.
You can get an idea before you join any survey site if it is worth your time.
If you look at Life Points from what I gathered through Survey Police, 75.8% of people who were involved with Life Points, gave it a one star.
The people who gave it a low score said that when it was time to redeem their points, they were not able to.
The percentage of a low score, along with the complaint they have is alarming because surveys can eat up a lot of your time.
You're trusting a service to compensate you, yet the way you get compensated through Life Points is by redeeming gift cards.
It is not a job, and there is no money made like the ad indicated.
I Went To AolEDirect's YouTube Channel
---
---
I noticed OnlineFlexJob when I got to their YouTube channel. When I saw that, I'm thinking about what is going on because I did a review of Online Flex Job.
Online Flex Job is similar to My Flex Job, where they have you sign up and pay a fee to complete your first offers.
Completing offers is sketchy because if you don't read the fine print, you can end up giving authorization to companies to make recurring monthly charges out of your bank or credit card account.
So you're looking at putting yourself in debt instead of obtaining a job.
So Are You Calling E Direct A Scam?
---
Yep, gift cards are not a check or direct deposit. You're not even getting paid to work at home. They are directing you to a survey site that is rated low, according to Survey Police.
In the ad we covered above, they say earn hourly pay from $20 to $28 an hour, which is very deceptive.
Not only that, but you're also not even applying for a job.
And on top of that, the way Life Points compensate people is through Gift Cards.
All In All
It's essential to read between the lines when you come across a job listing that may seem credible.
Your research will help you determine if you are actually applying for a job or not.
No one wants to waste their time when the pay is not what the ad indicated. It is quite a deceptive thing to do by directing people to a survey questionnaire page that seems like a website.
Then they direct you to some survey site that can even lead you to another dangerous place called Online Flex Job.
If you look at where you're getting lead to, you can end up financially in the red. Online Flex Job is one of those offer type services that want you to complete offers.
Offers can have recurring charges. Some of these offers can cost you $90 a month if you're not careful.
What is your take about AolEDirect, Tweet me @evelynbaz!
Looking For Ways To Earn From Home?
Check out a list of opportunities!
There are many ways you can earn from home. In this list, you can find other options that can help you make money online. Each opportunity is either earn some extra coins, find work, or start a business. Click the button below to see if any of these options fit your needs.