Wherever you found this job listing, as I've stated before in my site about work at home job listings, and that is, those job listings seem promising because anyone appears to qualify for these "positions."
Apply Today Now is no exception because their job listing isn't anything new.
It's a replicated listing that seems to grab a lot of people's attention.
In this Apply Today Now review, I'm going to explain why they up the ante, and why it is a replicated job listing.
Specs About Apply Today Now
---
Product Name: Apply Today Now
Year: 2019
Free Access: Yes
Price: Free
Website URL: applytoday.net
BeginAtZero.com Overall Rating: 1/10
---
My Take
If you just started looking to work from home, you're probably getting the feeling that it's a lot more complicated than you thought it would be.
Job listings like Apply Today Now aren't helping, and once you learn how to decipher these deceptive listings, you're going to find out it's going to take some time to find a good job from home.
If you didn't know this already, jobs from home don't pay the same way as if you're working at a job location.
You can end up being an independent contractor, find an actual job, or say screw it and start your own online business as I did.
I years back wanted to work from home and had learned that actual jobs at home were hard to come by.
Once you lived and learn, you are going to be more equipped when you see job listing from home.
You are going to start to learn right off the bat what is an actual job from a not so promising career by doing some quick research.
So, allow me to shed some light on Apply Today Now.
Apply Today Now Job Listing
---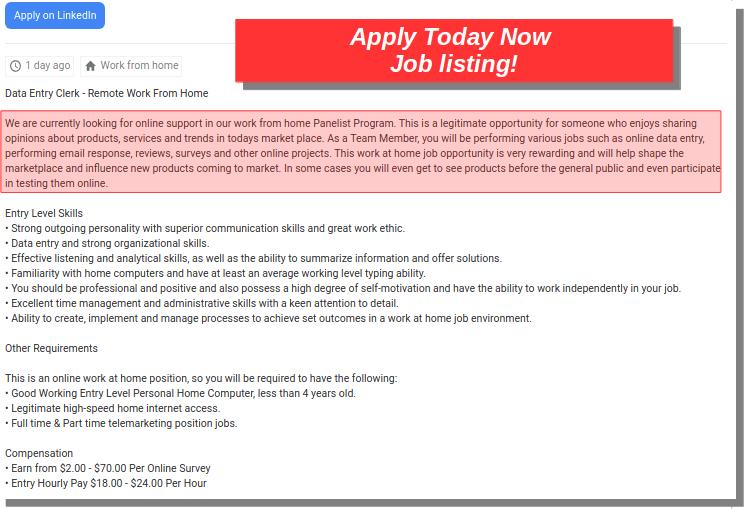 When I finished reading Apply Today Now job listing, I'm like; I just read something quite similar not too long ago.
If you look at this job listing, which I highlighted because I wanted to show people red flags about completing surveys and not an actual job, it is pretty much the same job listing.
There are little differences. However, it is pretty much the same job listing as AolEDirect.
I noticed that with Apply Today Now, instead of listing their website, they want people to apply on LinkedIn.
I Went To LinkedIn
---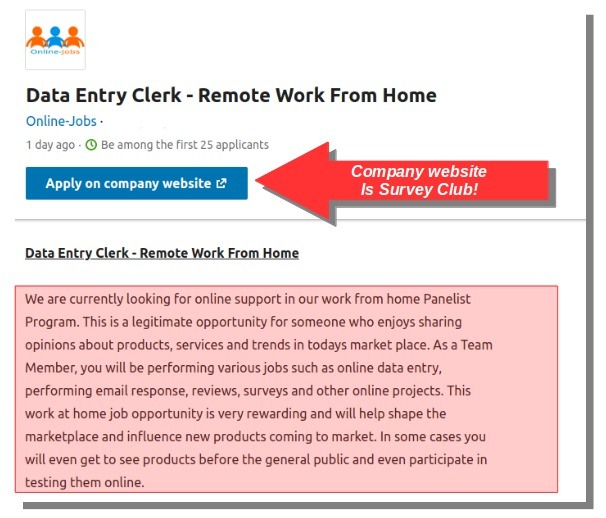 I was expecting Apply Today Now not to have any website at all because there wasn't a website listed in the original job listing.
The job listing was pretty much the same, except they tell you to apply on the company website.
Like I say with many of these data entry job listings if you find one be wary because not all but 90% of these data entry job listings are not exactly data entry jobs.
They tend to be completing surveys where you are entering your data over and over again.
Once I clicked on "Apply on company website" this is where you see Apply Today Now website.
What Is Apply Today Now?
---
It is a pre-screen questionnaire page.
These questions asked are general questions that everyone will more than likely answer the same way.
On the Apply Today Now website, at the top of their questionnaire, they entice people with a message.
The gist of it is how 3.3 million people are working from home in the U.S.
Anyone can do it despite your experience.
You can get paid weekly; all you have to do is answer the pre-screen questions to get started.
The same pre-screen questionnaire has gotten used quite often.
Each of these pages may have a different domain name, but they use the same tactic to get you to join a market research panel.
What they do is place a similar job listing, then they lead you to a pre-screen questionnaire, then you are taken to a website where you signup to complete surveys.
If you look at this pre-screen questionnaire and compare it to Apply Today Now website, it is pretty much the same.
What Survey Company Does Apply Today Now Want You To Sign Up For?
---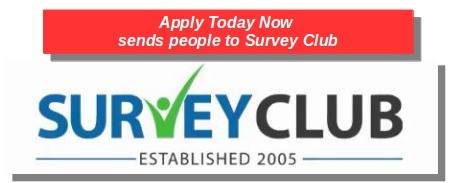 This time they are lead to Survey Club. The way Survey Club works is that they offer many other survey panel sites for you to join.
The way they get compensated is when you complete surveys through their site, they get paid by the market research companies that they are associated with.
As for you, you can accumulate points.
Once you reach a certain amount of points, you can cash out through options like,
Cash
Gift Cards
prepaid debit cards
sweepstakes

According to Survey Club, once you reach $25, you can cash out.
Will I Make A Full-Time Income From Home?
---

NOPE, first of all, you will have to qualify for these surveys before you accumulate any points. Sometimes the qualification process can end up being 15 to 20 minutes.
Secondly, let's say you do qualify, now you have to answer more questions that can take another 15 minutes.
Finally, if you do get compensated for completing a survey (I'm generous with the amounts), they probably will pay you $1 or maybe even $2.
Now you have spent 30 minutes completing a survey that didn't compensate you much.
Think about this; Survey Club is not an independent survey site; they are getting compensated for you completing surveys.
So, you are getting compensated less than if you went to an actual market research company.
For instance, PineCone pays $3 for every survey you complete. The way Pinecone works, if they accept you after you apply, they will email you surveys, and once you complete them, they pay you.
There isn't a qualifying process, but you're not going to get 30 surveys a day either. You may get one survey every other week. It just depends on the available studies.
Completing surveys is not a full-time job, so don't let these job listings fool you.
Are You Calling Survey Club A Scam?
---
No, I wouldn't call them a scam. It's a site I wouldn't recommend either because I feel that the payout threshold is a little high.
I'm not saying that it isn't attainable, but most survey sites payout threshold is around $10 to $15.
If you don't know this already, it takes time to reach these payout thresholds, and the longer it takes to do that, the more likely people will get discouraged.
Sites like InboxDollars has a $30 payout threshold.
However, they offer other ways to reach their payout threshold, like watching videos.
So what I'm getting at here is that, even though InboxDollars isn't an independent survey site, they offer other ways to make money daily.
It's still going to take time to meet their threshold, but the advantage is that you're not just qualifying to complete surveys; you have other ways to reach the payout threshold at a quicker rate.
I couldn't even find Survey Club listed in SurveyPolice's top listed survey sites. I recommend if people are going to complete surveys to look there first to get data.
I'm not affiliated with SurveyPolice at all, but I find their website to be a great resource when it comes to getting information about completing surveys.
What About Those Focus Groups
Focus groups do pay a lot more than completing surveys. You do have to go to a location to get compensated.
I'm not saying that focus groups are not worth your time; however, if you're a stay at home parent, there are a lot of factors you have to consider before you accept any focus group opportunity like,
What time does it start
How am I getting compensated
Location
If you look at the focus group that Survey Club used as a great example, if you have children in school and you pick them up, timing is everything.
The location can be a problem if you have to drive far, and $40 to $60 may not be feasible.
Some focus groups compensate through gift cards, which isn't cash.
Not everyone is going to get a lot of opportunities to participate in focus groups.
Your time is everything, and I'm not saying that everything isn't going to line up, but if you meet the criteria, these focus groups are not going to happen as often as you think.
So What Do You Mean By They Up The Ante?
---
Up the ante was my first initial thought when I did my research about Apply Today Now.
In their website, which is a pre-screen questionnaire, what I said above is that they added wording to make what they are offering more appealing.
Instead of just skipping the questions altogether and going to what they want you to get access to like I've done with the other questionnaire website pages, this time, I had to answer their questions to see what kind of "data entry work at home opportunity" they had.
So Are You Calling Apply Today Now A Scam?
---

Yep, in the image above, they said they would train you, and they are accepting applicants despite their employment status.
From my perspective, I'm thinking of a part-time second job.
What they did is use a deceptive way to entice people to think they are applying for a job.
If you read their listing, it is deceptive, like all the rest of the other questionnaire pages. They even have Adsense ads on their website page, along with saying, "this work at home job is very rewarding."
It's not a job!
You're not getting compensated for the amount of money that they claim.
You can do a simple Google search and find these survey sites online.
All In All
Completing surveys is not a job. You can get compensated by completing surveys, but it's time-consuming.
It's not full-time earnings you're going to obtain, it's extra cash that you can make.
To give you an example, it can take around three months to meet their threshold. So you're looking around $100 per year.
If you see the words data entry in a job listing, more than likely, it's going to be completing surveys.
The data entry you're going to be doing is entering your data and not a companies data.
What is your take about Apply Today Now, Tweet me @evelynbaz!
Looking For Ways To Earn From Home?
Check out a list of opportunities!
There are many ways you can earn from home. In this list, you can find other options that can help you make money online. Each opportunity is either earn some extra coins, find work, or start a business. Click the button below to see if any of these options fit your needs.