Have you ever heard that saying, same old stuff different day?
Well, that pretty much sums up Auto Mobile code.
It's like someone took some old junk in tha trunk and made Auto Mobile Code.
In this review, I'm going to do, is nothing new. I just finished a review similar to this one just the other day.
When I got an email yesterday about a business opportunity and checked it out, I said here we go again.
I don't know how many times I'm going to get the same old stuff sent to me.
I feel like they come up with these ideas out of their you know what.
Specs About Auto Mobile Code
---
Product Name: Auto Mobile Code
Year: 2014
Free Access: No
Price: $49
Website URL: automobilecode.com
BeginAtZero.com Overall Rating: 2/10
---
The Rundown
What is Auto Mobile Code aka AMC?
Top secret codes to make your money in 2 hours.
How does it work?
You pay $49 to $9 depending on how many times you X-out. They give you a code that is supposed to make you money in 2 hours.
How do I get paid?
You make money when you open a ClickSure account. The money is supposed gets transferred to your bank account.
Who can join?
According to the video, only special invites can do this. If you're not invited through email then you're not allowed to do this. So you're one of the lucky ones if you didn't get the email and watched the long begging boring video.
My Take
We all know the tale, do nothing make money.
This is more junk we keep getting in our emails. I hope no one falls for this stuff.
I know it's tempting because in the video they make it seem so easy.
All they did was follow a few simple steps and they are making thousands of dollars without hardly doing anything.
In The Video
---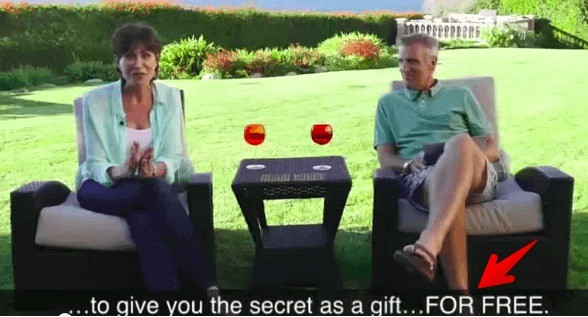 Actor Giovani Leoni and his pretend wife Tessa, stated that this Auto Mobile Code (AMC) is 100% free.
They will give you this special code that taps into every mobile device around the globe.
This special code is supposed to make you lots of money.
They got three other actors to open a ClickSure account and pretend to use this code.
These actors supposedly made a few hundred dollars within 2 hours and within 24 hours, these three actors made thousands.
Actor Giovani Leoni said this code is only by exclusive invites and if you were invited, you're one of the lucky ones to be able to use this 100% free product.
I thought, I'm sure they don't want to scam their friends and family, so their other alternative is the Internet.
When I was watching this cheesy video, I couldn't stop laughing and thinking.
Who are these people and who come up with these ideas?
Are they just smoking something, making up stuff as they go and laughing about how much money they are going to make because the whole Idea just seems ridiculous?
We all know if it was exclusive, it would not even be on the net.
The funny part was when the husband and wife told the three actors in the video not to share this with any of their friends and family.
That's just plain comical.
If this were true, how are you not going to tell your friends and family you're making some easy money.
You're running around buying houses, cars and changing your lifestyle all the while, your closest friends and family are gonna ask you questions.
What are you gonna say? Moving on!
ClickSure
---
Anytime you see a squeeze page video promoting stuff and they show their ClickSure account, just move on. ClickSure has a bunch of low-quality affiliate programs that don't even work.
Their return rate is so high, that if you even promote a product with ClickSure you won't even make money with them.
If you go check out their website, you can find out information. This is a good way to learn more about what is offered.
Is It Really 100% Free?
---
Heck no! of course, it's not. First, they show how easy it is to make money. Then they show how much money you can make.
Finally, they say oh, by the way, we have this Diamond Support Team available for you. This is a one-time fee of $49.
They say this "Diamond Support Team" is there because sometimes technology has glitches and you will need support to help you when needed.
Here is your red flag right here. If you can make over $50 within 2 hours, why are they asking for money before you can get your special 100 % FREE "Auto Mobile Code"?
They are the ones that produced this video.
They are the ones showing how quickly you can make over $50 within 2 hours.
But they are the ones suggesting you pay $49 upfront.
What kind of BS is that? What if you don't want the support, you just want the code.
Let say you get the free code and when you experienced a glitch, then pay $49 or $9 whatever the charge may be.
I can answer this one for you, there is no code. It's just another SCAM!
Squeeze Pages
---
I talked about Squeeze page products just a few days ago. You should be cautious when you see these opportunities.
You're not going to make all this money as the video says. All they want is your email address to send you more spam. Stay away and save you money.
Auto Mobile Code Does It Too
---
AMC also does exactly what 6 Figure ToolKit does. When you try to exit they say Wait.
They then reduce the price to $19. When you try to leave again, it goes down to $9.
After that, they say we don't want you to leave empty-handed. Then they try to get you to give them your email address.
Why Do They Do This?
---
These types of businesses want you on their mailing list. If you're not interested in this product, they will place the wait pop-up several times and try to get your email.
This way you will be on their mailing list so they can email you another scam to try and get you to pay for.
There Is A Way To Make Money Online
---
There are various ways to make money with affiliate marketing. These squeeze page businesses will not get you anywhere. The way, to make money online, is by building your own website.
Unlike ClickSure, Amazon, BestBuy, Walmart, Target and many other companies have reputable affiliate programs.
Did you know when Apple, Samsung, toy companies, or any manufacturer has a new product they also rely on affiliate marketers to promote their products?
They don't just rely on commercials. They know that affiliate marketers are also a big part of their product launch.
People do make money online doing affiliate marketing. You just have to do it correctly.
All In All
Auto Mobile Code is really nothing but junk. These squeeze page products really give the Internet a bad name.
We live in a world that's full of yin and yang. So if you're thinking about investing in business online remember to check out My #1 Heroic Site. They will teach you how it's really done. You can check them out for free. See you on the other side.
What is your take about Auto Mobile Code, Tweet me @evelynbaz!
Looking For Ways To Earn From Home?
Check out a list of opportunities!
There are many ways you can earn from home. In this list, you can find other options that can help you make money online. Each opportunity is either earn some extra coins, find work, or start a business. Click the button below to see if any of these options fit your needs.

We earn a commission if you click this link and make a purchase at no additional cost to you.