Hey, it's me Evelyn and I'm here to tell you about a service online regarding a check.
The check I'm talking about is a bank check in the advertorial news that leads to MOBE.
I will get into the check and MOBE a little deeper so let's just begin with my Automated Daily Income review.
Specs About Automated Daily Income
---
Product Name: Automated Daily Income
Year: 2017
Free Access: No
Price: $49
Website URL: automateddailyincome.com
BeginAtZero.com Overall Rating: 1/10
---
The Rundown
What Is Automated Daily Income?
It appears that they are a team that leads to an MLM business, I checked who owned ADI and it appears to be Matt Lloyd.
How do they work?
From what I gathered one way is that they use advertorials to get people into their downline.
How much does it cost?
The enrollment Free is $49
There are other costs to continue their service.
Who Can Join?
My Take
The old school way that people used to build their downline seems to have changed.
Back in the day when people would build their MLM businesses, they would make a list of their family and friends to try and build their downline.
As time changes, so are the ways people obtain their leads.
The way ADI (Automated Daily Income) obtains their leads is a bit misleading because the ad doesn't tell you precisely what you will be doing to make money in a very transparent way.
What Am I Talking About?
---
What I'm talking about are those advertorials we may come across online.
I come across a number of them in various ways online. I've also written a number of reviews about them.
Just recently, I wrote a review of an advertorial that leads to another online business opportunity.
The advertorial didn't lead to the same service, however, the check I saw on the advertorial was what made me write the title the way I did in this review.
What Are Advertorials?
---
Advertorials are mainly ads that tell different types of stories to grab your attention and get you to take action.
These ads sometimes use news platforms and grab your attention by placing news stories that appear to be by a news reporter either by the latest news or just a story to grab your attention.
If you got the World News Advertorial as I did, I'm not surprised that you are digging a bit because it was formatted like a news story.
In the making money arena of the online world, these news advertorials usually talk about how some person changes their lives by doing some simple task online and they are now making bank.
These stories tend to not be real and if you examine the page, you tend to find the disclaimer that states that the real news doesn't endorse or represents ADI.
Some of these advertorials will also say that the article is just a story.
Like I said before within another review I did, I guess you can say it is alternative news.
Why Be So Deceptive
---
MLM businesses have to find ways to build their downline or team.
Within these MLM businesses, they all have different teams.
Teams tend to have names for themselves like Team Builder, Team Freedom, or in this case Automated Daily Income.
When I did a little more digging, it turns out that the owner of MOBE Matt Lloyd seems to own Automated Daily Income, I guess he's building his own downline along with owning MOBE.
I know it's a bit deceptive because they are not really expressing in a transparent way who they are and how people will be making money with these stories.
What people tend to do when they read an advertorial is get excited because the ad looks like it is done by an actual real news reporter and then people tend to trust and click before they get to the end of the story.
Please Examine The Ad
---
If you take the time to click on the links, they all lead or redirect to the same page.
Usually at the bottom of these types of ads is where people may find the disclaimer that states the ad is not endorsed by the actual news label they use.
With the advertorial I got, it was, World News and I noticed that their disclaimer wasn't at the bottom like I usually see.
This time it was at the very top. If you were to click, "click here for other important disclosures" it would lead to the same page just like when you would click any part of the ads.
Once You Click On Any Link
---
Like I said within this article, once you click on any link within the advertorial, it redirects you to where they want you to take action.
The redirected page really didn't say much. If you look at the image above, ADI kept it stupid simple.
It seems like they didn't want to complicate anything and made it seem like anyone could do and make money quickly.
They didn't add content about what you will be doing, how their service works, or if it is a multi-level marketing business, you would have to go to the disclaimers to get more info.
When I went to the disclaimers is when I found out it was Automated Daily Income.
If you did that and went to their fine print, it shows right there that it leads to MOBE.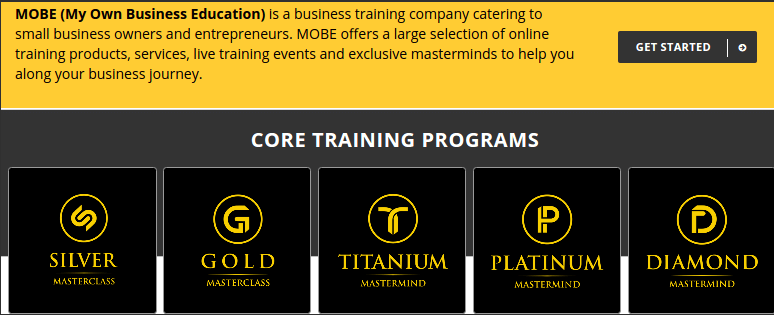 I went to MOBE's actual website and there you have it. My Own Business Education.
MOBE used to be called My Online Business Empire and My Online Business Education, but it's the same service and their products are very expensive and when I mean expensive I mean very expensive digital products that they want you to sell and buy.
The way MOBE works is by getting people in through these training levels. The first level may not cost that much, but what they will want you to do is move on up and yes that is at a price.
What About That Check Evelyn
---
Oh yeah, I almost forgot, Lol. In the advertorial, they showed a check.
The funny thing though is that the check was one I checked within that review I told you about earlier.
When I saw the check, I knew it was the same check that I showed within another review I did.
It's all a story, yet a deceptive story.
I'm going to display the check within that advertorial and another check so you can see what I am talking about.
Here Is a Check and as you can see how it has been altered.
If you want to see other checks, you can look for yourself and see those checks here.
How Was My My Email Address Obtained?
---
Sometimes we come across one of those solo ads or whatever is out there on the net, we tend to sign up to see what is going on.
We may have put our email address in those ads and that info they probably sold once they used us up.
If you read my 5 Figure Day Unleashed Review when people quit the site, owners keep and spread theses lists.
Other Marketers may even sell their list and we end up on someone else's list.
All in all, your best defense is to not respond if you don't see value in what was offered to you.
If you have to check out what is going on, I would recommend getting an email address dedicated to these types of services, this way you don't have a bunch of emails along with important emails all meshed into one.
All In All
It all started with an advertorial that displayed a check.
When you read these stories within these Advertorials they all seem to appear like an actual news story, but in the end, it's just alternative news.
When you click on the link it leads to Automated Daily Income. MLM businesses have teams and they have to find a way to market in order to make that pyramid scheme money.
It's important to know what you will be doing to make money online. If you didn't know and are not into the MLM thing like me, you might be a little upset that you weren't told.
What is your take about Automated Daily Income, Tweet me @evelynbaz!