Someone recommended ChatAbout to me.
When I checked it out and saw that this site is free to join and you know I love the free, I decided to hit the brakes.
When I researched this site, it seems to have that "too young quality" from my Kissing too many frogs article.
Companies that just launched or been online for a little bit has a lot of kinks to work out.
I personally don't have time for that, I decided to wait a few years to see how this site turns out.
Even though ChatAbout seems to be an easy way to make a buck online, I decided not to join and in this ChatAbout review, I will explain why
ChatAbout is a site that pays you to connect with people with the same interest as you.
Interests like TV shows, recipes, latest news and so on.
Specs About ChatAbout
---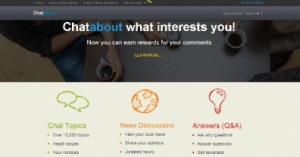 Product Name: ChatAbout
Year: 2012
Price: Free
Free Access: Yes
Website URL: chatabout.com
BeginAtZero.com Overall Rating: 3/10
---
The Rundown
What is ChatAbout?
ChatAbout is a site that pays you to connect with people with the same interest as you. Interests like TV shows, recipes, latest news and so on.
How much does it cost?
As I stated before it's free.
Affiliate program?
ChatAbout does offer an affiliate program, however, they are not very specific on how much you get paid to refer people.
How do I get paid?
Who can join?
18 years or older
USA
Canada
Australia
UK
My Take
ChatAbout doesn't seem very transparent in regards to who owns its site.
When it comes to getting paid for your time, you want to find out who the owner(s) is because you want to get a good idea of who you're dealing with before you decide to do business with a company online.
ChatAbout is a site I would highly recommend you wait and see how things go.
In my business model article about frogs, I wrote about the too young frog. ChatAbout seems to be the epitome of this young frog.
Even though this ChatAbout sounds like a fun site and free to do, I've read that so many people are getting kicked out of their site.
I decided not to wait because I don't know where their site is going.
If you are already a member and reaping the benefits and along with getting paid well, for you then keep going.
If you're thinking about joining this site, I highly suggest you wait and see if this inexperience frog ends up back in the pond.
Not Transparent
---
Usually, before I join a free site, they usually tell you how they make their money or it's really obvious.
I like sites that show the owner(s) and how they make their money.
I couldn't find that data on ChatAbout's site.
I see a lot of admins, but who are they?
I know you can do surveys and offers with this site so I'm assuming that's how they make their money.
I Read Many People Got The Boot
---
---
I also read so many people were not getting paid.
You can't mess with people's money. You're just asking for trouble if you don't pay people.
It's not good when a lot of people get kicked out of a site. Some people say the admin kick them out because they spoke their mind about their site or because their names didn't match their Facebook page.
Lots of people use nicknames when they join sites like ChatAbout, so I can't see why this would be a problem.
Also, maybe because they have too many admins, they are not on the same page and what seems okay for one admin may not be okay for another.
How Do I Get Paid?
---
You get paid either through PayPal, Gift Cards, or products. You can get paid from 1 to 20 points depending on what you're doing.
You only can make up to 50 points a day for writing articles or by commenting and this adds up to 50 cents a day.
Coins may not sound like a lot of money, but I know coins add up. It won't be a full-time income, but if you like extra money and many people do, in time it might be worth it.
So as you know, the coin part doesn't really bother me and I'm sure it doesn't bother many other people either.
Referrals
---
Another way to make a buck on this site is through referrals. I like referrals because you make some extra cash without doing anything.
On their site, they really don't tell you how much you can get paid for their referral program.
It just says you get bonus points for referring others. That doesn't tell me a lot. All it tells me is that this site is still working out their kinks or it's a scam.
The Good
---
ChatAbout seems like a fun way to make a buck. There is no out of pocket expenses, but your time could be wasted if you don't get paid.
I wouldn't call ChatAbout a scam just yet because they could be working out their kinks.
This is a reason why I highly suggest putting this new sites on the back burner and wait and see what happens.
Update:
Unfortunately, ChatAbout is closed.
All In All
ChatAbout can go either way. They are either working things out or it's just a plain scam.
I decided not to join ChatAbout because I read too many complaints from others and when I reviewed their site, a lot of information I would like to see on their site wasn't there such as,
The owner(s)
How they make their money
Where are they from
Why they started
Who are the Admins
I understand that businesses that recently launch have to start somewhere.
I personally always recommend that you wait and see what happens on new sites even when it's free to join.
One thing I don't like to do is waste my time on a site that may be gone in a few years or a person may get kicked out because of something silly.
If you're interested in a transparent company that teaches you how to build a business online, become a member at My #1 Heroic Site. You can check them out for free and see if this is what you will like to do.
What is your take about ChatAbout, Tweet me @evelynbaz!
Looking For Ways To Earn From Home?
Check out a list of opportunities!
There are many ways you can earn from home. In this list, you can find other options that can help you make money online. Each opportunity is either earn some extra coins, find work, or start a business. Click the button below to see if any of these options fit your needs.

We earn a commission if you click this link and make a purchase at no additional cost to you.