Click 4 Surveys is a splash page funnel scam.
There are similar ones out there.
Another example is Get Cash For Surveys.
These types of sites don't offer anyone anything of value.
This site is a database service that you can get for free, so don't let the hype fool you.
Surveys are something I do online, and nothing is exciting about them.
You answer some questions and you get paid.
The money I make from surveys is not a lot of money, but it's extra cash I like to earn online.
Specs About Click 4 Surveys Review
---
Product Name: Click 4 Surveys
Years: 2014
Free Access: No
Price: Starting at $97
Website URL: click4surveys.com
BeginAtZero.com Overall Rating: 0/10
---
The Rundown
What is Click 4 Surveys aka C4S?
It's a database that provides you with a list of surveys online.
How does it work?
Onetime fee and they give you a list of surveys along with some up-sells.
How much does it cost?
It starts off as $97, then if you get to step 1's coupon code, you can get it down to $34.
Who can pay, I mean Join?
It's a global service, so anyone 18 years of age or older is able to join.
My Take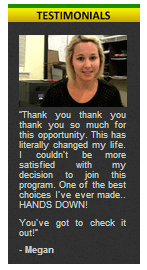 C4S hyped it up about surveys. They made it seem like you just won the
lottery. In the video, they talk about a tight-knit community that has changed their lives.
Okay, I know I can make cash by taking surveys, but let's calm down here.
It's not life-changing. What it is, is extra cash.
In the video, they say only a few people know about surveys. What's so irritating is that these actors make it seem like it's a "new thing."
We know people are familiar with surveys because they've been around before we had dial-up. If you don't know what dial-up is, well now you know surveys been around for years.
So What's The Big Deal?
---
Nothing, this service is another database program just like the one I reviewed a few months ago.
Trust me on this, you can just go to Google and find surveys for yourself and get paid from them.
In fact, I got some survey sites listed on the review I did about Get Cash For Surveys.
Some of these surveys are listed in C4S's database that they are trying to sell you.
Please, don't waste your money and time.
False Claim
---
---
They also claim you can make $5 to $75 per survey. You know that song, "Don't Believe the Hype," well there you go, it's straight-up hype.
Being that I've been doing surveys for a while, I've yet to come across a survey that pays me $75.
It's even rare to find a survey that pays $5. If I do find one, it would be a survey that would send me a product to test. I would have to use the product and give my opinion on it.
I've done product testing surveys lots of times. Sometimes it takes days to complete. From my experience, I got paid around $5 to $10 from the ones I've tried.
Sometimes they would send me a check in the mail, other times I would get credited from the survey site. These types of surveys do happen, but not all the time.
Focus Groups
---
They claim you can make $50 to $150 per hour doing online focus groups. Lots of times surveys and focus groups tend to want certain types of people so you may rarely get picked.
Sometimes you only get picked once or maybe a couple of times. Some focus groups want you there in person, so don't think all focus groups are done at home.
Should I Pay?
---
No Way, paying for something you can get for free is a waste of money. C4S starts off by saying it costs $97.
Then, if you press the coupon thing, which by the way I find so irritating, it goes down to $34.
This database stuff isn't even worth one dollar. Save your time and money.
If you join a survey site on your own, it will lead to more because they will tell you about them. The next thing you know, you're a member of all the survey sites listed in that C4S database.
What Happens If You Pay?
---
If you decide to pay for this SCAM, they will try to up-sell you other products that have nothing to do with surveys. It's another funnel to get you to join all these scams that are out there online.
I'm telling you right now you're just wasting your time and money with this product. You're going to end up in a sales funnel of hell.
If you're looking to make extra cash from home, I suggest you check out Pierce Eislen. I've made money with them and I've suggested this company to friends who needed extra cash.
This company is seasonal, but you will get paid. When I did it, I averaged around $700 for six weeks.
Building A Business From Home
---
If you want to start a business from home, it starts with a website. This is where you can make a full-time income from home. All these gimmicks out there are just gimmicks.
These business opportunities come up with new gimmicks to sway people out of their money. My #1 Heroic Site has been in business for over 9 years and teaches people how to generate an income from home. You can check them out for free.
All In All
Doing surveys can make you money. Don't think answering questions is going to become a full-time income.
Surveys are time-consuming, and the pay is low. The testimonials and everything about this site is an over-exaggeration. Don't let the splash page fool you.
If you want to make a living from home, I suggest you check out My #1 Heroic Site and see if it's the right choice for you.
What is your take about Click 4 Surveys, Tweet me @evelynbaz!
Looking For Ways To Earn From Home?
Check out a list of opportunities!
There are many ways you can earn from home. In this list, you can find other options that can help you make money online. Each opportunity is either earn some extra coins, find work, or start a business. Click the button below to see if any of these options fit your needs.