I got a comment requesting if I could do a review on Click For Cash.
I told Krista I'd be happy to do a review on it.
When I read Krista's comment some red flags already seemed to come into mind.
One was the down-sell tactic that some of these sites like to use.
When I went to look for CFC aka Click For Cash, I noticed their service was quite difficult to find.
I also noticed on my computer my anti-virus wouldn't allow me to look at their site.
This was a big red flag for me because what person would trust a site that their virus protection tells you it may have malicious software.
Please take the time to read my Click For Cash Review because people have no time for games.
I'm going to break it down to you on why you shouldn't even bother.
Specs About Click For Cash
---

Product Name: Click For Cash
Year: 1999
Free Access: No
Price: Starts at $9
Website URL: clickforcash.com
BeginAtZero.com Overall Rating: 0/10
---
The Rundown
What is Click For Cash aka CFC?
How does it work?
Supposedly people are paying for campaigns that would generate people lots of money. According to the video, you supposedly do nothing. All you do is click five buttons and you're in business to make thousands of dollars.
How much does it cost?
$9 for 10 campaigns
$19 for 20 campaigns
$49 for 50 campaigns
Who can join?
My Take
I did happen to find a video regarding CFC and I must say it's similar to a lot of reviews I did where they say everything is free, but wait you have to pay.
I don't know why these sites like to do this. What is wrong with just breaking it down and letting people know what they offer such as, the cost and what a person would be doing to make a buck? How hard is that?
Let's start with the request Krista made about CFC. I want you to read her comment. I'm so proud of her to ask for a review, plus how she expressed her concerns.
Krista's Comment
---

---
As you can see in the image above, she wanted to know what was really going on. According to Krista, the video was long and they really didn't express how much it cost or what they offer.
Krista also stated how easy they made it seem, click a few buttons, and people would be making a boatload of cash.
Sites that do these types of videos need to understand that people don't have time for games.
I also want sites to know that people do not like down-sells and don't have time for this wild goose chase of the price.
Not only that, is it really as simple as five steps to make a buck? They claim they have everything done for you except you opening your wallet. Is it really that easy, I doubt it!
Once I Watched The Video
---
A guy named Carl aka Actor went on with a story about a lady being on food stamps and now she makes a great living by using CFC.
The video is the same old type of videos I've seen. A video with people walking around the house, driving around town and telling people a telltale story about nothing.
They even try to show proof by showing fake bank accounts.
CFC is supposedly a step by step service that will help you make tons of money online.
According to the video, you don't have to worry about traffic, websites, and writing articles. You don't need any technical experience either.
All you need to do is pull out your wallet and start giving your money to whoever made this video.
As the video kept stopping, I decided to go to the bottom and read their disclaimers and all that other juicy details.
This is where all the red flags came into play. Let's get into the red flags because there is no need to waste your time watching that long-drawn-out video.
First Red Flag
---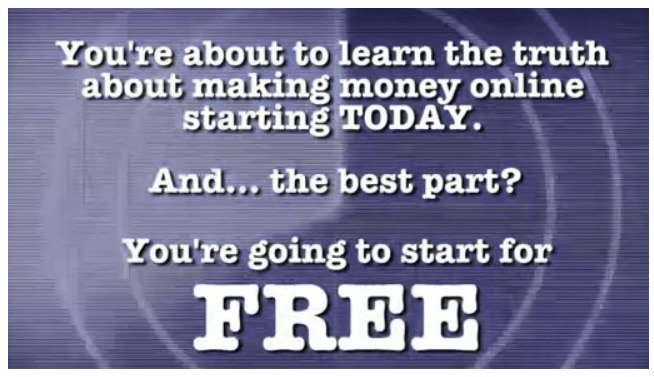 The video began with you are going to start for free. Yeah, watching that long video that kept pausing was for free, but nothing else.
When I scrolled down a little, they are asking for money.
It Is Not Free
---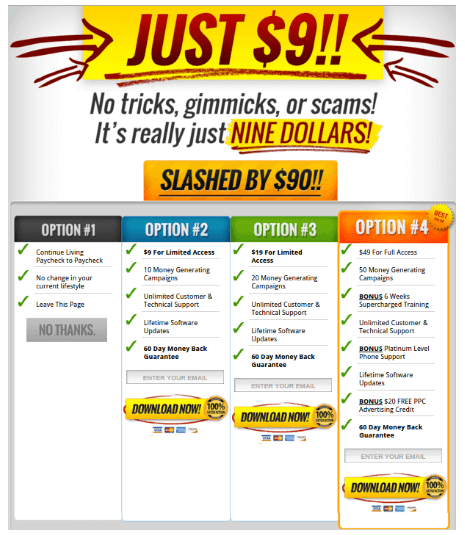 They say it's $49 but just like what happened to Krista, I X-out a couple of more times and it went down to $9.
Of course, it's not free and there are other up-sells. You have four options and I must say the first option is an excellent choice.
Move on, (excellent choice)
$9
$19
$49
If you look at the $49 choice, it's right there, it says, 6 weeks of supercharged training.
What happens to just click five buttons and all this money would be made, just like what the video expressed?
The video showed "proof" of money being made and beta testers that clicked 5 buttons and they were making thousands of dollars.
What kind of 6 weeks of supercharged training is needed to click five buttons? I'm just saying that's a red flag right there.
Second Red Flag
---
When I went to the fine print at the bottom of CFC's site, their support and promise didn't work.
CickSure's Promise
Support

This is a red flag because they are asking for money, yet how can you trust that you will ever get your money back if someone doesn't have access to request a refund or want support?
Great support is important, I have experienced this when I started off online. People are going to have questions and services that are there for you are the ones you should be interested in.
Third Red Flag
---

When I went to their terms of service, it was the property of GSD Masters AG, the same company as eMobile Code uses. I already did a review on this eMobile Code.
---

eMobile Code did a similar offer. It was a video of people walking around the house claiming to make money by doing nothing.
If you compare these privacy policies, it's the same privacy policy. The only difference is that they change their names.
What Does eMobile Code Offer?
---
eMobile Code offered the exact same price, $49 then X-out $19 then it went down to $9.
Just like with CFC, eMobile Code really didn't explain exactly what people would do to make money with their "code". They just expressed how easy it is and all this money would be made if you were to pay for their service.
People were taken for their money with eMobile Code. All eMobile Code did was up-sell people and no money was made.
Where Is The Trust?
---
If the eMobile Code had a bad reputation, why would you trust CFC? You're really putting yourself at risk.
When services online are not really transparent in what they want you to do, you gotta just move one. I don't know what kinds of games they are playing.
Your hard-earned money is important. I've expressed this so many times in reviews and that is, if it were that easy we'd all be doing it.
To make money online, it's going to take time and work. People can make a nice living through the Internet, but don't think you're just five clicks away from earning hundreds of thousands of dollars.
All In All
I know these videos like to tempt us with their telltale stories, but the truth of the matter is that if a service is not transparent in what they offer, it's just a scam.
Services that offer real ways to make money from the Internet will explain to you the cost and how their service will help you. That is an important factor when you come across money-making opportunities online.
If your virus scan starts popping up, if some of the terms are not working, if you get down-sold, if there is no transparency plus the terms are involved with other scams, it's just time to move on.
If you want to know how to really make money from home and through the Internet, then I highly suggest you check out My #1 Heroic Site.
There are no games with My # 1 Heroic Site. You can check them out for free and learn how the process really works.
If you have any questions or comments about Click For Cash, Tweet me @evelynbaz!

We earn a commission if you click this link and make a purchase at no additional cost to you.