The gimmicks this Binary Trading Software has just won't stop.
Now they are messing with my show Shark Tank.
Okay, they didn't necessarily say they are from Shark Tank, but they are using the name to get a pull.
Before you believe another Binary trading sales scam pitch that keeps infesting the Internet, please take the time to read my Copy The Pro System Review because I found some really Wow, you gotta be kidding me Red Flags.
Specs About Copy The Pro
---
Product Name: Copy The Pro
Year: 2014
Free Access: Yes
Price: $250 Minimum Deposit
Website URL: copythepro.com
BeginAtZero.com Overall Rating: 0/10
---
The Rundown
What is Copy The Pro aka CTP?
How does it work?
CTP aka Copy The Pro, claims that they have pro-traders that can help you win on your trades. All you have to do is install the app and the pro-traders will do the rest of the work for you.
How much does it cost?
App Free
To trade, you will need a minimum of $250.
Who can join?
My Take
It started with an email I got, it stated that some guy was making $5000 a day copying and pasting.
I knew this was too good to be true, but I thought I'd check it out and see what it was about.
When I Got To The Site
---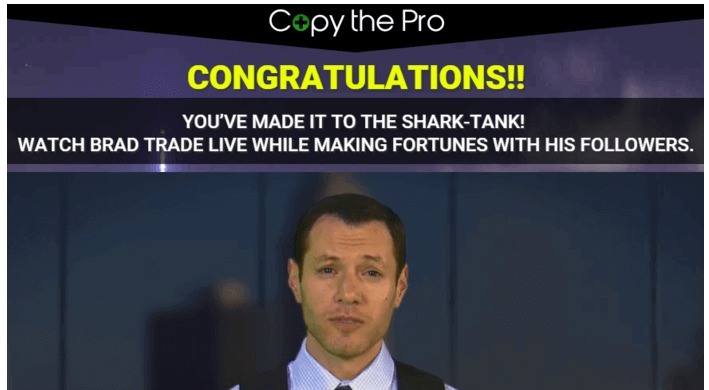 After I clicked on the link, it was another infestation about binary trading.
I was like oh brother here we go again.
CTP's gimmick was to use Shark Tank in their pitch.
When I saw that, you know I'm going to write an article about it.
Shark Tank is my show and these systems online like to use whatever it takes to try and make a buck.
I came across other sites that like to use businesses that are household names such as, Google, PayPal, and Facebook.
How Does CTP Gimmick Work?
---
According to CTP, Brad the Pro Trader does all the work.
CTP claims Brad has an 80% accuracy when he trades.
There are three simple steps to get started.
Set up an account
Get a copy of the App
Choose Brad as your pro-trader
They forgot the most important step, and that is you will need to deposit at least a minimum of $250 into your trading account to even attempt to try the app.
Once you do that, your trades will supposedly duplicate exactly the trades that this fake shark Brad selected.
I Went To Check Out CTP Fine Print
---
Here is a big red flag because when I went to the Disclaimer and Terms, CTP's links didn't work.
By law especially with these types of trading sites, they are required to have a disclaimer.
I looked at all the other images and it's just fake images of awards.
Anyone can easily place these images on a site to make it look legit.
What Else Did I Discover
---

The Pro-Traders look great. I decided to do some research on them.
I'm going to use Robert Dunwell as an example.
I found their images and it turns out to be nothing but stock photos.
Look at Robert Dunwell, I found out his stock image is called distracted.
Please don't pick him for your pro-trader, Lol, but obviously these are just images placed there to make it appear that these are real traders, when they are not.
When you find stock photos, this is a very big red flag.
Why would you trust anything about their claims, when they are using photos that any website can use.
The Trust Is Broken
---
No one has time for this. If you're going to try this, all I can say is that it's like throwing your $250 or more down the toilet.
I just did a review a few days back about how these types of scams work.
If the ad seems sketchy, why trust it?
If they say they have pro-traders then why the stock photos?
Why trust your money with a site like this? Most likely you are not going to make a dime.
All In All
Who has time for this? I feel that CTP uses this "Shark-Tank" gimmick as a way to pull people in. Obviously, these so-called pro traders are not even traders.
If you're interested in making money from home, then I highly suggest you check out this info here.
What is your take about Copy The Pro, Tweet me @evelynbaz!

We earn a commission if you click this link and make a purchase at no additional cost to you.