I got 2 emails in one day about Warren Buffett and this so-called crisis that is about to occur within a short amount of time.
The site is claiming that if people don't have at least $100,000 in their bank accounts they are headed for hard times and Daily Web Biz is supposed to help people with this crisis.
OMG, you know what, I must say that the scare tactic in that Advertorial is a new one I've come across.
As for the Name-Drop, I've seen that one done quite a bit.
In this Daily Web Biz Review I'm going to show you the red flags that I found out, so let's get started.
Specs About Daily Web Biz
---

Product Name: Daily Web Biz
Year: 2016
Free Access: No
Price: Starts at $97
Website URL: dailywebbiz.com
BeginAtZero.com Overall Rating: 0/10
---
The Rundown
What is Daily Web Biz aka DWB?
It's supposedly a service.
How does it work?
DWB is supposed to help you make a lot of money by placing links online or offline.
How much does it cost?
According to their site, it's supposed to be a one-time fee of $97
who can Join?
Apparently, when I read the article, it seems like they are targeting Americans.
My Take
I see a lot of these services that like to name-drop to get people to purchase their service. In the article I read when I opened my email, they use CNN, Anderson Cooper, and Warren Buffett.
Advertorials tend to do that so what seems like real news is just fake news.
If you read my Explosive Payday Review, they also did the name-dropping tactic.
Explosive Payday also made it seem like people are going to make all this money by paying for their service.
Unfortunately, there is just too much of name-dropping going on online.
I see it all the time with Binary Trading where they used Warren Buffett's name there as well, they use company names such as Google, Starbucks, Shark Tank, and the list goes on.
The Emails
---
I don't know how many people out the same email about Warren Buffett, but this is where it all started for me. I clicked the links that led to what looks like a CNN website.
When I started to click around the website, I noticed everything went to The Daily Web Biz sign up page. What turned out to seem like a CNN website turned out to be an advertorial fake CNN website.
The other advertorial I came across uses the FAKE CNN website but a different title, yet the exact same message. There are probably a bunch of these fake CNN advertorials floating around online with different titles.
If you got the same email, clicked on the menu links at the top of the page. Click on News, Media, and all the other menus, you will see that they all go to Daily Web Biz's sign up page.
What Was The FAKE CNN Page About
---
As I was reading the article they used the BREXIT as the beginning of the biblical crisis. BREXIT was the First of the 4 Horsemen.
They made it seem like this crisis is going to happen quite rapidly, the 4 Horsemen were:
BREXIT
Cash Out
Job collapse in the U.S.
Credit Destruction
Mainly what they are saying is that Brexit is hurting England and Europe's economy and because of that, it will spread to the U.S.
What the article claim is going to happen is that the currencies are going to drop tremendously worldwide and the value of the dollar will become expensive.
Then what will happen is that companies will move overseas because they can hire cheap labor.
This will cause many Americans to lose their jobs leading to a credit disaster. People will not be able to pay their bills just like what happened in 2008.
As I was reading the article, the article kept implying that Ultimate Home Profits will help people.
Here are a couple of examples of how they said Ultimate Home Profits is supposed to help.

As I was scrolling down and reading, I noticed images, I knew this wasn't possible so here are some altered Photoshop images that they used.
The first images are supposed to be of Anderson Cooper talking to Warren Buffett, but Mr. Cooper was actually talking to Donald Trump.

As I was reading the article, they were talking about how their Emily Hudson was using the Ultimate Home Profit service and she was making millions.
Well, this seems nice but if you look at both images, Anderson Cooper was really speaking to Drew Barrymore.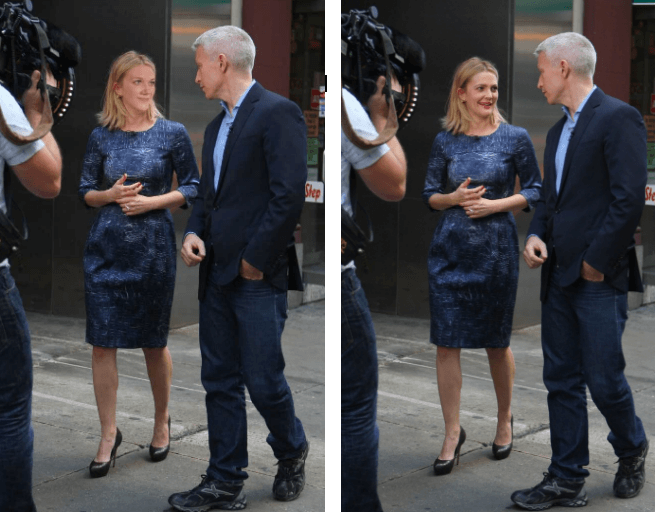 Well, all I can say is here we go again where they used these images to deceive people, It's quite sad actually.
I went to click on this Ultimate Home Profits and it leads to Daily Web Biz. Just so you know and I know other online marketers get mad at me for not purchasing every service when I write articles, well you know what, this is WHY!!!!
How Can You Trust Such A Site With Even Your Email?
---
How can they use people like this, try to scare people, and on top of that name-drop to get people to pay?
So Ahat Is Daily Web Biz All About?
Well, I checked it out, and apparently what they want people to do is spend their time spamming sites by placing your unique links online.
They claim it's three easy steps.
Step One- login
Step Two- enter members area where you get a supply of links to post
Step Three- fill out a few details then submit
You're done and you are supposed to make millions. When I looked through what DWB's service was all about, it seems to me that it was more of some sort of link task they want people to do.
It sounds like a job to me so why pay a $97 fee, for 3 simple tasks.
Oh I'm Not Done
---
I wrote an article about why I don't buy, well one of the reasons why is because of this, what I like to call the X-Out tactic these sites like to use to keep you interested.
It is a down-sell. The price starts off at $97 then when you try to leave, a wait screen pops up. If you decide to stay, that's when you get down-sold.
I did it and it started at:
---
---
The sad part is that some people paid different rates depending on how many times a person attempts to leave the site.
Can I Make Money Posting Links On Sites?
---
I'm sure some of you are curious about the money factor and more or less there are probably sites out there that will pay you to post links.
Most of these sites don't even charge people to try their opportunity. I wouldn't recommend people join sites like these because it is more like spamming people.
Unfortunately, the pay rate wouldn't be as nearly as much as what DWB claims with their over-inflated opportunity. You really gotta look at these money-making claims realistically.
Sites make these over-inflated money-making claims all the time online and they use words like:
The list goes on and on. Any gimmick these sites come up with is what they use to get people in.
If posting links without doing anything else made people millions, we'd all be doing it.
Big reputable companies are not going to pay people to spam others.
Social sites and forums do not like affiliate links posted everywhere on their sites.
Usually what happens is that people will get banned from the site and they will take down the links.
The Best Way To Use Your Links
---
You can make money online and you can do it properly. The way to add proper links to sites is by having your own website and placing your affiliate links on your website.
Amazon Associates allows people to make a commission every time a person purchases a product through your own personalized affiliate link that Amazon gives you.
This applies to a lot of affiliate programs online. I always like to say to people that you should stand behind the products you're promoting.
If you're curious about how websites and affiliate links really work, you should check out this service here.
All In All
Any site that uses these kinds of deception to get you to purchase their service you should really have your guard up.
This is the first time I came across a scare tacit to get people to pay, but I'm not surprised. If you looked at the images that were displayed, obviously they were Photoshop images to make what they are stating in their article appear to be legit.
It's sad that it had to go this far. A good clue when you start to read what is really going on is to look for the word advertorial. It may be displayed on the site or it may not. Also, any service that over inflates what you will be making is a sure sign that maybe you should move on.
Making money online is possible and you can do it without using deception. If you want to know how people make money by using a service like Amazon, I would highly suggest you check out My #1 Heroic Site.
What is your take about Daily Web Biz, Tweet me @evelynbaz!
Looking For Ways To Earn From Home?
Check out a list of opportunities!
There are many ways you can earn from home. In this list, you can find other options that can help you make money online. Each opportunity is either earn some extra coins, find work, or start a business. Click the button below to see if any of these options fit your needs.

We earn a commission if you click this link and make a purchase at no additional cost to you.