I wanted to write a review about Digital Altitude because I could see a number of people joining.
Don't get me wrong, it's entirely up to you in what you want to do.
I just want people to look at their options before they join anything.
According to Digital Altitude, these top tier sales funnels are what will make you the big bucks.
I get it that people want big money when a person decides to build a business online.
Before you consider building a business with DA, I would suggest you read my Digital Altitude review because it may save you from bringing tears to your wallet.
Specs About Digital Altitude
---

Product Name: Digital Altitude
Year: 2015
Free Access: No
Price: Starts at $1
Website URL: digitalaltitude.com
BeginAtZero.com Overall Rating: 1/10
---
The Rundown
What is Digital Altitude aka DA?
How does it work?
It's a service that provides digital marketing and training that you're able to sell.
How much does it cost?
You can try it for $1 for 14 days. The Aspire system has three different levels.
Levels
Walker $37 Monthly
Hiker $67 Monthly
Climber $127 Monthly
Who can join?
Update:
If you read my title it says, digital altitude: will DA's top tier bring a wallet to tears.
Well, according to the FTC, that answer is yes. Actually, there was a court order to halt their tier business coaching system. You can read the full details here.
My Take
When I watched the free video, I must say, Michael Force really said some very sensible facts that I agree with.
I also like the fact that the owner of the site was talking. He really did a very transparent video and I was impressed.
One of the facts that Michael said that I must agree with is that a majority of people do not take the action needed to change their lives.
Even with simple steps, some people will skip them. I don't know if it's because people are anxious or maybe overwhelmed about learning something new, but I must say that a really good support system does help.
I know that Digital Altitude offers to coach and that is great, but before you think about joining, I want you to take the time to learn about the cost and what you're getting into because the last thing I want is people having empty wallets with no results.
Earning Money Online
---
It is absolutely possible to make money from home there is no doubt about that. People do it all the time. What is great for one person may not be for another.
I also want you to know that if you're going to build a business online that it comes with costs. The great thing about online businesses is that it's nowhere near as expensive as building a business offline.
The low cost of building a business online is great for anyone who has that entrepreneurial spirit. I call the online world the new railroad because you can reach billions of people worldwide online. If you can see that value, then what are you waiting for.
What I want to do with this review is get into Digital Altitude's business model, their costs, and some other info that I disagree with Michael Force. So let's get right to it.
DA's Business Model
---
DA is a service that is supposed to help you make money online by utilizing their learning materials.
According to their ad, they claim that you can make $10,000 within 14 days by using their system.
I've read that so many people make claims that they have done this, but you know what, don't take it too seriously. I read in DA's fine print that these claims are not verified for accuracy or truthfulness.
---
---
Their business model is based on a top tier service meaning up-sells. What this means is that you pay more money to get more learning materials.
I'm Not Against Upgrading
---
I believe there is a difference between being up-sold and upgrading. Upgrading means that you want to improve on what you have.
For an online business, this can mean maybe you want a premium theme instead of using a free theme once you're getting good traffic and sales.
As for being up-sold with DA, I believe you should know how much these top tiers costs plus you should also know that you should be making money within their lowest level before you even think about shelling out any more money.
I also want you to think about this as well, let's say a sales agent suggests you should move up a tier, should you do it?
My suggestion is, if the money they are asking you to shell out costs a lot more than the money you've made, maybe you should hold off.
Not only that, are you reinvesting all the money you made back into the system? Meaning yeah, you may have made money, but now they are asking for your commissions.
I believe if you're going to reinvest back into a system, you should have a profit in hand and not reinvest all your money and then some even if the first tier is working.
You may be thinking I'll get that money back, but I believe you should keep doing what you're doing until you've made double or tripled in what they are asking you to reinvest.
Anyways, let's get into these top tiers and how much does each tier cost.
DA's Tiers
---
They start you off with a free first video, which I think is great. I felt Michael went over the business model, but not exactly their comp plan in depth.
If you decide to join, you can start off for one dollar for 14 days.
DA's tier levels and business model have some similarities to Six Figure Mentors, Empower Network, and MOBE which I felt all of them are quite overpriced.
Michael Force also was involved in Carbon Copy Pro, when I checked out that site, the site redirected to The Six figure Mentors.
DA's comp plan is based on a 3 level tier. Meaning, you get paid down to three levels depending on which Aspire level you choose to purchase.
Let's get into the Aspire Comp Plan so you get a better understanding of how their tier system works.
Aspire's Comp Plan
---
Aspires has three different levels, Walker, Hiker, and Climber. The big difference between these levels is the commissions you can make and the training materials they offer.
Aspire/Walker is the start of the levels. It costs $37 per month. You make 40% commission on one-tier. As for the training, you get access to the member's area, startup training videos, and weekly calls.
Aspire/Hiker costs $67 per month. You make 50% commission down to 2 tiers. You get access to the member's area, startup training videos weekly calls live hiker training, and sales assistance.
Aspire/Climber costs $127 per month. You make 60% commissions down to 3 tiers. You get access to the same training that Hiker get access to except, you get live climber training, additional sales funnels, done for you solutions and traffic solutions.
How Does The Tiers Work
---
The Walker level Tier you only make commissions on you the first level. This means that whatever sales you make, you make a 40% commission period.
The Hiker level Tier you get paid down two levels. Meaning if you bring in Jane and Jane brings in John, you make commissions not just on Jane, but on John as well.
The Climber Level Tier you get paid down 3 levels, meaning if you bring in Jane and Jane brings in John and John brings in Doe, you make a commission on all three levels.
Comp Plans Can Be A Little Complicated
---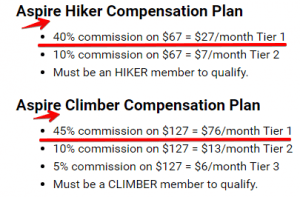 In the Hiker and Climber level, I was a bit confused about the commissions you make.
In their comp plan, they state that you make a 50% commission in the Hiker Level and 60% commissions in the Climber Level, but when they showed examples of the commissions they showed different numbers.
If you decide on the Hiker or Climber levels, please, please make sure you get a clear picture of what exactly you get paid.
I always say these MLM Comp Plans can be quite confusing. I call MLM comp plans complicated plans because it's never a clear picture.
After looking at their comp plan, I realized that the Aspire's Hiker and Climber is based on their whole tier commissions.
What I mean by this is that with the Hiker Aspire system, you get 50% commissions, 40% on the first tier and 10% on the second tier that ads up to 50%.
With Climber the same applies, 45% on the first tier, 10% on the second tier, and 5% on the third tear adding up to 60%.
I also read that you have to purchase one of the sales funnels in order to make that commissions. I didn't read it anywhere on DA's site, so I don't know if it's true or not.
If this is true, I will Call Digital Altitude a Scam. The reason being is that let's say you have an offline store selling sunglasses.
For some reason, you don't carry the Ray-Ban Tom Cruz sunglasses, but you're able to special order them for your customer.
Your customer agrees and even pays for them, knowing they could get a 30-day refund.
In two weeks the sunglasses are delivered and the customer gets their Ray-Ban sunglasses. Everyone is happy because the customer got what they paid for and the owner of the store made a commission.
Even though the owner didn't purchase the product, the owner made money for doing their job.
Shouldn't that apply even if someone doesn't purchase a particular sales funnel?
As I said, I didn't read this on DA's site that you don't make a commission if you don't purchase a sales funnel.
I would suggest you ask because these sales funnels are part of the reason why everyone is hustling to get people to try DA.
If you're not going to make a sale based on your tier or sales funnel that you have to purchase, you're in for a big nothing for doing all that work for nothing.
Sales Funnels
---
These sales funnels are training materials that allow you to make more money within any level you choose.
Base is a digital mastery business course that costs a one-time fee of $597.
Rise is a digital mastery business course that costs a one-time fee of $1,997.
Ascend is a digital business profit workshop that costs a one time fee of $9,997.
Peak is a digital business prosper retreat that cost a one time fee of $16,997.
Apex is a digital business legacy experience that costs a one time fee of 27,997.
If you were to sell any one of these business courses or retreats, you would make a nice little commission.
DA offers a sales team that can close the sale for you. Yeah, you may have to give up some of your commissions to the sales team, but you will still make a decent commission, especially if you were able to close the Apex digital business legacy experience.
Who Would Purchase These Sales Funnel Business Courses?
---
Well, usually how these systems work, if you were to purchase one of those Aspire tiers, you are part of the sales funnels. These coaches and salespeople are the ones that are going to contact you to purchase one of their high price sales funnels.
If they can get you in at $37 a month for their Aspire Walker level, I'm sure one of those salespeople believes that they are capable of getting at least another one-time fee of $597 out of you.
This is how they make their money, once you're in you better believe the up-sells are coming.
These salespeople may even start with the Apex digital business legacy experience and when you tell them heck no I do not want to spend nearly 30 grand on some retreat, they will down-sell you all the way to the base.
If you purchase the base, your upline makes a commission based on what level of the Aspire's Walk, Hike, or Climb level your upline chose to purchase.
I Disagree With Michael
---
In Michael's free video, he explained how people may not make as much money selling sunglasses or jeans. I disagree with him on that.
There are plenty of designer products out there that cost a lot more than the average $10 sunglasses. Let's say your niche is about sunglasses.
There are people out there who are not willing to put anything under a certain amount of money on their eyes.
These people tend to love brand names. These people are looking for high-quality products and they know the cost. These people are willing to buy without feeling duped when they purchase a high-quality product.
This goes for a lot of products that are sold. Even Michael explained that in his video about Apple products.
If you like Apple products and you are an affiliate for various Apple products, you know you can make a commission with their various different products and prices that Apple offers.
This applies to plenty of products that are sold, from exercise equipment to your most luxurious eyelashes.
Will My Wallet Be In Tears?
---
YES! you better believe it! This is why I want to stress to people that if you're going to build a business utilizing DA, start at the lowest level.
I'm saying this because why would DA offer a one-tier level called Aspire/Walker if you're not able to make money within that level.
Don't bother paying for retreats or sales funnels just do the bare basics and see how it works for you.
I'm telling you right now, it shouldn't cost you that much money to build a business from home.
Sometimes I feel like some of these systems just place a high price tag on the service and expect people to purchase these high ticketed digital products to make a quick buck.
I feel that the prices should be fair. They are asking for almost thirty thousand dollars for one of their sales funnels. That is like a brand new car for training and some sort of retreat. You don't get a degree at the end of the day!
All In All
It's entirely up to you with what you want to do. I feel like this is more like people getting up-sold and putting their money back in because these salespeople are going to sell these sales funnels to anyone who joins.
Once you make a certain amount of money, it goes right back into the system and it just repeats.
If you are looking at all your options, there is a great service that is straightforward about learning how to build a business from home, you are more than welcome to check out Wealthy Affiliate.
There is no dollar fee to check them out, in fact, you get 10 free lessons, a free website and hosting without pulling out your credit card.
This way, without ever trying to get your money back, you can experience the actual lessons you will be getting plus experience a great community without shelling out a dime.
What is your take about Digital Altitude, Tweet me @evelynbaz!

We earn a commission if you click this link and make a purchase at no additional cost to you.