You probably saw an interesting job on the job boards about Walgreens.
We all know that Walgreens is a fortune 500 company that has been in business for over 100 years.
Some of you may want to apply for the data entry specialist position listed on job boards.
Before you do, it is essential to read this article about work at home jobs through Walgreens.
Even though Walgreens does have work at home positions, that doesn't necessarily mean the job posted is by Walgreens.
In this article, I'm going to share with you my findings and where you can apply for work at home positions at Walgreens.
My Take
When I saw the job listing to work at home from Walgreens, I was like, wow, I didn't know they hired people to work from home!
Then when I read the job description, I was like OMG, not another one of these so-called jobs floating around using a company's name.
Work at home jobs is what a lot of people are looking for these days.
It's always nice when people find a job that fit their needs, and on top of that, it is a work at home position.
Unfortunately, you do have to be careful when you see familiar brand name companies that offer work at home positions.
It is so essential to make sure that it's an actual work at home job and not some way to get you to do something that you are not interested in doing.
So let's look at the Walgreens work at home job listing that I found.
Walgreens Work At Home Job Listing
---
---
The job is for a Data Entry Specialist.
The company got listed as Walgreens Boots Alliance, which is a part of Walgreens.
Walgreens Boots Alliance is a part of their global locations.
Walgreens Work At Home Job Listing says they are looking for online support in our work at home panelist program.
Then it goes on to say, and I will list them in bullet points.
Data Entry
preforming email response
reviews
surveys
and other online projects
It also says, and I'm quoting it.
"The work at home opportunity is very rewarding and will help shape the market place and influence new products coming to market."
At a glance, some people might think the listing sounds promising and apply because they trust the brand.
If you saw the job listing, you might have noticed that it doesn't direct you to the actual Walgreens website to apply, it shows two options, Snagajob and Jobrapido.
Both links want you to sign up for their job boards.
I've read reviews about both websites, and a lot of people had complaints about both sites.
The main complaint was that people were not able to find jobs through their websites.
You can read about Snagajob here and Jobrapido here.
With the rising of internet crimes going on these days, it's best to go to the actual website and apply there.
The Job Listing Seems Fishy
If you look at the actual job listing, more or less, it seems like they want you to complete surveys.
When I see words like panelists, surveys, influence new products coming to market, and shape the market place, more than likely, they will direct you to some survey panelist website.
Check This Out
---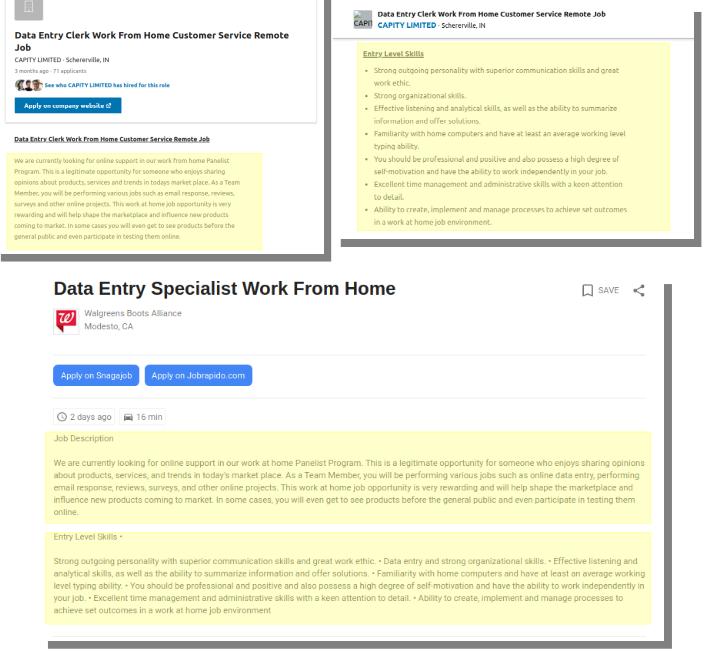 ---
If you look at the image above, the Walgreens work at home job listing is almost the exact wording for another company on LinkedIn's website.
It got formatted a little differently, but they are looking for people who will "help shape the market place and influence new products coming to market."
Where the LinkedIn panelist opportunity directs people to is a website that I already posted about Apply Today Now.
Apply Today Now, have you fill out a questionnaire then direct you to some market research companies.
Some of these job listings don't offer a website that has the survey feel in the job listing.
If there isn't a website, like I've come across before, I would recommend that people move on.
I say that because if a company doesn't have an actual website for their work at home opportunity, where are you going to log in and start working?
As you can see, with jobs from home, sometimes you will see duplicated listings.
If for some reason, you feel a familiarity or get a gut instinct that something isn't right, your best bet is to find the company website if there is one and see if there is an actual work at home opportunity, then apply on their actual website.
Another tip is to research the job online to find out if it's an actual job.
What If It's Another One Of Those Questionnaire Websites?
---
Several questionnaire websites are circulating online that I've posted. They use those questionnaire websites to say apply on our website to legitimize their job listing.
Generally, with these questionnaire websites, what I see when I viewed and went to the next steps for their "application" is that they want you to take part in several market research companies.
Some of these market research companies' websites are legit and will compensate you for completing surveys.
To get you to these questionnaire sites, the job listing tends to over-inflate the pay for completing surveys, earn $18 per hour from home.
However, the pay listed like make $18 per hour, isn't precisely the wage. I have completed many surveys online, and they do not pay you $18 an hour.
You're looking at making around $0.50 to $1.00 per 20-minute survey that you complete.
More than likely, you will have to spend 10 minutes first trying to qualify to complete the survey, and if you don't, you don't make anything.
Completing surveys is time-consuming and will take you about three months to make $10.00.
Sometimes the pay is not even cash. You may get rewarded with gift cards.
Walgreens Hoax Job Scam Alert
---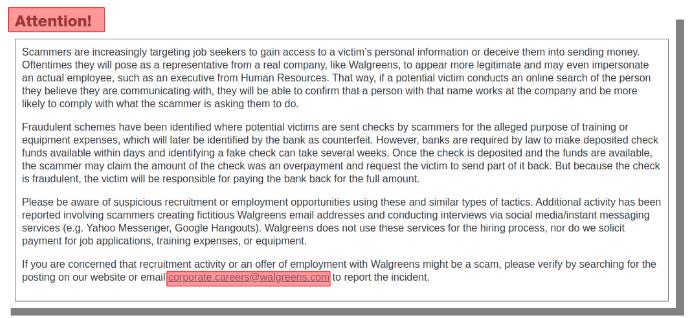 Just like Hospira, I found out that Walgreens even listed on its website that there are job listings that use their name to scam people.
To sum up the scam, they either con you for your personal information or dupe you out of your money.
Any job that claims they are hiring people will not ask you for money.
If there are any supplies or equipment needed, usually on the job listing, it will inform you of what is required before you apply.
Sometimes you may have to purchase the equipment or supplies yourself. Usually, you would buy them at your local store.
Do not get involved in some check fraud.
Evelyn, You Said Walgreens Have Work At Home Jobs
---
Yep, I did say that didn't I, Lol.
Here are the steps,
Go to jobs.walgreens.com
Search for keywords like remote, work at home or work from home
Select your location
Radius
The results should display work at home positions.
Note: not all locations have available work at home positions.
You would have to check periodically to find available at home positions.
All In All
Walgreens does offer work at home jobs, but their work from home opportunity isn't available everywhere.
Unfortunately, a lot of job listings will use fortune 500 company's names to lure people to another website.
It appears that the job listing's main goal was to get people to sign up to their job board to apply there, which is very fishy.
Most company's that are looking for people to work for them will have people apply on their actual website.
It is always a good idea if you see a job listing that interest you to look for the actual company's website.
If you can't find one, that is a red flag to move on.
What is your take about Walgreens work at home jobs, Tweet me @evelynbaz!
Looking For Ways To Earn From Home?
Check out a list of opportunities!
There are many ways you can earn from home. In this list, you can find other options that can help you make money online. Each opportunity is either earn some extra coins, find work, or start a business. Click the button below to see if any of these options fit your needs.