I know a lot of us would like to be able to work from the comfort of our homes.
We may use services that supply us with emails or newsletters that give us job listings so we don't have to do all the research ourselves.
Please take the time to read my E-Worker Wanted Review because there is info that you should beware of and where it leads to.
Specs About E-Worker Wanted
---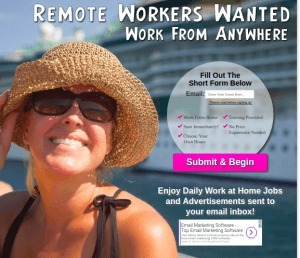 Product Name: E-Worker Wanted
Year: 2012
Free Access: Yes
Price:
Website URL: eworkerwanted.us
BeginAtZero.com Overall Rating: 3/10
---
The Rundown
What Is E-Worker Wanted?
How does it work?
Mainly you will need to give out your email address to get access. Once you fill out your info you will get offers, advertisements, and work at home opportunity.
How much does it cost?
Who can join?
My Take
When I landed on eworkerwanted.us, there wasn't much on the site. Actually, the site appeared to be self-explanatory.
What I noticed is that their service is free to join and you will get work at home jobs and advertisements sent to you via email.
Well, not much info left me speechless, so what I did was go straight to their fine print.
In Their Disclaimers
---
---
Their disclaimer was pretty straightforward. When you join entirely free services like these don't expect that you will only be the beneficiary from what they offer to you.
Of course in their disclaimers, they state that they will use your info for any purposes. They did elaborate stating that they will share your info with third parties that interest you, examples are:
email advertising
telephone
direct mail
banner advertising
other websites
They also may maintain a separate email list, snail mail, or phone list for different purposes.
Now that you know you're not getting something for anything, if you don't agree to their terms you shouldn't sign up for their listing.
What Do I Get If I Wanted To Join?
---
You will get advertisements, job listing, 3 offers a day along with their newsletter.
More or less you're agreeing to receive ads that we are so bombarded with everywhere.
Some of these offers are business opportunities and with any business opportunity, know that there will always be an investment required.
With jobs, businesses that are hiring will never ask you for upfront money.
If you just have to join to see these job listing, please go to the business that is hiring actual website to obtain further info because you don't want to get duped, research is key.
Where Does E-Worker Wanted Lead To?
---
It leads to Next Job At Home. I've done a review on that service and I expressed how important it is to beware of jobs and offers.
From my experience with Next Job At home, they sure do send you 3 offers a day and when I looked through their offers, it was business opportunities that required you to pay fees.
Also, you do get job listings but there is another alternative that you should consider.
What Is This Alternative Evelyn?
---
If you want to find work at home opportunities go to Google Job Alerts.
I've purchased a job listing in the past and like I stated in my Mommy Jobs Online review, more or less the job listing you will find within any of these services whether you pay or it's free offers the same list of jobs.
I guess the jobs from home haven't changed much as I find the same job listings through Google Job Alerts.
All you have to do to get job alerts through Google is to either open a Gmail account or sing into your Gmail email account and select the job listings you are interested in.
If you're looking for work whether it's from home or outside the home, it's just that simple.
Also, I am building a post that offers real work at home jobs. You can check it out here, from what I find with work at home jobs that are actual real work at home jobs is that it will never be the perfect fit.
What About Business Opportunities?
---
You're looking at fees so expect to pay. If you're into the MLM thing, you may want to consider the product that they want you to sell.
With MLM businesses they tend to get you in with their potential money, you can make even if the fee is small.
Those are potentials, yes every business opportunity has potential money you can make as long as you open up your wallet.
I'm not saying that business opportunities are scams online but look at what they are asking you to do.
Realistically, if you want an online business completely from home you land on some sort of website.
You go to a dot something name and after you click on the website you are in their online business so why not start your own website.
Even those social sites like Facebook or YouTube are websites.
With your own website, you have the ability to build and sell the products and services that you like. Unlike MLM business, you're selling their services only.
All In All
The choice is yours. I've come across a lot worse websites containing a service that will supply you with money-making opportunities entirely from home.
Your best bet if your privacy is important to you is to maybe consider not joining. Some people don't mind their info being shared or stored for other purposes, but if you don't agree to the terms.
You also may want to consider looking into Google Job Alerts because you will get the same job listings there without offers or business opportunities.
What is your take about E-Worker wanted, Tweet me @evelynbaz!
Looking For Ways To Earn From Home?
Check out a list of opportunities!
There are many ways you can earn from home. In this list, you can find other options that can help you make money online. Each opportunity is either earn some extra coins, find work, or start a business. Click the button below to see if any of these options fit your needs.

We earn a commission if you click this link and make a purchase at no additional cost to you.