I got an email about an opportunity.
I went to check it out, and when I went to the ad, they claimed that this single mom makes over $89,000 a year.
I know that a lot of people wouldn't mind that income.
I did some digging, and I found some real jaw-dropping tactics.
Please take the time to read my Earn At Home Club Review because what I found out is that it's another way a person can dig themselves into a hole.
Specs About Earn At Home Club
---
Product Name: Earn At Home Club
Year: 2014
Free Access: No
Price: Starts off at $4.97
Website URL: workathomeclub.org
BeginAtZero.com Overall Rating: 0/10
---
The Rundown
Just to be clear, yes it's a minus 0 in the overall ranking.
What is work at home club aka WAHC?
It's a service that charges numerous fees for training.
How does it work?
According to "Emily Young", you fill out forms and surf the net.
How much does it cost?
The starting cost I saw was $4.97
I X-out it went down to $1
$77 one time fee
$59 a month
There are other fees if you choose to use them. (buyer beware)
Who can join?
My Take
A lot of times we get these emails with some fantastic wordings to entice us to read these emails.
Then when we read these emails we wonder if it's true or not.
Those wordings may be a reason why we click on the link and it can get us into debt if we are not careful.
I myself was a little curious and when I clicked on the link, I was very disappointed.
This ad for me felt very familiar and similar to an ad I reviewed.
I had to dig because this ad had comments, as seen on images and a news video on their site.
I was there a while back looking for ways to make money from home and I can see why people would find this ad to be relevant.
Their Claims
---
As I was reading their ad, they made it seem like they were interviewing a stay at home mom named Emily Young.
The ad is very tempting because it has a money claim that a lot of people are probably looking for.
What this "Emily" said is that she makes between 6 to 8 thousand dollars a month.
In the ad what this "Emily" claims her daily task is is filling out forms and surfing the net.
This is very, very, very tempting because we all can do that.
I can see why people would get tempted to go to Earn At Home Club.
When I Clicked The Link To Getting Access
---
It didn't say much on there. They wanted my full name, email address, telephone number, and country.
When I saw the telephone number, I was like oh no, I personally don't recommend people give out their phone number.
What I did was X-out to see what would happen.
It turned out to be an X-out of a mess.
I mean really, this wasn't just a red flag for me, this turned out to be an aggressive red flag.
Why X-out Is A Big Red Flag?
---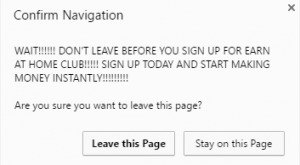 I understand that sites want to make a deal with people.
I personally think it's not a fair deal that someone paid a larger amount of money for a service that they could have paid a lot less for.
I also feel this is a way for a service to get either a person's financial information or their email address.
They do this so they can either make money off of someone one way or another, or they try to get someone at another time by obtaining someone's email address.
The Ratchet X-out Game
---
When I X-out with EAHC, I felt like I was playing a video game of some sort.
It was really aggressive. Usually, when a service does the wait X-out tactic it's usually once or twice, but with EAHC, it was a mess.
I felt like I was playing the Game Of Thrones or you die or I die first trying to X-out of Earn At Home Club.
This was not a club, but a colt because they would not let me go, Lol.
I had to X-out I believe it was more than 20 times before I was free.
When I X-out I saw different prices of what this service costs. The first site didn't show a price. Then I saw it went down to $4.97 all the way down to a buck.
I then went back to their main site and read the terms.
OMG, from here I was like yeah this is where people will end up in debt.
I blinked twice when I read in the image above, it stated you are fully liable for all charges whether or not authorized by you.
Then I read the rest of the terms and a good portion of the terms were about:
Subscription Products
Prices
Payment
Recurring Payments
Subscription Billings
Cancellation
I was like, I thought this was about making money, not getting myself into debt.
What happened to this "Emily" making money by surfing and filling out forms. How hard can it be to fill out some forms and surf the net? Why would there be so many types of payments in their terms?
I was thinking about The first ad terms being right about the word literally. I felt very uncomfortable about moving on with this service.
What I Did Next
---
What I did was go back to one of the X-out ads and learned that they put a red mark in the $99.
I saw one that cost $4.97, the lowest It went to is one buck.
They had terms in there that I felt were outrageous.
If you can't read these terms in the image above, this is what it mainly says.
You will be charged $1 to validate and have up to three days to cancel.
Once the 3 days pass, you will be charged $77. If you continue on, you will be charged $57 a month.
Then you get some sort of Facebook training that will cost $9.99 a month.
Then you will get some academy training that will cost $6.99 a month.
If you decide to pay for everything you're looking at $155.95 and your monthly fee will be $73.98.
Complaints On The Net
---
I went and read some complaints on the net. People were upset that they were not able to get their money back as the ad claimed.
I wouldn't recommend anyone giving this service the benefit of the doubt. I would recommend that people just move on.
It could get to the point where you would have to call your bank and demand not to be charged anymore.
It can get quite difficult to get your money back. I even wrote an article for people who may have this problem.
It could even get to the point where you would have to request a new credit card number from your bank.
All In All
EAHC really didn't give out any details of what someone would be doing.
Knowing exactly what you will be doing before you hand out a dime is important.
I felt like filling out some forms and surfing the net wasn't enough to trust EAHC to make the money as they claim. If it were the case, we'd all be doing that.
Working from home takes time and work, it doesn't happen like what these ads claim.
I too was there looking for ways to make money from home and realized that a website is where it begins online. If you're interested in what I do check out this website here.
You can check them out for free and see how people are really making money from home. You will get a website, hosting, and 10 free lessons without shelling out a dime.
What is your take about Earn At Home Club, Tweet me @evelynbaz!