There are many directions people decide to take in regards to what type of website they would like to build. eCommerce websites is another way that people can build out a website.
Unfortunately, there are people who abuse a system. What abuse can do is cause ethical eCommerce store owners to lose customers.
We as consumers should report these unethical stores. It not only helps the online small business owners, but it helps us all stay safe on the Internet.
What Am I Referring To
---
---
A friend of mine told me that they saw some really inexpensive items online. He wanted me to check it out because he wasn't sure if he was getting a great deal or getting scammed.
When I looked at the website that my friend was referring to, I was very leery because everything on that website cost the exact same price.
I know for a fact that not every item will have the same value whether it is furniture or an inexpensive toy.
When I first saw all the listings I thought the person who listed the prices did it by creating some kind of code.
I decided to do some digging to see what came out of my research so here it is.
Wow, Are There Really Sales That Low, Lol?
---
Most likely NO. People who open any store are in business to make money not lose money.
How would a store make money when products are sold at a ridiculously low price. If any items are sold with a low price tag there should be a reason behind it.
The best reason I could come up with is if there was some sort of very expensive shipping that would cause the price tag to increase once a person checked out.
As I kept researching there were red flags that just kept gleaming.
One Of The Obvious Red Flag
---
Aside from the really low price, free shipping is an enticing way for people to check out what is offered.
We all know that free shipping is great because when it's time to check out, your total will not increase.
That doesn't mean that free shipping is a red flag, but if the price tag is really on the cheap end, you should have your guard up.
If you don't see a sales tax, that is another red flag. Most likely they are out to get your money and not send you a product.
Researching Can Really Help You Decide
---
Research the website that you landed on. If you read many complaints about the website, more than likely it's a fraud website.
Look up how long their website has been online. If it is a fairly new website, it doesn't mean it's a scam however if the other red flags that I just stated, then I personally would move on.
Each website may have a unique red flag such as a very odd way of paying like cash or on the particular website I was looking at all the prices were the same.
What Was The Website?
---
---
The website that my friend referred me to is damilsha.com. As I was doing research, I found other similar websites.
The list of websites that I researched.
Damilsha.com
Martimarket.com
Robyfy.com
Alekoshop.com
Retsho.com
The ones that are listed above I noticed were Shopify websites.
If you are unfamiliar with Shopify, what Shopify does is allow a way for people to start an eCommerce website easily.
==> Get Info Here On How To Get A Refund <==
Is Shopify A Scam?
---
NO. Being that it's a service that offers a platform to easily set up an eCommerce store, unfortunately, scams are going to take advantage of the opportunity.
More than likely, Shopify will take down their shop, but in the meantime, it is up to you as the consumer to do your research.
I decided to see what I could find about these eCommerce sites.
What Did I Find Out?
---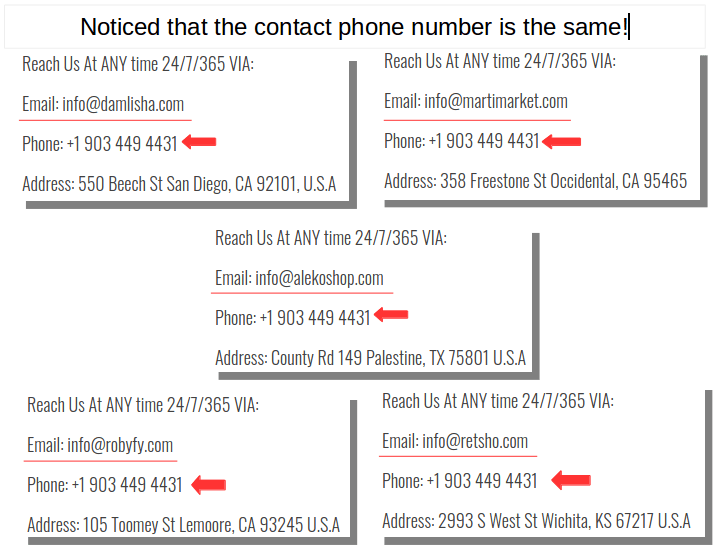 ---
Damilsha
On Reddit, they said super sketchy that a desktop 3D printer for $14.95.
On Shopify Forum they broke it down.
The IP address is on Shopify
The address is an alley in San Diego
Texas Area Code
The phone number doesn't work
Business hours are eastern time
Those listed above, are just some of the major info that should help you decide to if you're able to get a 3D printer for practically nothing.
---
Martimarket
There wasn't much data about this site. Maybe it is because it is only 13 days old whereas damlisha has been in business a little longer.
Robyfy
Trustpilot has 16 reviews. The star rate is one star. I'm sure if they can give it a zero they would.
The first review said that they hold a string of multiple scam sites.
From the complaints I read, it appears it coincided with what I researched.
Alekoshop
There wasn't much about their website it could be just like martimarket because it is only 18 days old.
Retsho
Just like Robyfy, Trustpilot also has complaints about their website. One of the biggest concerns is that the website is fairly new.
The Abuse Is Out There
---
People lose a lot of money because of methodical schemes taking place online.
There is plenty of scams going on within any spectrum of the online world.
I get it that scammers may not care about the consequences that occur when they decide to plan their schemes.
However, it affects us all. The small business owner who may want to sell their own personal products may have a tougher time obtaining customers because people may only go to trusted sources to buy.
People don't have to abuse other people to make money online. There are many ethical ways to build businesses online.
The beauty of the online world is that there is room for all of us to do it.
People can sell products through an eCommerce store and through an affiliate website where website owners can recommend products and services to their readers.
Either way, it takes work, but through hard work, people are building lucrative businesses online without ever having to scheme people out of their money.
How Do I Get My Money Back?
---
If you thought you were getting a deal with one of those scheme eCommerce websites and want to know what you can do to try and get your money back or file a complaint I have some tips here.
Your first resolution is to try and contact the website owner and see if you are able to get your money back.
You may get it resolved there, but the Admin or Admins who created their websites doesn't seem to have accurate contact details.
I know that attempt may be a waste of time, but it shows that you tried to get it resolved with no avail.
If you paid by credit card, your credit card company might be able to assist you. You can also call your bank and ask if you are able to reverse the charges.

Under Shopify rules, they suggest that you contact the website Admin where you purchased the product or products.
If you can't get anywhere within 30 days, you can report them to Shopify. Shopify will notify the website owner, but they will not give you any details about their investigation.
Also, Shopify may contact you to obtain further details, but that is as far that it goes by contacting Shopify.
Being that this site is very shady and seems to have some sort of scam ring going on, I'd take matters with the BBB and file a complaint there.
You may also want to consider the FTC. The FTC may file an investigation and may even prevent the Admin from opening another eCommerce site.
All In All
No one wants to get duped out of their money. It's very important not to give your info out even though the cost wouldn't do a lot of damage.
There are many ways that people can make money from home that doesn't have to scheme people out of their money.
Affiliate marketing is one of the best ways because you can help people by recommending ethical products and services to people.
If you do see an awesome low price tag, your best bet before you place your credit info on any site you're unfamiliar with is to do your research.
Go to a site like Scamadviser and look up the date that the website was created before you decide.
Read concerns on the net about the website before you decide to purchase.
Call their contact info and see if you can get a hold of someone, if you can't you may have a tough time obtaining a refund.
If you have any questions or comments about eCommerce store scams, please feel free to let me know below, thanks!