Elixir is another job listing that I saw online.
They claim that you can make $100 a day. They say it's a renowned market research company.
I was curious because when I see listings that say a market research company, I'm thinking surveys.
Their job title in the job listing was data entry customer service clerk.
When I see data entry, the alarm bells start to siren because data entry jobs are pretty difficult to find in the work from home arena.
In this Elixir Inc job listing review, I'm going to let you know the findings.
Specs About Elixir Inc
---
Product Name: Elixir Inc
Year: 2019
Free Access: Yes
Price: Free
Website URL: None
BeginAtZero.com Overall Rating: 1/10
---
My Take
There are a lot of data entry jobs listed in job boards, however, when people go to apply, they find out the job listing is not exactly what they thought it was going to be.
These listing can mislead people into thinking that there is work from home jobs that pay pretty good.
It's a shame, but it's been done more often than you think.
In my other reviews that I've done, there are similarities and I will cover those as well. But let us start with the job listing.
That Elixir Inc Job Listing
---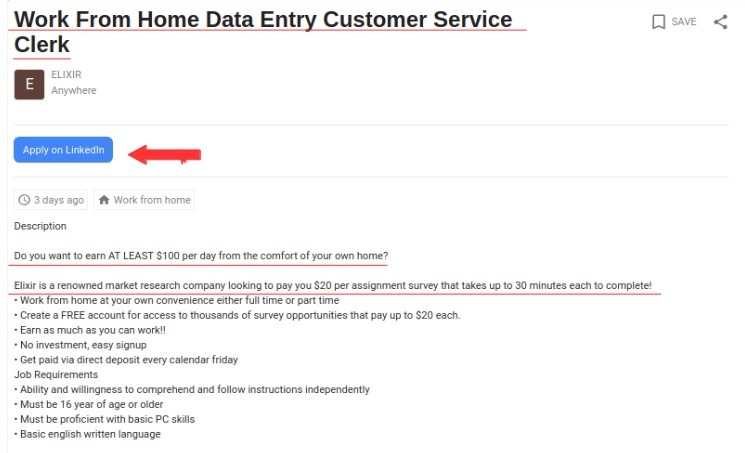 ---
As you can see, it starts with a question asking you "Do you want to earn at least $100 a day?"
That question is easily answered especially for anyone who is looking for a job.
Then the next sentence was, "Elixir is a renowned market research company looking to pay you $20 per assignment survey that takes up to 30 minutes each to complete!"
After that, as you can see they list other details in bullet points.
The Bullet Point That Make It Very Tempting
---
work from home
earn as much as you can
free account
easy sign-up
get paid every Friday via direct deposit
At the top, it says to apply on LinkedIn. So, of course, we get curious because the temptation is there to see what you will get access to.
You pretty much end up seeing the same ad inside LinkedIn.
---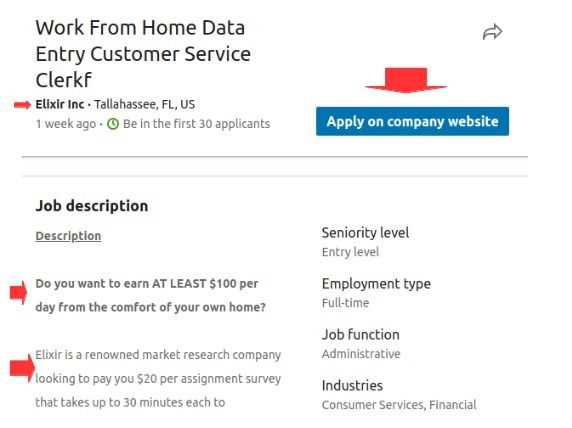 ---
When I clicked on Apply on the company website, it took me to the LinkedIn sign up page.
I'm assuming that wasn't the case for some of you it may have taken you to a website that wasn't Elixir.
It appears that the listing keeps going because what I did next was Googled Elixir inc to see what I would find.
What Was On Google Search Engine?
---
---
There were many different listing for Elixir and if you look at the LinkedIn ones, one says join LinkedIn.
The other listing was 17 hours ago when I took the screenshot. The job listing pretty much coincides with the two job listings I seen on the Google job board and on LinkedIn.
I noticed that the LinkedIn listing on Google wasn't cached, I can't tell you why it isn't cached, however, there are many reasons why.
If you go to search engine land, the article listed the reasons.
Shouldn't There Be A Website?
---
When a job listing says a renowned market research company, shouldn't there be a website listed above?
They are asking people to work from home and make $100 a day completing surveys that you would get paid via direct deposit on Friday's, yet they don't have a website?
What I mean is that this is a bit odd that there would be a job listing to work from home, yet they are renowned and no website listed!
Where do you log in to get these $20 surveys that only take up to 30 minutes to complete with thousands of surveys listed without a website?
I know I sound a bit redundant here because I know people are out there looking for jobs.
I know when I was looking to work from home, I would see similar ads that throw up pretty good pay, yet it never turns out that way.
So one more redundancy, where is the website so people could log in and get access to make $20 for 30 minutes per survey, Lol.
Deception In Regards To Survey Jobs
---
I don't know what these job boards are going to do in regards to data entry/customer service "jobs" because I see those listings quite often.
Sometimes they do have websites that you can go to.
I wrote an article about a website that did have job listings along with a website yet when I looked at their survey sites, they listed market research companies. I'm familiar with some of the market research companies listed on their site and the pay I know its not that high as their ad claimed.
I know that because I've done my share of surveys and even list some of them on my website. They pay on average to complete surveys is around $0.50 and it could take up to 15 minutes to complete.
There are times where you will complete surveys that pay a little more or a little less depending on the length of the survey or additional surveys they want you to complete.
$20 per survey and make $100 a day to complete surveys is not realistic.
I've even ranted about data entry jobs and when I found one, I was like OMG, a real data entry job.
Then What Is Their Motive?
---
Somehow someway there is money involved for the "job" Lister.
Sometimes they may want your info so they can sell it leading people who gave their info to get other spam work at home opportunities that may cost money.
It could be a phishing scam where they want your personal info, such as user name, passwords, or credit info.
I just wrote an article about how cheap is too cheap and when I wrote that article it was based on business opportunities.
I also mentioned in that article that people should put a price tag on ads.
What I mean by that statement is that, don't fall for the hype.
Before you get too excited when you place your info somewhere, find the transparency. If you can't find that, maybe the ad is just a worthless piece of work that is a waste of time.
All In All
People do make money completing surveys but the pay is nowhere near $100 a day. It will take you months to redeem $20 and most importantly. there is a website to go to for people to complete surveys.
The social media area is a big trend to lure people. They use LinkedIn because a lot of real employers are looking for employees.
Scammers know this so they take advantage of job boards and a service like LinkedIn to lure people.
Like I just said, put a price tag on these ads since they have a motive. If you see an interesting job listing, your motive should be finding out if their jobs are real.
One of the best indicators that it is not a real job is that the pay usually is over-inflated causing that temptation to get people to apply.
What is your take about Elixir Inc, Tweet me @evelynbaz!
Looking For Ways To Earn From Home?
Check out a list of opportunities!
There are many ways you can earn from home. In this list, you can find other options that can help you make money online. Each opportunity is either earn some extra coins, find work, or start a business. Click the button below to see if any of these options fit your needs.

We earn a commission if you click this link and make a purchase at no additional cost to you.