I looked into the Email Processing System.
These types of scams have been going on for years. It's a copy and paste system.
The claims seem promising because the investment is small.
For only $25, EPS claims you can make $3750 per month just by processing 5 emails a day.
These types of claims always seem to be the dream offer we've all been searching for.
Processing 5 emails a day plus making the money they claim, seems like a no-brainer to get started.
When I reviewed this site, I had to give you the rundown on my findings.
Specs About Email Processing System
---
Product Name: Email Processing Systems
Year: 2010
Free Access: No
Price: $25
Website URL: emailprocessingsystems.com
BeginAtZero.com Overall Rating: 1/10
---
The Rundown
What Is Email Processing Systems aka EPS?
How does it work?
You get pre-written ads that people can place in places like Craigslist and Social Sites.
How much does it cost?
$25
$10 for additional website
Who can join?
My Take
These types of scams have been going on for years.
I almost did something similar to EPS back in the day.
It was a little more old school back then, but the business model is the same.
What EPS wants you to do is place pre-written ads in areas like Social sites, Craigslist, or anywhere you can place ads or links.
It's a simple process.
What you should be aware of is if this service will make you the kind of money that EPS claims.
I am sure what it said on the site may not be as promising as it seems.
How Easy Is It?
---
According to the ad, it's pretty simple:
No Selling
No MLM
No Monthly Fees
I agree with one thing; MLM is not for me.
For people who are not interested in MLM, this ad may raise an eyebrow.
If you're looking to be in business for yourself, most likely you're going to be selling a product to people.
With EPS, you will be placing ads somewhere, so that's a soft sale.
You're not knocking on someone's door trying to sell them a vacuum cleaner, but in reality, you are selling people a product.
All You Need
---
$25
PayPal Account
A Computer with Internet
I'm sure nearly everyone who read EPS claim, has those three components available to them. It seems like a no-brainer as I too would think the same thing if I was unfamiliar with the EPS type of service.
I'm not into MLM and not having to go door to door to make a buck sounds great. All I have to do is copy and paste, place some ads on the net, process 5 emails a day and I am set.
What Kind Of Email Is Sent To Get Started
---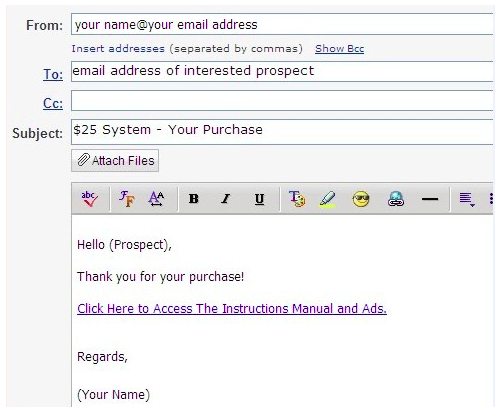 Once you pay the fee, you will get an email like in the image above. All you have to do is click that link and download some software to your computer.
You get your pre-written ads, training, and a list where you can place these ads.
EPS is very similar to 5 Figure Day and Legit Online Jobs. They do have some small differences, but the business model is pretty much the same.
To Process The Emails
---
Let's say you decide to take action, you will get an email sent to your inbox. Then what you will be doing is placing ads wherever EPS recommends or wherever you see fit. Then if you find someone who decides to join, they would do the exact same thing.
The image below is similar ads you will get to place in these classified areas. It's almost like a chain letter system with a digital product attached to it.
---
This is exactly what you will be selling, the same ad you just came across, nothing more nothing less.
Small Up-Sell
---
For an additional ten dollars, you can get the same pre-written website just like the one you just read on the net. These pre-written sites will not rank on the net because it will contain duplicate content.
This is why these types of business models have people place these duplicate content sites in places like Traffic Exchanges or linking them to wherever any place allowed.
Good Side
All payments go directly to your PayPal account. You make 100% profit without any monthly fees.
Bad Side
It's not as easy as it seems. I did Traffic Exchanges and all that social sites stuff when I was involved in the MLM industry. It's very difficult to get people to buy into a business online, even if the fee is minimal.
People are just going to question the integrity of the business, even if the company is simple and easy to do, as the EPS business model.
The Amusing Image Side
---

I was amused when I saw the As Seen On image. They were not lying about that, as some of these scams do.
Of course, EPS was advertised in places like the above image because that's where people placed these pre-written ads.
Video Use To Get You In
---
The scammy part was when I watched the video where they showed people were working from home. I know I saw this news report a few years back.
What's deceptive is that the news was reporting people working from home. As you can see the guy at his desk is not processing emails. As you can see he has headsets on. He appears to be processing calls from home.
I hate it when they use these types of deceptive claims. I've even written about placing news reports on websites.
The reason why sites like EPS like to place legitimate news reports on their ads is to make it appear that the news is reporting about their product.
If you watched the video, it's obvious they don't mention EPS and you don't need headsets to process emails.
Fees
---
I know a one time fee of $25 is not going to set someone back. Just so you know, you can not get your money back from this service.
Is EPS A No-Brainer?
---
NOPE! Here is why I went to YouTube, and I clicked on links where people were promoting EPS. Some of the links were working, but some weren't.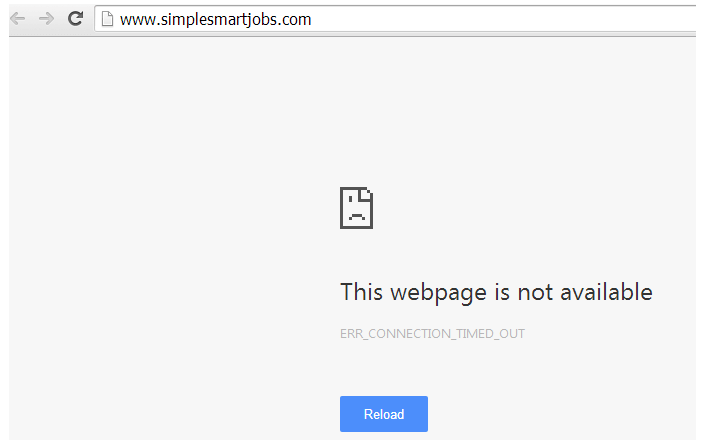 Remember how I said this product seems like a no-brainer? Well, why isn't this link working?
I went to the Wayback Machine and found the site. The site in the Wayback Machine looks a little different, but it's the same product, it just got a facelift.
I did this to show you that if this system was a no-brainer, this person would still be doing this.
But Evelyn, you said some links are still working?
---
I know I said that, but this is a no-brainer business.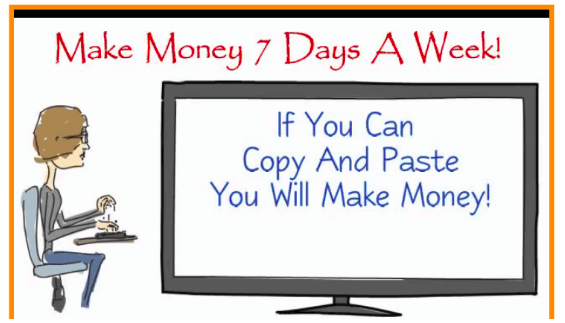 ---
I mean all you have to do is just copy and paste some ads, process 5 emails a day and you can be making $3750 a month.
That's almost $4000 a month by practically doing nothing. Would you give that up? Heck No!
I would have my daughter copy and paste these ads while I'm cooking dinner. All I would have to do is process my 5 emails a day before I go to bed.
All In All
These types of systems that make these kinds of claims are too good to be true.
When you read stories about how someone made all this money using EPS, you should not take them too seriously.
If you're looking for a job, check out here and see if any of these work for you.
What is your take about Email Processing System, Tweet me @evelynbaz!
Looking For Ways To Earn From Home?
Check out a list of opportunities!
There are many ways you can earn from home. In this list, you can find other options that can help you make money online. Each opportunity is either earn some extra coins, find work, or start a business. Click the button below to see if any of these options fit your needs.

We earn a commission if you click this link and make a purchase at no additional cost to you.