Okay, I got an email that offered a rebate for signing up for 4 services.
I had to write this article because I felt I needed to warn people about what is offered in this email.
I feel like people have other alternatives.
I will explain to you why you shouldn't even bother with this email rebate offer because there are more reliable alternatives.
The Email
---
When I saw this email I felt like it was a joke. Being that we are dealing with the online world and what I come across, nothing can be unusual.
Let's look at this email and go over it.
As you can see this email is offering their own rebate service.
When I read the email, I could not see any benefit from a person doing their rebate except maybe keeping those low-quality services if a person decides to pay for it.
The Rebate Offer?
---

---
From the email, this person is promoting:
I already did reviews on these services and I wouldn't recommend anyone wasting their time and money with these services.
People can go online and find these services for themselves. These sites also over-inflate their claims. They make it seem like people are going to make all this money if they pay for a service like these.
All these services are ClickBank products, meaning that people can promote these products and make commissions if someone wants to purchase one of these services.
What Is Clickbank?
---
ClickBank has been around for more than 17 years. They give the opportunity for Entrepreneurs to list their digital products through CB aka ClickBank. Before anyone thinks that CB is a scam, it is not a scam.
Entrepreneurs who list their products in CB allows online marketers to promote their digital products through ClickBank's Affiliate program, such as a service like Get Cash For Surveys.
There are products on ClickBank that can be very misleading, but what CB offers is a way for people to promote and list their products.
As for the making money online services that ClickBank offers, in my opinion, I feel that ClickBank should regulate these services more.
Some of their make money online services listed in CB are over-inflated leading people to request a refund.
The good news about CB is that they do offer a return policy. CB does follow through on their terms so why take a chance with an email when you can deal with a big company like CB?
Let's get back to this email because this is where the red flag comes into play.
Return Policy
---
If you look at the steps that this email says, they prefer that you do not do a chargeback or refund until after 60 days.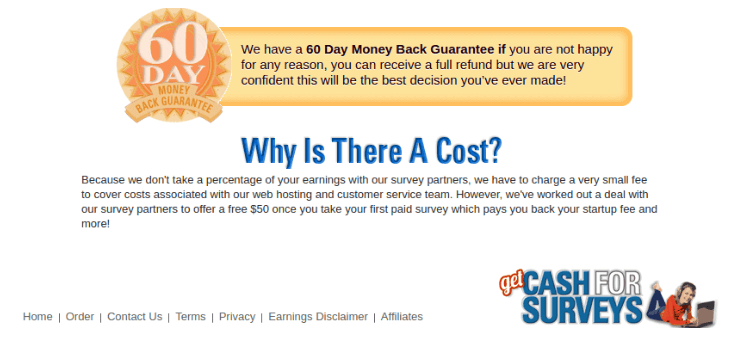 If you go to these services their return policy is a 60-day money-back guarantee.
In the image above you can see that Get Cash For Surveys offers a 60-day money-back guarantee.
This means that if you're an unsatisfied customer, you can go to ClickBank and request your money back before the 60 days are up.
The other alternative is for you to take the risk from an email to request your money back.
A Guarantee Alternative
---
There are people out there that claim these services work, but don't take their word for it. The best thing to do is your research before you even think about purchasing one of these products.
I've done surveys and, Lol no you don't make the money like what these services claim. I don't understand why ClickBank allows these services to over inflate their claims.
Where Is The Trust!
---
This email states that it is offering the best services. Okay, I'm sorry but these are not the best services online for people to use.
If you're interested in doing surveys, all you have to do is Google surveys. Once you join one survey site, other survey sites will come to you like wildfire.
You don't have to pay a dime to join a survey site. Start with Opinion Outpost. You can even Google Opinion Outpost, go there and join. Once you join, you will start getting emails about other survey sites.
If you're really serious about doing surveys from home, make sure you set up a new email address just dedicated it to surveys.
That's all you have to do. By doing Surveys you can make some extra cash, but you are not going to make a full-time income like what these claims states.
I also want you to know that surveys can eat up a lot of your time by answering their questions. I know because I do them. I cut down on them and pick the few that I like.
The ones I do and like are PaidViewpoint and Tellwut.
I like doing these three surveys because I don't have to qualify to participate in their surveys, plus, they are quick to do.
No one has time spending hours and hours to make a buck with one survey, been there done that.
All In All
With the Internet and what I've reviewed over the years, you gotta step on the breaks and do your research.
People will claim this and that works, but they are affiliates to these services. I know I recommend services to people too.
One thing I will not do is put a link on a service that I don't stand behind. In fact, if you're looking for a job, I don't make a dime from letting people know about the services I recommend.
Pierce Eislen and Lifebushido are jobs and you have to go through a process to get hired, but I don't make a dime by telling people about these two services.
You can click here to get the latest job info if you'd like.
The one service that I do recommend that people check out is My #1 Heroic Site. You can check them out for free. If you don't like what they offer, you can move on.
People who are serious about making money online needs to know that it takes work.
I try to let people know that when you go online you land on some sort of website. Websites are were people begin to make money online.
If you want to learn the proper process of building a business online don't hesitate to check out My #1 Heroic Site.
I've been at My #1 Heroic Site for over 3 years now if it didn't work I sure as heck wouldn't be there today.
What is your take about this email rebate survey offer, Tweet me @evelynbaz!
Looking For Ways To Earn From Home?
Check out a list of opportunities!
There are many ways you can earn from home. In this list, you can find other options that can help you make money online. Each opportunity is either earn some extra coins, find work, or start a business. Click the button below to see if any of these options fit your needs.

We earn a commission if you click this link and make a purchase at no additional cost to you.