I got this eMobile Code system by email.
I knew just off the bat it was a scam.
It's that serial video that keeps getting rehashed over and over and over again.
When I saw the same rerun with different actors, I said here we go again.
These videos usually have a concept.
The actors get in their car and drive to the big fake house, started walking around the house telling you about millions you can make by just pushing a button.
I'm really hoping no one takes this stuff seriously.
They say it's free, but it's not.
Let me just give you a really quick rundown on this rehashed, really fake, rerun of a scam system.
Specs About eMobile Code
---

Product Name: eMobile Code
Year: 2014
Free Access: No
Price: $49
Website URL: emobilecode.com
BeginAtZero.com Overall Rating: 0/10
---
The Rundown
What is eMobile Code aka EMC?
How does it work?
It doesn't, but what they claim is that you will send emails and millions will be made.
How much does it cost?
Requirements to join.
It supposed to be a secret, but anyone 18 or older and it's global.
My Take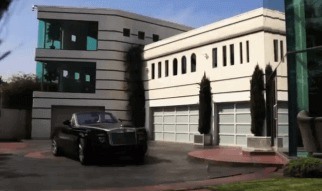 When you come across videos that say how much you can make and how it can change your life, that tell you right there you should put your guard up.
I'm telling you right now that when you hear those words, the program is not going to change anything.
Actually, it can make your life worse for taking action on services that say these things.
Change your life
Live your dreams
Sick and tired of your job
Vacation where you want
Spend time with your family
There are other sayings, but you get the picture. Of course, we all want that stuff.
Of course, it's possible, but it takes work to get there.
When that actor in the EMC video said, this will help especially beginners, I thought oh heck no, this is so messed up.
People, if you're new to making money online, it doesn't happen rapidly like these rehashed, walk around the house fake actors claim.
Like I said and will say all the time and again, it takes work.
Update: The FTC has taken action against a number of eMobile Codes opportunities that were circulating online.
Let Me Just Point Some Info Out To You
---
I just did a review about the trust being broken right after watching a video or reading about a service that you may get.
This is important because you don't want to spend your time and money on something that is a straight-up scam.
The First Question You Need To Ask Yourself is, What will I be doing? The actor in the video never really explained how their system works.
He didn't cover anything that made any sense. He pretty much said you send some emails to mobile phones and millions will be made.
Sending emails doesn't cover anything. Their claims are not transparent. Just because you see a large house, Rolls Royce, and some screenshots of some Clicksure accounts don't mean it's true or reputable.
The Video Didn't Explain Where The Money Is Coming From
---
Send some emails to make millions. Is It that simple? EMC never explained what they are selling for these emails to be sent out.
Not only that, what are people buying? I mean if millions are being made in a matter of minutes as they said in the video, someone has to be buying something?
People like your neighbors, friends, family your family pet. I don't know someone has to be buying it and they didn't explain that either.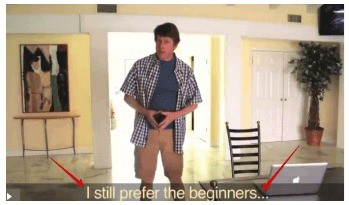 This is a big red flag. They are targeting people who are new to making money online.
The reason for this is that people who are new to the make money online world sometimes think money is made rapidly because the Internet is Word Wide.
With any business, I'm going to say it again, it takes time and works to make millions.
If people were making money that quickly online, everyone will be doing it. You can make money online, but it takes (here we go again, I'm going to say it again) time and work just like any other business.
Deception
---
The trust is broken once they say it's free then they ask you for some money. I don't understand why they can't be upfront and just let people know it costs $49.
What Is Really Deceptive
---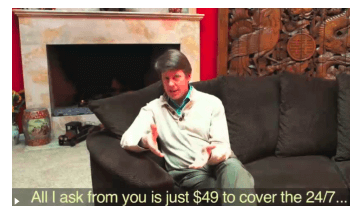 When you X-out enough times that $49 go down to $9. This is another deceptive tactic by doing down-sells just to make a buck.

If a service like EMC really worked, they would be charging people a great deal more money to even get access to their services. I X-out about 7 times before it was free.
One More Statement
---

On their site, they even state in some cases actors have been used. The whole video had actors in it.
If they have actors in the video, that means the whole video just claimed. The car, the people, the house, and the screenshots.
Here Are More Walk Around The House Scams I've Reviewed
---
These videos are pretty much the same with different actors. Some business models are a little different but the concept is the same.
They drive a luxury car, walking around the house, explaining all you have to do is push a button, they say it's free and then ask you for money in the end.
All In All
When I saw EMC's video, I thought here we go again. I think I pointed out some red flags that you should be aware of. This eMobile Code is just a scam and should be avoided.
Yes, you can make a living from home, but it takes time and work. I know I said it again. There is no easy push-button system out there.
What is your take about eMobile Code, Tweet me @evelynbaz!
Looking For Ways To Earn From Home?
Check out a list of opportunities!
There are many ways you can earn from home. In this list, you can find other options that can help you make money online. Each opportunity is either earn some extra coins, find work, or start a business. Click the button below to see if any of these options fit your needs.

We earn a commission if you click this link and make a purchase at no additional cost to you.