I enjoy it when a service offers free valuable information.
That's what I found with Experts Academy's video.
I believe Brendon Burchard shows the math.
Useful free info is what I'm talking about when you're looking for a way to build a business from home.
I watched one of Brendon's free videos. It was called 10 Essentials For A Multi-Million Dollar Expert Empire.
Specs About Experts Academy
---

Product Name: Experts Academy
Year: 2008
Free Access: No
Price: $1997
Website URL: expertsacademy.com
BeginAtZero.com Overall Rating: 7/10
---
The Rundown
What Is Expert Academy?
It's a service that offers a series of videos and training that helps people build and market a business through their passion.
How does it work?
Experts Academy aka EA is a career-based service and not a get the rich quick scheme. You will get a series of DVDs, online courses, online modules, and tickets to learn how to build your own million-dollar empire.
How much does it cost?
A one-time fee of $1997 and you get a 30-day money-back guarantee.
Who can join?
Anyone interested in building their own million-dollar empire and making a career out of it.
My Take
When I started watching the video, Brendon was talking and my first impression was that he had a lot of energy.
I thought, oh no here we go.
I looked at how long the video was and I was like, oh brother.
I want you to know, I didn't know who he was.
I wasn't paying attention at the beginning of the video until he places that red pen on the board.
Then I started to pay attention to what he had to say.
In my opinion, he made a lot of sense
I really liked his personality.
Even though he was high energy, he seemed to have a lot of passion when he delivered his message.
I like the fact that he wasn't making any false claims.
He didn't sound scripted, he talked and showed people a way to build a business from home.
He made me want to learn more about his products, so I went to dig more about what he had to offer.
What Is The Math About?
---
I like it when services actually show you the math and it makes sense. EA is not some get the rich quick scheme.
When I watched the video, I thought Brendon did a great job of schooling people on how to build their own business.
10 Essentials
Subject
Stories
Strategies
Sellable products
Sale process
Social Media
System and Structure
Self Confidence
Self-discipline
Service mindset
What are all these 10 essentials you're probably thinking?
I suggest you go to the video and watch it.
A 55-minute video isn't going to hurt you.
So if you want to get in the game, it starts with hitting that play button.
Who Is Brendon Burchard?
---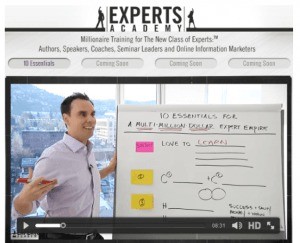 Top 100 most followers on Facebook
Personal Development Coach
New York Times Bestselling Author
He was in a car accident at the age of 19. That car accident made him reflect on his life. I can relate to that.
I wasn't in a major car accident, but I am getting older and my days are getting numbered. I realized I don't want to go down not accomplishing much. I don't want to go down not helping people. I don't want to go down living a robotic life.
Anyways, back to Brendon this about Brendon, not me, Lol. If you watch the video I just watched, he talked about how he got started.
After the car accident at the age of 19, Brendon asked himself, Did I live, Did I live fully, Did I love, and Did I matter?
These are all valid and very relatable questions. I'm sure these questions will come up at least once in our lifetime.
This is where his journey began and he hasn't stopped since. He has built himself quite an empire and has been helping others do the same.
I found a series of videos and books you can check out for free on his website.
brendonburchard.com
What Is Expert Academy All About?
---
Expert Academy is about teaching people how to be an authority using their own talents. EA offers a series of videos on how to market your own business.
This is great for anyone interested in making money in something they are passionate about.
Back then, we didn't have the Internet. Those old school days are over. People are using the internet as an avenue to get where they want to be in life. What makes the internet awesome, is that it is working.
Does This System Work?
---
All systems are not for everybody. I love shopping and when it comes to your life, it should be a value you can't take for granted.
The only way to make it happen is by doing the work. What you should be thinking about is if EA is something you really want to do?
If it is, you must put your best foot forward because it is pretty pricey. I'm sure you're going to have your up and down days because I have that when I started my own business.
What I suggest you do, Is read all the free info that Brendon Burchard offers. I would also suggest you check out this service here. Shop around and then take action.
How Much Are These Videos?
---
For $1997 you get some pretty good training. Just so you know, the two tickets to his live event, hotel, and airfare are not included.
5-week online courses
4 Week online modules
2 Tickets to a live event
Your own blog
20 DVDs
Pretty pricey, I understand that people have dreams and they want to fulfill them.
If you can afford it and are thinking about trying EA, I suggest you go in with both feet. Don't kick tires and change your mind. It's pretty pricey.
Illuminate Your Passion
---
If you feel EA is not for you. You know the saying if you have a will you will find a way. That's what I did. I shopped around until I found the right service for me.
I'm doing it with another service that offers much more and is cost-effective. The only difference is that there is no Live Event.
What my service does offer is more than a live event. I've also recommended this service to others and they decided to try it. They too have started building their own business and are generating income from it. This service is a great way to illuminate your passion.
I call this service My #1 Heroic site because of the accomplishments I've achieved. I've been using their services for over a year now and my passion was to help others do the same.
All In All
I definitely believe Brendon Burchard shows the math on how to make money with your passion. In today's time, it's a lot easier to do it with the Internet.
If you have any questions or comments about Expert Academy, let me know below, thanks!
Many people are finding that they can start creating their own business online. If you have a will, you now have a way with this service here.
What is your take about Experts Academy Video, Tweet me @evelynbaz!

We earn a commission if you click this link and make a purchase at no additional cost to you.