Hello all, I want you to read my Explosive Payday review because it's another funnel type system.
EPD aka Explosive Payday is a funnel to Vibrant Money System that allows people to get hosting through VW Hosting.
I felt after getting the email and how I noticed that they use Facebook and CNN to promote their service, I found that tactic quite deceptive.
This is why I wanted to write this review so you can check out what I discovered.
Specs About Explosive Payday
---
Product Name: Explosive Payday
Year: 2015
Free Access: No
Price: Starts at $9.95
Website URL: explosivepayday.com
BeginAtZero.com Overall Rating: -0/10
---
The Rundown
What is Explosive Payday aka EPD?
How does it work?
According to EPD, they supposedly offer a work at home opportunity to people. People would get paid by doing tasks such as writing simple articles and endorsing products from home.
How much does it cost?
$9.95 – 5-day trial
$29.95 – Monthly Fee
Who can join?
My Take
These emails we get regarding jobs seem promising when we read them.
Sometimes we even think about reasonable ways that it may work.
There are times when deception is used but is that necessary?
It gets to me because looking back when I wanted to make money from home, I would get similar emails.
These ads and emails may go as far as using a reputable company's brand names to promote their own services. I'm going to go over these deceptions.
I feel like it's just getting out of hand.
People do want to make money from home, but it's not necessary to funnel and tunnel people into a bind.
What I'm going to do is go over what to look for when you see these deceptions.
Let's Start With The Email
---
Whatever wording works they will use to try and lure someone in.
In the email above, they make it appear that it's a job opportunity. A Lot of these email claims like to use the word "job" because they know that people tend to feel some sort of comfort to click that link.
Another reason why people may click that link would be that some people are looking for jobs and people may feel that an opportunity landed in their inbox.
Once I clicked On The Email Link
---
I was taken to a page that looked like Facebook was hiring people. Some people may not scan a site and may feel that the site may seem promising. A person may feel like they found a great opportunity to work from home.
I read the page and it can be very promising because they use Bill Gates and Mark Zuckerberg names on the page. They went as far as to say that Bill and Mark decided to invest money to hire more people.
Here is the original image from above, if you compare the two images, you can now see the deception.
The original image was about Mark Zuckerberg ringing the bell for the opening of Nasdaq.
We are all familiar with Facebook, it's now a household name. Billions of people use Facebook.
What I find so irritating is that I come across sites that like to use household names when they are not endorsed by a site like Facebook.
The best thing to do is scroll down and you will read in the fine print that a site that likes to use household names are really not affiliated with a site like Facebook.
They used a stock photo image as a testimonial, that is a big red flag.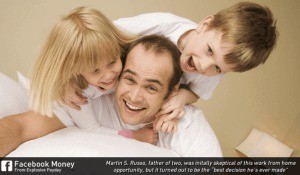 I also noticed that they said a guy named Martin S. Russo took advantage of their opportunity.
I found a number of sites that used the same image.
---
The image is a stock photo. There is nothing wrong with using stock photos if used correctly.
Tons of sites use stock photos including myself for more like as in a metaphoric way. Reputable sites wouldn't use a stock photo as a testimonial.
If Facebook were looking for people to work from home, they would easily advertise it on their own site.
Like I said earlier, Facebook has billions of people utilizing Facebook, they would easily find people if they were hiring.
Once I Clicked The Link
---
---
I decided to click the link and it went to a CNN video. This is a real actual video done by CNN.
The lady in the video is Lili Gil, and she's a business strategist and co-founder of xlalliance.com which is a cultural marketing firm.
I watched the video and it was about 5 ways people are making money from home.
Search, Click, Shop, and Review
Surf and Pay
Paid to Tweet
Virtual Sales Rep
The problem I have is that they made it appear like CNN did this video for EPD. I could see how people would trust this site because they used Facebook and CNN to endorse their product.
EPD even went as far as to put reputable news broadcasting network names on their site.
They used these words "work from home opportunities have been featured on" and show the image of the networks.
Yes, work at home opportunities are played on these networks, but these networks do not endorse EPD.
Once I Clicked On Availability
---
This is when they are now asking for money. They went through this whole ordeal to then ask for money.
EPD was asking people to pay $9.95 to use their service. People would get a 5-day trial and then would be charged $29.95 every 30 days.
The problem I have with this ad is that why is there a fee? With a Job, people shouldn't have to pay a dime. Not only that, but there is also a monthly fee.
Once I Went Through The Fine Print
---
This is where the funnel came into play. People were paying for VW Hosting, Vibrant Money System's back office, and a 22 page eBook.
This whole spiel never went over exactly what people would be doing or what they need to pay for in a transparent way. I felt this whole endorsement was very deceptive.
Complaints
---
I read complaints on the web. Most people felt that they were deceived. Some people thought the ad was a job opportunity.
Most people said that they were having trouble getting their money back before the 5 day trial period ended.
Some people had to go as far a to report them to the BBB to get their money back.
Can Money Be Made From Home?
---
Of course, people do make money from home. It takes work though just like with any job.
The most fantastic part about making money from home is that you're doing it from the comfort of your home, plus you and are able to work the hours you want.
People do it, though:
How To Stop Payments
---
If you decided to try EPD and wish to no longer get billed for their services, what you need to do is call one of these numbers depending on what area you live in.
US 1-866-737-6801
UK 0808-234-6536
NZ 0800-451-485
IRE 1800-677-626
AU 1800-122-544
SG 800-1302-158
ZA 0800-1302-158
IND 000-800-100-4553
I hope this is helpful. If you're still having an issue I would suggest you read this article about getting a refund.
I also want to add that there are other sites that are pretty much similar to EPD. These sites may use different names, but they offer the same so-called services. You can read here about this other site.
All In All
It gets to me when people get deceived. There are lots of people who do want to make an income from home. These types of sites I feel give the work from home opportunity a bad name.
Just like EPD, use a reputable company's brand name to deceive people. I feel It is not necessary to go this far. All this deception just leaves people wasting their time and money.
If you're interested in learning a proper way to make money from home, don't hesitate to check out this site here. You can check them out for free and see if it's an avenue you'd like to take.
If you're looking more into a job like service or small extra cash from home, click here.
what is your take about Explosive Payday, Tweet me @evelynbaz!
Looking For Ways To Earn From Home?
Check out a list of opportunities!
There are many ways you can earn from home. In this list, you can find other options that can help you make money online. Each opportunity is either earn some extra coins, find work, or start a business. Click the button below to see if any of these options fit your needs.