I got an email that wanted to know my opinion on the new Facebook features.
When I went to click the link, it turned out to be about something else.
I felt the wording was a little enticing.
I noticed that a lot of emails would use companies like Facebook to try and entice people.
We shouldn't let these emails fool us because their whole goal is to get people to fill out these offers.
What Was The Email?
---
If you get a lot of emails about surveys this one might be in your inbox.
There are lots of people who do surveys online for extra money and the email made it seem like this was another survey site.
There are plenty of surveys that are legit, but there are some that are deceptive.
The email I got was a way to get me or other people to participate in their survey which then leads to what they are getting at with a link.
Once I Clicked The Link
---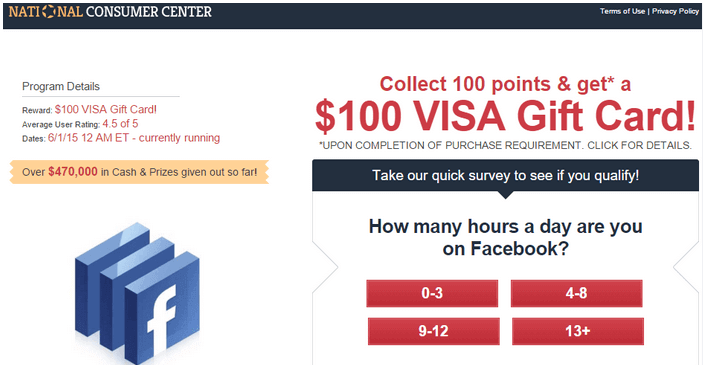 When I clicked on the link, it took me to a site called, National Consumer Center.
I'm very familiar with these types of sites.
I remember doing a review regarding Fast Traffic Sniper and it is pretty much similar to the link I clicked on.
The survey asked a couple of questions and only one question about Facebook.
The two questions were, how many hours do I use Facebook and my age.
I wasn't surprised that the survey didn't even ask me about any of the new Facebook features.
I felt they used Facebook's name to try and get people sucked in.
I kept going and then it said I qualified for the $100 Visa gift card.
As I continued on, they now asked for my email address.
Once I entered my email address, then it asked for my first and last name.
Once I placed that, it now asked for my home address.
I am not giving out my address because it can lead to a numerous amount of junk snail mail that I don't want.
What I did next was a little more digging.
What Else Did I Discover?
---
I went to their terms and found out this site is from Rewards Zones USA.
In order for me to actually get that $100 Visa Gift Card, I would have to complete a number of offers.

As you can see in the image above, there is a Tier 1 and 2 along with Silver, Gold, and Platinum.
I would have to complete offers in tier 1 within 30 days to try and get this 100 dollar gift.
Info You Should Know
---
They also have surveys that don't actually apply to those tier offers.
You may have to use your credit card to complete an offer.
Some of these offers you would have to get billed at least once in order to be qualified.
Some of these offers are credit card offers and you would have used and kept the credit card for a minimum of 60 days, meaning it leads to you paying for something.
Each offer has its own rules that you have to abide by.
What Are The Offers?
---
Movie clubs
Healthy and fitness
Beauty supplies
Credit Cards
Credit Report
Book Clubs
and more
Most of the initial fee is free or they charge a small fee.
Each offer has a different trial period.
Some offers may have a 10 day grace period before someone gets charged on their credit card.
Some offers are very expensive as well.
There are offers that can run around $90 a month if you're not careful about canceling before the grace period.
Is It Even Worth Your Time?
---
When I looked and dig into these offers, in my opinion, it's not even worth your time.
Think about what you have to go through to try and complete an offer.
Then let's say you finish the tier, now you have to keep tabs on these offers.
If you don't keep tabs, you could end up spending more many than what that $100 visa incentive is worth.
I've done reviews on a number of sites that use offers similar to these. On one site they even make it seems like people are doing a job online, but it's also about completing offers.
All In All
A lot of these emails are bold and will use a reputable company's names like Google or Facebook to entice people.
Most of the time these types of sites can cost more money than the initial rewards.
This is why I called these emails a scam.
No one wants to be manipulated out of their money by doing offers that may cost more money than the reward.
What is your take about Facebook emails survey scam, Tweet me @evelynbaz!
Looking For Ways To Earn From Home?
Check out a list of opportunities!
There are many ways you can earn from home. In this list, you can find other options that can help you make money online. Each opportunity is either earn some extra coins, find work, or start a business. Click the button below to see if any of these options fit your needs.

We earn a commission if you click this link and make a purchase at no additional cost to you.