If you got the email claiming you can make money from home, I'm sure it raised an eyebrow.
Who doesn't like the fact that they are able to earn money without leaving their home?
On top of that, Facebook On Fire claims that Martin J. Peters makes $14,000 a month right now.
Okay, I'm sure you want to know the details of what is going on with this Facebook on Fire's claim.
So, please take the time to read my review and I will give you the rundown of what this Advertorial is all about because it speaks volumes.
Specs About Facebook On Fire
---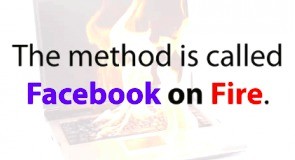 Product Name: Facebook On Fire
Year: 2016
Free Access: No
Price: Starts at $47
Website URL: fbonfire.com
BeginAtZero.com Overall Rating: 3/10
---
The Rundown
What is Facebook On Fire AKA FBOF?
How does it work?
You get a series of color coated training videos that are supposed to help you make money online.
How much does it cost?
Requirements to join.
18 years or older
Requires $47 to start
My Take
Oh Me Oh My, do I hear these advertorial stories all the time on the net.
In fact, I've done quite a few reviews on these advertorial stories.
They make claims that you can make money by doing practically nothing and work practically no hours to get there.
I too was looking for jobs from home and I would come across claims similar to FBOF all the time before I even started my website.
I know how you feel too because these advertorial ads make you feel like there is a possible way to get somewhere financially without all that struggle to get there.
With the Internet being so global along with the possibilities being there, you must understand that work is always required, and struggling is very relevant to get where you want in the online world.
It's a good idea to know how to spot these work at home scams because it can save you a lot of time and money.
So before you think about opening your wallet to any opportunity online, know for a fact that you are going to have to work at it, so let's get right to it.
The Advertorial
---
If you read the advertorial, it claims that people can make money online and they used Martin J. Peters as an example of what he makes by using FBOF's system.
More or less they offer a kit that you can purchase to help you make money the way that this Martin J. Peters makes.
What Are Advertorials?
Advertorials are ads that tend to make their sales page appear like a News setting platform and the story written can be a bit fabricated.
Think of it as a true story movie you've watched. Movies have to entertain us along with some excitement and struggles that people face and overcome.
Sometimes these true story movies can be fabricated for entertainment purposes and with advertorials, that can be the case.
To give you some examples, with the FBOF page, you can see how they make it appear that Facebook is hiring people to work at home.
---
But the actual image is really regarding how Facebook went public and they altered the image to make it appear that Facebook is hiring people to work from home.
Also, what was mentioned in the advertorial was how Martin J. Peters is a father of two who was a skeptic and lost his job early in 2015.
When you look at an image, the meaning can be interpreted in many different ways.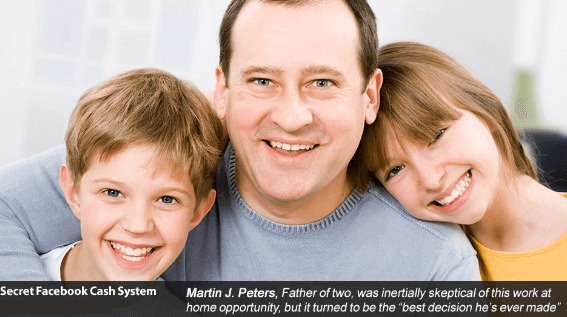 When you look at the image above, you see three people smiling and that could mean many things such as,
A single father looking for love
How to whiten your teeth to look youthful
How a single father overcame some sort of ailment
It could be how fathers parent
It could be about divorce
Being a stepfather
In the FBOF advertorial, it was about Martin making money.

When I researched the image, it turns out that Martin J. Peters's image can be purchased and can be used as a way as I just mentioned above.
It's a story, a story that told how Martin J. Peters is making $14,000 a month with a big smile on his face along with his "children" smiling because they get some perks out of that $14,000 a month.
It's Right There In The Advertorial At The Bottom Of FBOF In Facebook Blue In White Writing
---
We'll get into the Facebook Blue and the white writing a little later, but what I want to start with is the advertorial page itself.
When you come to a page that says you can make money from home along with making what appears to be a job not really a "job", it's really time to look for the red flags.
I've been looking at ads like these for a while now so I can tell right off the bat that what is claimed within the advertorial is not what it seems.
In step one it said and I'm going to quote the image above,
"Step 1: Visit the Facebook on Fire Application Page and fill out the short form to see if you qualify."
That can be very deceiving because it does appear to be a job when a statement says "Facebook On Fire application".
Sometimes when we view a word like an application within an article, that statement seems like people are getting hired for a "job".
Also, that word application can verify in our minds that it is a job when that is really not the case at all.

It also states within the advertorial and I'm quoting it!
"you will need to apply for "facebook on fire" work from home package."
Again, that statement reads like a job when you read the words "apply for work from home package" and again it is very deceptive.
It also states within the Advertorial that to help the U.S. economy they are only releasing a limited amount of kits for a small fee.
The small fee is a red flag because companies really don't require a fee to work for them.
If businesses are hiring people, they want qualified people to work for them. If you think about it, that is why that first step may appear a little on the legit side because it will cause you to click and see if you qualify.
We all want to fit in somewhere along with making $14,000 a month without hardly doing anything.
So jumping the gun without examining what you're reading can really hurt your wallet.
Now Let's Get Into The Facebook Blue And White Writing
---
You may not see the Facebook blue and white writing in every advertorial you come across online.
If you don't see the Facebook blue and white writing, one of the biggest clues you can discover about these advertorials is that every link that you click on in the advertorial page will go to the same page and not to another internal pages or post.
Another clue is that advertorials tend to have that news setting feel.
If you take the time to scroll down to the bottom, sometimes you will find the Facebook blue and white writing right there and they are not hiding anything.
For me, I had to enlarge my screen to read their Privacy Policy at the bottom, and right there is where the advertorial speaks volumes.
Advertorial Speaks Volume One
---

Facebook or any news source is not affiliated with FBOF.
Advertorial Speaks Volume Two
The story is based loosely off a true story.
Advertorial speaks Volume Three

Story and comments depicted should not be taken literally, this site gets compensated for clicks or products on this site.
Advertorial Speaks Volume Four

This is not a job but an educational opportunity.
Advertorial Speaks Volume Five
Typical users of the starter materials that don't enroll in coaching (comma)
Don't keep their commitments (and)
Don't implement what they learn
generally don't make any money
As easy as an ad makes it seems, work is always required and I'm not hating on the site for a way to make money either.
Look, I get it, you have to be selling something in order to make money and that is what FBOF is doing.
I just feel that when you come across an opportunity whether it's a job or a business opportunity, I feel that they should be straight with you.
Obviously in the above advertorial speaks volume four, it says right there that it is an educational opportunity for you to make money from home.
Along with the above advertorial speaks volume five, it also says that typical users of the starter materials that don't enroll in coaching, mean to me that there are going to be more out of pocket expenses.
Yes, they are being straight with you right there, but it's way on the bottom of the page and if you're not examining what you're reading, you're going to miss that and go to the so-called promising video that was on the next page.
What Was In The Video?
---
I'm not going to go into great detail about the video because it really didn't tell you anything.
If you noticed in the image below, the word job was in quotes, Lol.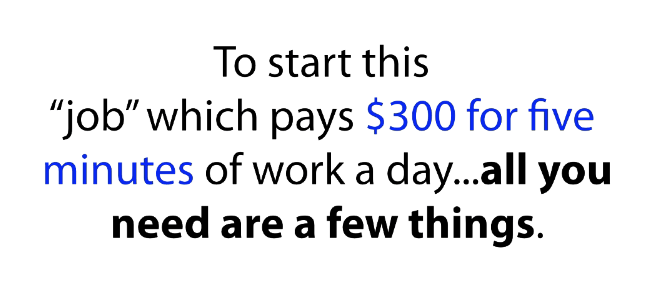 On the next page, it was a video.
The video was really more or less a shiny object that tempts people.
The video didn't explain what you will be doing in order to make a hell of a lot of money for working a few hours a day.
It just went on about how people that use Facebook tend to like and share content and people don't make money from it as Zuckerberg does.
When you get to video two,
FBOF promised $500 if you kept on watching the video till the end.

If you were one of the people that finished watching the second video, you know you were not getting paid.
I've seen similar wishy-washy videos before where they promise you money if you watch the video and then it ends up with some sort of condition.
My point here is that how can you trust your credit card with such fabrication.
They are not even really being transparent with you with their ads.
They get you in by making what appears to be a job when that is really not the case at all.
Then they use stock photos along with fine print info that really speaks volumes about what is really going on.
Again, I'm not against making money online.
But how can you trust your credit card with a service that isn't transparent?
Coaching and training, From who? A stock photo?
You Promote Wealthy Affiliate Evelyn Along With Giving FBOF A Bad Review?
---
I would be more excited to give FBOF a good review along with getting affiliate links and make sales from it.
I would make a hell of a lot of money doing that, but I can't do that.
If I can't trust my Credit Card with a service like this, why would I ask you to do it? In the end, you can do whatever you want.
All In All
When you come across an advertorial, more or less it's a story. You can take it as entertainment or you can trust in what the ad story is telling you.
When I come across such ads, I tend to read and research what is really going on.
For me, fabrications were made and FBOF uses the name-drop tactic by using Facebook to get you interested in their training.
Obviously they are selling you something and it's up to you to buy into it.
For me, I feel that transparency is important because I want to know who I'm doing business with.
That money-back guarantee is not enough for me when they can't even show who is really behind the service they are offering.
Who am I supposed to get my money back from if I'm not a satisfied customer along with $500 they promised me if I try it for 60 days.
Do you really think you're going to get $500 after seeing stock photos, Facebook not endorsed, no job offer, along with up-sells for coaching that may even cost more than $500?
In my book time is money and I have no time for that.
If you want to know what transparency looks like, you may want to consider checking out this website.
If working from home is what you are looking for, please check this out here.
What is your take about Facebook On Fire, Tweet me @evelynbaz!
Looking For Ways To Earn From Home?
Check out a list of opportunities!
There are many ways you can earn from home. In this list, you can find other options that can help you make money online. Each opportunity is either earn some extra coins, find work, or start a business. Click the button below to see if any of these options fit your needs.

We earn a commission if you click this link and make a purchase at no additional cost to you.