I wanted to go over some red flags about Financial Freedom Formula.
The reason being is that there are many similar services online that uses the same types of tactics.
Where is the trust in buying into a system when there are just some common red flags that you can find?
I get it that people do want to make money from home, but I hate to be the bearer of bad news, and that is it takes time and work to make money online.
I hope you take the time to read my Financial Freedom Formula review because I will show you what to look for before you think about giving any of your financial info and why no trust.
Specs About Finacial Freedom Formula
---

Product Name: Financial Freedom Formula
Free Access: No
Price: $47
Year: 2015
Website URL: financialfreedomformula.co
BeginAtZero.com Overall Rating: 0/10
---
The Rundown
What is Financial Freedom Formula aka FFF?
It's a service that is supposed to help you make a passive income.
How does it work?
They are supposed to give you 5 steps to making a passive income through your passion.
How much does it cost?
It starts off at $47, but it down-sells to $9 bucks.
Who can join?
My Take
Over the years I've done a number of reviews and FFF is no different from some of the ones I come across online.
There are simple things you can look out before you decide if a service is right for you.
I know these types of ads deliver a great story, but I personally feel you should trust the whole site as well.
They are asking you to pay money and if these simple things you look for don't gel, then maybe you should find something else.
Transparency is so important because they are saying they are going to help you and they say they have this and that for you, but shouldn't the whole service be transparent when you're thinking about using a service that claims they are going to help you?
Let's get into this so you can decide whether you want to go further or not. Let's start with the video.
The Video Ad
---
When the video started, they use great music and it sounds very inspiring. The video went on to say it's an easy repeatable system.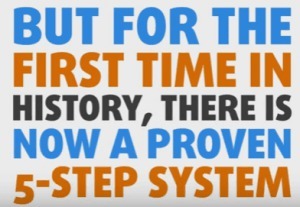 It's a system that takes you from making no money to $10,000 a month all from online. The ad said it's a 5 step system that you can use with any passion you have.
Then the video went on to the blah, blah, blah stuff. You know, living your dreams, doing what you want, working when you want, working only a few hours a week, and making a ton of money.
I just want to say, I've been looking for years to make money from home. When I looked at an opportunity and when an opportunity begins with the blah, blah, blah stuff, I moved on.
I moved on because I realized it's an emotional sale. For me, I don't have time for these emotions, I've been down that road. I wanted the real deal that has transparency and a service that will help me get there, back to the video.

At the end of the video, it went on to say they want to help 100 people. Once they reached that 100 people, they are going to take down the site.
That is another red flag. It's a red flag because that video will usually stay the same for years. Like I said earlier, I've done a number of reviews and there are plenty of services that use the rush tactic to get you to hurry and buy.
They say this and that will happen and when you go back and check it out again, it's the same as it ever was. I must say, where is the trust when they do that?
Time To Get Into This More
---
After I watched the video, I went to their fine print. I like going to the fine print because you can get an idea of what is going on.

When I went to click on the fine print they wouldn't click, It just went back to the top of the video. Wow, that is a big red flag! If you can not read any of fine print move on.
Where is the trust if they can't even get that done. What makes you think that FFF has a proper 5 step system when you can't even read their:
Terms and Conditions
Disclaimer
Privacy Policy
On To The Next Step
---
I did place an email in there to see what would happen and it went on to another video. The video stated it was the secret member's area.
A secret members area with another video of nothing. They claim that once you get the formula, you could be making money in as little as 30 days.
Sounds promising and tempting, but there are other red flags that I want to address.
What Are The Other Red Flags?
---
It down-sell. They say it was $799 but now it cost $47 if you x-out it will go down to $37.
---
It will go to a final down-sell of 9 bucks.

Why Is A Down-Sell A Red Flag?
---
Well, you gotta ask yourself if this formula used to cost $799 (that is 800 bucks) and now it's worth 9 bucks, you gotta ask yourself, is this even worth your time?
To give you a scenario, that's like flip phones being sold in every dollar store. More or less, it may be outdated info you could be purchasing.
How great is this formula? Yeah, 9 bucks won't put you in the poor house if you want to try it, but again it could be a waste of your time.
If this is a repeatable system that works quite well, wouldn't FFF have taken off by now? Wouldn't everyone and their mama be doing the 5 step system because of their repeatable 5 steps?
I feel you should ask yourself these questions before you buy into something even if it's 9 bucks.
Another Red Flag
---
They sure want your email address but yet, you can't even read their privacy policy or terms. Again, how can you trust a site that won't allow you to read these before you place an email address?
You don't know what they are going to do with your email address, yeah it could be the standard rules, but they are not letting you know that.
This site does offer a great return policy, but why go through the hassle when the transparency is little to none.
What Do I Have To Do To Make Money Online?
---
I know some of you are probably sick and tired of all this and that online, but as I said earlier, It takes work to make money online.
I'm not going to sugar coat anything, you can make a great living all from home, but you have to put in the time, effort and work.
I say this time and time again when you go online you go to some sort of website.
You can Google and try to figure everything out on your own, but a website is where you begin your journey to making money online.
If you don't want to Google and try to piece all the puzzles together, you can check out My #1 Heroic Site.
It's a service that's been helping people for over 10 years. Not only that, but you will also get transparency, plus you're able to check it out for FREE.
You get 10 free lessons, hosting, and a website to begin putting those pieces to the puzzle together. I myself, have been there for over 2 years now and I wouldn't be there if their service hasn't helped me and many others.
All In All
There are so many sites like these online. I feel I made some great points that you should consider before you buy.
In the end, it's your decision on what you want to do. If you want to take a shot with FFF, please pay the 9 bucks, not $47.
If you really want to learn the process of how to really make money online please check out My #1 Heroic Site. Again, you can check it out for free and see if it's the right fit for you.
What is your take about Financial Freedom Formula, Tweet me @evelynbaz!

We earn a commission if you click this link and make a purchase at no additional cost to you.