I saw the advertisements for the Five Dollar Funnel.
In the video, they make the Forced Matrix system sound so simple and easy to do and they say it doesn't even cost anything to get started.
The way to get started is to provide your information to start the process of making some money.
I wanted to do a review on Five Dollar Funnel because it's a matrix system that seems appealing, but in reality, these types of systems are very difficult to generate the income that they claim, so let me explain why.
Specs About FiveDollarFunnel
---
Product Name: Five Dollar Funnel
Year: 2014
Free Access: No
Price: Starts off at, you know it! $5
Website URL: fivedollarfunnel.com
BeginAtZero.com Overall Rating: 3/10
---
The Rundown
What is Five Dollar Funnel aka FDF?
In a nutshell, it's a Force Matrix System.
How does it work?
People mainly recruit people into the matrix by using landing pages.
How much does it cost?
It starts off as a $5 fee. Once you finish through a Forced Matrix you move up to a higher paying Forced Matrix. You go through 4 Matrix systems to make the highest potential income.
Who Can Join?
Anyone 18 years or older.
My Take
I've reviewed and seen a lot of matrix programs out there on the net. I've done reviews on,
These are all Matrix systems and they make it seem like the easiest way to generate an income.
It sounds really fun, but the reality is it not fun when no money was made.
These types of systems are mainly recruiting base businesses.
That's all it is.
I know they have digital products, but we all know people didn't join these services for the "digital product" they joined them to recruit and make money.
I'm not saying making money is an awful thing to do, making money is a part of our lives.
Generating an income from home is fantastic, but how you do it is so important because people want a long-lasting income and not the next trend that will last for a short period of time.
FiveDollarFunnel Products
---
You do get digital products with FDF. You get mindset information and landing pages. I'm not against mindset information because you have to be in a good mindset if you want to gain financial freedom.
As for those landing pages, I'm sure everyone is going to be using the same landing pages. Lot's of people who will be seeing these landing pages probably already know what's going on.
Problem With Landing Pages
---
Landing Pages are pages that just wants your information. These types of pages mainly want your email address, name, and sometimes your phone number.
A good way to describe a landing page is like looking at appealing food. It looks good, smells good, but when you taste it, it's nasty and you spit out. That's what exactly what landing or splash pages are like.
People usually place their information in landing pages out of curiosity. There is no guarantee that the people placing their information on these landing pages is someone's real info or they are going to buy the product or service. Some people may like the taste of what is offer upfront, but once they chew into it, they spit it out.
FiveDollarFunnel Comp Plan First Matrix
---
The first comp plan FDF has is the Kickstarter Matrix System. This level is where everyone starts. It's a 3 X 5 Forced Matrix. You pay $5 a month. Once you get 363 people, you have the potential to make $221 a month.
This is just the first matrix. The monthly potential income in this matrix is very low. To get through this first matrix may take a very long time.
I know it's just 5 bucks, but some people just don't want to do it. Some people may realize it's a lot of work for that potential $221 monthly income and it's not worth their time.
The best chance of someone succeeding in these types of Matrix businesses is if they're in a good team because the potential of getting to that next matrix can be difficult and may take a very long time. This again leads to people counting that $5 as a loss.
FiveDollarFunnel Second Matrix
---
If somehow someway someone made it to the next level, it's called Builder Matrix. This Matrix system is a 3 X 5 forced matrix that costs $20 a month.
You have the potential to make $1,443 a month and will need 363 people into the matrix.
Remember you have to go through the first matrix before you can get to this Builder Matrix level.
FiveDollarFunnel Third Matrix
---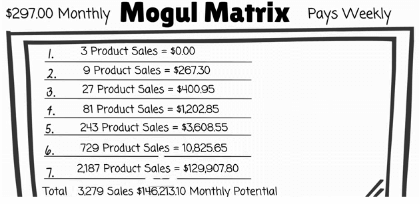 If you finally go through the first two levels of the matrix, now you're ready to get into the third level.
This level pays more, a lot more. It's called the Leader Matrix. It's a 3 X 7 forced matrix.
You pay $99 a month with the potential of making $48,737.70 a month. That's some good money right there! The people you need to get that matrix money is, 3,279 people.
The Final Matrix
---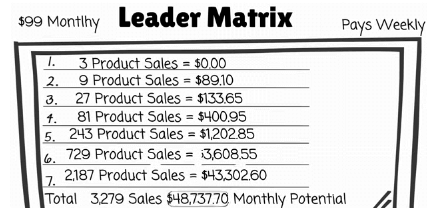 If you think over 48 thousand dollars a month isn't enough, well your potential income can get even higher.
This level is called the Mogul Matrix. You will have to be a pure Mogul to get there and the income is quite awesome.
It's a 3 X 7 Forced Matrix. We are talking about some big matrix monthly income here. You will need 3,279 people and costs $297 a month.
If you can make it to the final matrix, your potential monthly income is $146,213.10 a month. That is some good matrix money.
How Do You Get Paid
---

One of the things I noticed about FDF is that they didn't go into details about how people will get paid. I'm sure you're going to have to give your information first to find this stuff out.
Know how you get paid is very important. I know that PayPal doesn't allow the Matrix system. I did some deep researching about FDF and I found out you get paid through, Visa, Mastercard, Amex, Payza, or Netspend.
---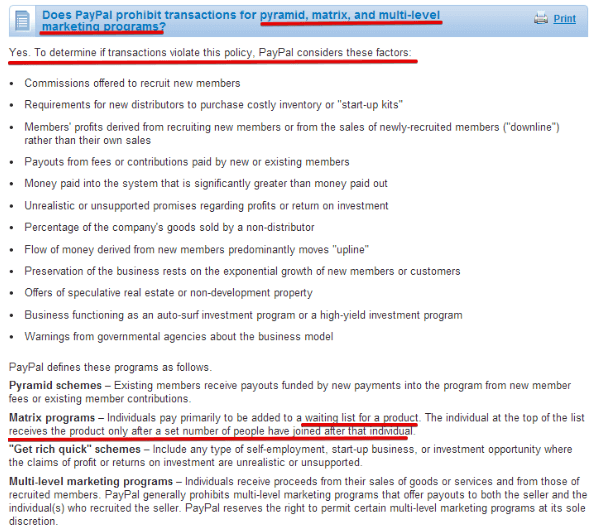 Let's not get into Netspend. I did a review of them and learned that there are a lot of people promoting this card in many ways. There are some crazy fees with Netspend and in my opinion, you should just avoid them completely.
I've haven't used Payza, but I think you should check out this article.
Teams Are Important
---

I read in their terms, if you are on the wrong team, you can be stuck in the matrix. Even the owners say this on their site. Think about where does that leave you if you're stuck?
All these force matrix systems are mainly potential money you CAN make. There is no guarantee you will make that matrix money.
Nothing is impossible, but being involved in a good team does help. You never know if that Matrix Comp Plan will change. As you can read at the top, they may change their comp plan at any time.
All In All
What I learned from building a business from home is that it all begins with a website. I understand these matrix systems seem easy, but it's a lot more difficult than you think.
I've met people who tried them and they say it's difficult. Think about explaining these systems to people. No matter how hard you explain how the matrix system work, people will not want to join.
Mainly because the business model is a pyramid gifting program. I know there's a product, but we all know why people join them, to recruit and make that pyramid scheme money.
If you want to learn how to generate an income from home. I highly suggest My #1 Heroic Site.
It is a place that teaches you how to properly build a business from home. You get 10 Free lessons, a website, and hosting.
You can see if this is the avenue you want to take.
What is your take about FiveDollarFunnel, Tweet me @evelynbaz!
Looking For Ways To Earn From Home?
Check out a list of opportunities!
There are many ways you can earn from home. In this list, you can find other options that can help you make money online. Each opportunity is either earn some extra coins, find work, or start a business. Click the button below to see if any of these options fit your needs.

We earn a commission if you click this link and make a purchase at no additional cost to you.