Okay, there are many PTC sites out there and their rules can just be a plain miss.
Look, I'm not hating on rules however, there are some rules that make me just say I'll pass.
In this Four Dollar Click review, I'm going to explain the 75 days rule along with other info you should know about.
Specs About Four Dollar Click
---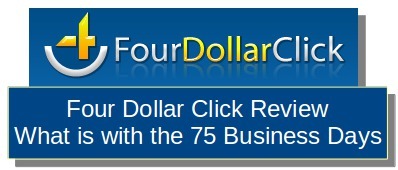 Product Name: Four Dollar Click
Year: 2012
Free Access: Yes
Price: May Vary
Website URL: fourdollarclick.com
BeginAtZero.com Overall Rating: 3/10
---
My Take
At a glance, everything looks all good about FDC until I started reading. I don't know if anyone attempted Four Dollar Click, but for me, I just saw too many red flags.
If you are new to PTC sites, it's could be the first way that you can make money online but for some, they may never cash out from a particular PTC site.
The reason people hit and miss in regards to PTC sites is that it all boils down to who is running the show.
Before you ever decide to invest your time in any of these types of systems, you should consider doing your research before you get involved.
Knowing the data is important because It could take months for you to cash out for the first time and when some people are ready to do that, some of these PTC sites won't pay period.
That leads you to waste your time looking at ads for nothing and getting nothing out of it.
What Is Four Dollar Click?
---
As you already know Four Dollar Click is a PTC site that should pay you to look at ads.
Their gimmick is that they have this high paying threshold that is supposed to pay you in the thousands rather than a few dollars for viewing ads on a daily basis.
How Does Their Service Works?
---
---
You can join for free. You get a list of ads that you can look at on a daily basis.
You are able to view ads for a certain amount of time. Once that time ends, you get credited $4 for every ad you view.
Usually, it will take you 20 seconds to view one ad.
Once you reach their payout threshold which is $4,000, you automatically have the option to get paid, but there are stipulations to this payout process.
What Are These Stipulations To Get Paid?
---

---
Unlike most PTC sites that pay you a penny or less to view their ads and once you reach $2.00, you have the option to cash out.
The PTC sites that do pay wouldn't even ask you to invest money for the time you put into their systems.
The way That Four Dollar Click works is that investments are needed if you want to cash out.
You would have to be a paid member for at least three months in order to qualify for the $4,000 payout.
They offer different levels and prices for these paid levels. Each level you are able to earn a percentage rate for your referral earnings.
Bronze Monthly Membership
25% referral earnings
1 month $59.99
2 month $119.98
3 month $179.97
4 month $239.96
5 month $299.95
Bronze Lifetime Membership
25% referral earnings
1-lifetime Membership $799
Gold Monthly Membership
100% referral earnings
1 month $99.99
2 month $199.98
3 month $299.97
4 month $399.96
5 month $499.95
Silver Monthly Membership
50% referral earnings
1 month $79.99
2 month $159.98
3 month $239.97
4 month $319.96
5 month $399.95
Bronze Yearly Membership
25% referral earnings
1 year $299
2 year $598
3 year $897
Silver Yearly Membership
25% referral earnings
Gold Yearly Membership
100% referral earnings
Silver Lifetime Membership
50% referral earnings
Gold Lifetime Membership
100% referral earnings
There are no refunds if you decide to pay for one of those high priced paid memberships.
I don't know about you, but I feel that there are too many different types of paid memberships.
The most inexpensive paid membership is for 1 month at $59.99.
There is a 75 day waiting period before you can receive your money and on top of that, you have to be a paid member for 3 months to receive your payment.
Some of their memberships such as the Gold Lifetime, you are able to wait 50 days instead of the 75-day waiting period.
What's Up With That 75 Day Waiting Period, Evelyn?
---
I feel you because the 75 day waiting period is alarming to me. With any PTC site, they only give you a certain amount of ads to view. Not only that, but you can also cash out once you hit their payout threshold.
This is a guesstimate, but if you were to click 10 ads per day and get paid $4 per ad you view, you're looking at the 4th month to qualify to cash out at $4,000.
Now you are looking at over two months to get paid because you have to wait 75 days. It will take you 7 months to receive $4,000 for all the ads you viewed on a consistent basis and that waiting period.
There might be times where there are fewer ads to view depending on ads distributed on a daily basis.
Also, there are people who refer people to FDC, so they might reach that $4,000 threshold a lot faster than someone who doesn't have referrals.
Not Only That, What About The Pay To Cash Out?
---
I feel if you put your time and energy viewing ads, you should be able to cash out without any fees applied, period!
If you have to pay money to get your money, you may be looking at some kind of Ponzi scheme.
If you look at the lowest advertising fees, I was surprised to see that it cost…!
---

---
It is 1000 link ads at $10
banners are 25000 at $10
If people are getting paid $4 to look at every ad, that doesn't cover much. Even if people are paying $179.97 for three months allotted time, how are people going to make their $4,000 when they reach the payout threshold.
Even at the highest advertising rate
---

---
it is 50000 link ads at $500
banners are 10000000 ads at $400
If they got 1,000 people a day looking at ads, FDC is spending $4,000 a day for people viewing these ads.
Then they have to pay their referrals who are viewing these ads. How are they paying people who are viewing these ads, unless many people are breaching their terms and they lose out on getting paid?
I'm also not saying that this is the only way FDC is making money but when I saw $4 per ad view, I was expecting advertising costs would be extremely expensive because of the amount of "money" people can make.
Other Red Flags
---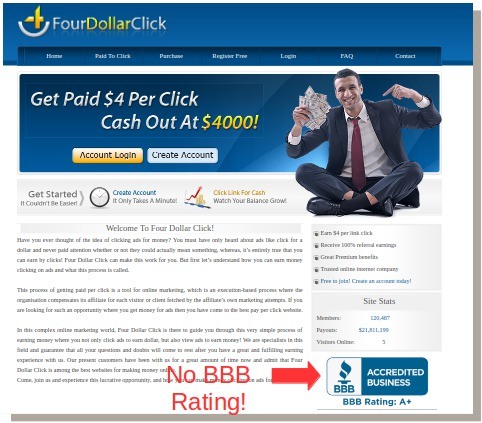 I always feel that people should feel comfortable when they are finding services that will pay them to do a task.
It is so important to figure out if the red flags are alarming or you should keep your guard up.
I noticed that on FDC's website they say they are BBB accredited with an A+ rating.
I couldn't find anything about Four Dollar Click on BBB's website, yet they have been in business for over 7 years?
Another Red Flag
---
---
The payment proof was another red flag. I noticed that they said they pay people every day and some of their payment proof shows PayPal.
---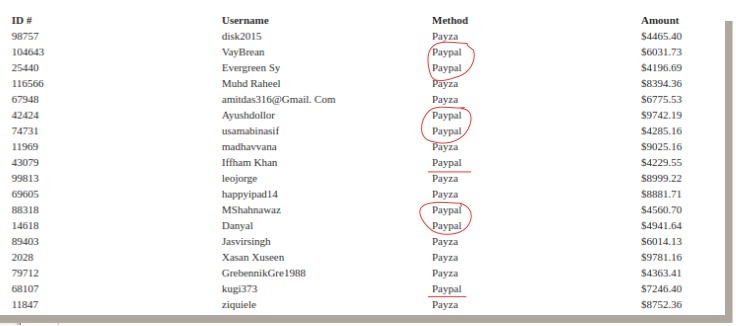 ---
For some years now, PayPal Prohibits PTC Sites and Traffic Exchange Sites. So you're either looking at very old payment proofs or fake payment proofs.
Either way, I have concerns since they say they pay people on a daily basis despite it takes months to get paid.
Not only that, if they are paying people every day, I'm also concern about the Ponzi scheme thing that I just mentioned.
Back To PayPal
---
Let's go back to PayPal, back then I believe it all started with the Trafficmonsoon scheme going on. PayPal didn't want to do business with risky businesses.
I get why PayPal may prohibit PTC sites because, from my experience, there were many PTC sites that didn't pay.
I feel for the legit ones like ClixSense because they run their business accordingly and paid people when they are able to cash out.
All In All
I feel that you are risking your time with a Four Dollar Click. Even though they have a high paying click rate and claim people are cashing out on a daily basis, you should look for the red flags.
It makes me wonder if they are using a high paying gimmick to reel people in.
I feel that you shouldn't have to pay money to receive the money you earned. I also feel that the cost to get paid cost a lot more than their advertising fees. Not only that, but these advertising fees are also what is supposed to earn you money.
That is why a lot of other PTC sites pay people at a very low rate because, in reality, they are in business to make money.
What is your take about Four Dollar Click, Tweet me @evelynbaz!
Looking For Ways To Earn From Home?
Check out a list of opportunities!
There are many ways you can earn from home. In this list, you can find other options that can help you make money online. Each opportunity is either earn some extra coins, find work, or start a business. Click the button below to see if any of these options fit your needs.

We earn a commission if you click this link and make a purchase at no additional cost to you.