We all go to free online job boards to find jobs at one time in our life or another. The biggest trend today is all about working from home.
I get it why people want to work from home and I know for me it was because of the lifestyle I live that caused me to jumped on the work at the home bandwagon.
After looking for a number of jobs from home, I did find some opportunities and I was lucky because I got paid, but I personally wasn't satisfied and I decided the best fit for me was to start my own business online.
I'm not saying that you will not find real opportunities to work from home through job boards, but with anything good, bad is right there.
This is why it's important to know what you're getting into before you start sending your resume and personal data to the unknown online. Did you know that free online job boards offer scam alerts?
Why I Wanted To Write This Article
---
I wanted to write this job board scam alert because job boards have a lot of data on their websites.
When any website grows that big and data is coming in quite rapidly, data that isn't intended to be there may not get taken down immediately.
The second best thing a job board can do is to educate their readers or subscribers when they land on an interesting job listing.
I feel these scam alerts are important and it doesn't hurt to read them.
I too wrote an article regarding spotting the top 5 job scams because as a person who was looking to work from home, oh me oh my, there are a number of job scams out there.
So I'm going to list the 7 popular job boards and what they say about these job scams.
To Give You An Idea Of What I Did
---
I went and read all their data and I took screenshots of what they said along with links so you are able to read everything.
I felt this was important because, in order to be safe online, you gotta start researching before you trust anything online.
With that being said, all the popular job boards are not in any particular order. So let's get right to it.
The First Alert Is Form USA Jobs
---

---
Generic Greeting
USA Jobs listed a very interesting detail and that is a generic greeting.
Generic greetings are not just on job boards, in particular, it can also be in regards to other services such as PayPal.
Check out USA job alerts here.
The Second Alert Is From Simply Hired
---
---
No Experience
Everyone and anyone can apply even Wemon (women) and Felons. I don't know what species are Wemon, it's probably a typo but you get the idea, Lol.
Check out simply hired alters here.
The Third Alert Is From Monster
---

---
Forged Emails
Believe it or not, that violates terms and it's important to research the job before you respond to any job opening.
Check out monster alerts here.
The Fourth Alert Is From Zip Recruiter
---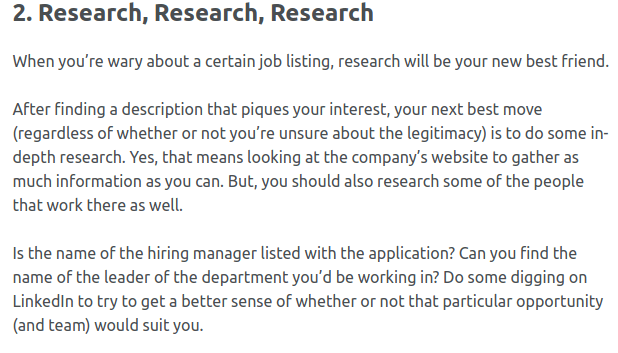 ---
Research
My favorite advice is to Research. Sometimes you will find red flags immediately other times you may have to do some digging.
Check out zip recruiter alerts here.
The Fifth Alert Is From Glassdoor
---

---
File A Complaint
File an online report doesn't hurt. You are not just helping yourself out but your neighbors by reporting the scam.
Check out glassdoor alters here.
The Sixth Alert Is Form Indeed
---

---
Ask Other People
I listed this alert because it doesn't hurt to ask people online in regards to jobs and your concerns on forums.
This way you can find out if people had been duped or scammed from a job listing.
Check out indeed alters here.
The Seventh Alert Is From Career Builder
---

---
Again Research
The reason why I wrote research again because it's your info and money they are after and it is a good idea to protect yourself.
Protect yourself and that goes back to my favorite and that is researching.
Check Out career builder alerts here.
Scams Are Getting More Sophisticated
---
As the Internet evolves so does the scams.
One tip I can give is that even though the scams are sophisticated, they are generally the same old scam.
What scammers do is to try and dupe you out of your money or your information.
If that is what their intent is, then you may want to reconsider their job offer.
What About Businesses Opportunities Online?
---
There are tons of businesses online.
With any business know that you are going to make an investment and it not a job.
The key you should be aware of is that when you come across a business online it has its own dot-com name.
With that being said, with a dot-com name a website is attached to their dot-com name.
And what I'm getting at here is that it is a no-brainer to start with a website.
The best place I learned to build a business online is through a service called Wealthy Affiliate.
This service will guide you through awesome info in regards to how to generate an income online.
Know that it does take work, but the cool part about their service is that they will supply you with 10 free lessons and 2 free websites without pulling out a single credit card.
This way you know what kind of training you will get and you can decide for yourself if it is the right place for you without ever trying to get a refund.
All In All
I want anyone who is reading this article to be aware of these scams online.
The more you know the more you will be able to decipher these scams quite easily.
Unfortunately, there are scams out there and your best defense is to educate yourself so you don't get duped.
It's about you, it's your data it's your money that these scammers are after so it's up to you to defend yourself.
If you're looking for jobs online, you may want to check out this article here.
What is your take about online job boards scam alerts, Tweet me @evelynbaz!
Looking For Ways To Earn From Home?
Check out a list of opportunities!
There are many ways you can earn from home. In this list, you can find other options that can help you make money online. Each opportunity is either earn some extra coins, find work, or start a business. Click the button below to see if any of these options fit your needs.

We earn a commission if you click this link and make a purchase at no additional cost to you.