Free Toolbox is another matrix system.
The start-up cost is quite low; it's only five quarters to get started.
I've done many reviews on Matrix systems.
I find these types of business models to be very difficult to make a substantial living.
Even with the cost of 5 quarters, people will have a tough time getting people into these types of opportunities.
There are several reasons why I'm not recommending Free Toolbox, and I will give you the rundown in this Free Toolbox review.
Specs About Free Toolbox
---
Product Name: Free Toolbox
Year: 2013
Free Access: No
Price: Five Quarters
Website URL: freetoolbox.com
BeginAtZero.com Overall Rating: 1/10
---
The Rundown
What is Free ToolBox aka FTB
It's a 2×2 matrix system.
How does it work?
You recruit people at a low cost. Once you get 6 people into the matrix you will get paid according to the level you're in.
How much does it cost?
It starts off at $1.25. You can either automatically move up a level or you can buy into any of the 5 levels.
Levels Costs
$1.25
$2.50
$5.00
$10.00
$20.00
Who can join?
My Take
When I wrote, just don't recommend, I mean I don't recommend this service to anyone.
I don't recommend you recommend this service to anyone.
I just don't recommend it.
FTB can be a difficult process to make a great deal of money.
I noticed that in one of their videos Peter Wolfing said something like, if people can't pay 5 quarters to get started, there may be a problem there.
I feel that maybe if someone says they don't have the money to get started with FTB, maybe it's because people just don't want to.
Rules To The Matrix
---
The matrix starts from the top and fills from left to right.
It's all automatic and payments are automatically taken from your earnings when you upgrade to the next level.
How Does The Matrix Work?
---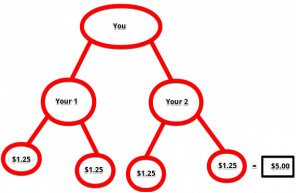 It starts off with you joining the matrix. You pay $1.25, then you find two people into the matrix that goes under you.
You don't get paid until the two people you recruited in the matrix find two people each.
Once they do that, it will add up to 4 people which equals $5.
Next Are The Fees
---
From the $5 you made, $1.25 will automatically go back into the 2×2 matrix.
If you want to upgrade to the next level, $2.50 will automatically come out of that $5 earnings, plus you have to pay a one time $1 upgrade fee.
By going this route, your remaining balance for your first-time payment will be $0.25.
Continue The Process
---
Again you will continue the process, but this time there will be no upgrade fees just the $1.25 to continue on in the matrix.
Each time you complete the 2×2 matrix you will earn $3.75.
Levels And Fees
---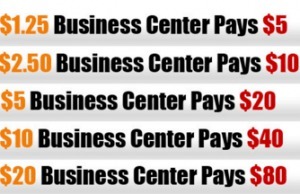 $1.25 – no fee – pays $3.75
$2.50 – $1 one time fee – pays $7.50
$5.00 – $2 one time fee – pays $15
$10.00 – $3 one time fee – pays $30
$20.00 – $4 one time fee – pays $60
In the image, it shows how much the matrix pays, but the money you make in a level will automatically get reinvested into the level you're in.
Purchasing Levels
---
You can buy into other levels in the back office or you can just start off by paying the first $1.25 and work your matrix as I explained above.
Just so you know, if you don't want to upgrade to other levels, you can decline to have the automatic upgrades in your back office.
This will keep you from buying into other levels and paying the one-time fees.
Rules In $10 And $20 Levels
---
---
There are rules to this, you need to at least sponsor 2 people every 60 days in the $10 level at any level.
At the $20 level in order to get paid, you would need to sponsor 4 people at any level every 60 days to get paid.
FTB says they do this so that they don't have anyone sitting and waiting.
I want to stress that these systems only work if you get people in the matrix.
You may want to ask where does the money goes if you are not able to sponsor 2 or 4 people into the matrix within 60 days.
Plus, this could lead to people fraudulently adding people into the 5 quarter matrix just so they can get paid at the higher level.
By people doing this, it can cause the whole matrix to collapse in a level.
Have You Thought About This!
---
Matrix systems are not like everyone comes in on one team.
What I mean by this is that there are many different teams in matrix systems.
When you join a team, you're pretty much stuck with whomever team you're on. You can not change your sponsor.
Why Would People Not Want To Join Or Get Discouraged After Paying 5 Quarters?
---
People may not want to join because people have to recruit others to make money.
You will be surprised how many people will not want to find people and explain the process of doing a service like this.
There are people who have been there and done that and don't want to do it again.
It's a lot of work to get people into the matrix and then once you get paid, the pay is at a very low rate. Eventually, people will get discouraged.
People will question opportunities like these. I've always stated that these systems can be illegal when there is no product to sell.
Sometimes the product is not of really great quality. I noticed with FTP they do give people ideas of how to market to get more potential people, but the strategies can be oversaturated.
It Is Going To Be Extremely Difficult Even With A Good Team!
---
Being on a good product team in these types of systems is vital.
If you're on a team that's not working to get people in, it's going to even more difficult to make good money.
People Will Get Unmotivated Real Quick
---
Don't think that people won't get unmotivated and drop out because they do.
Remember, first you gotta recruit two people and no payments are made.
In order to get paid, your 2 people have to recruit 2 people before you generate that first .25 cents.
Other Out Of Pocket Expenses
---
When I was in the MLM industry I had other out of pocket expenses to get people to join.
There are ways to get around not paying, but it can be time-consuming and the results tend to be minimal causing another discouragement.
Are There People Who Join Matrix System?
---
There are people who believe in these types of systems.
The thing though is that people who are into these types of systems probably are already in the matrix.
Like I stated before and will state again, these types of systems you gotta get in early.
Most of the time these are people at the top of the level making all the money they can before the scheme collapse.
When I Dug A Little Deeper
---
I found out the Peter Wolfing the founder of FTB has a number of these types of systems online.
Multiplex system
Turbo Cycler
Infinity downline
National Wealth Center
Pay Me Forward
This is a big red flag because if one of these systems work, why does he need so many of them on the net?
I want you to really think about this, if one system is helping people tremendously why are their others out there?
I reviewed services online that have similar business models, here are just a few of the ones I reviewed.
Feeder Side
---
FTB is also a feeder program, meaning they will use these low-cost ways as a leads generator to get people into other business opportunities.
I'm Not Into Matrix Systems What Else Can I Do?
---
Options are what you should be looking at.
I was involved in the MLM Industry and found it quite difficult to recruit anyone into the business.
I eventually learned about affiliate marketing. I decided to give that a shot and learned that it's a much more lucrative business.
Not only that, but you also don't have to recruit people, you can tell people about the good quality products that you already used.
It could even be a household item or a phone that you love and enjoy using.
I checked out this site here for free and was amazed at how simple the concept is. I would suggest people check it out because there are options out there.
All In All
The business model is what people should look at when people come across an opportunity like this online.
Even though it takes only 5 quarters to start, think about the long haul of doing something like this.
People don't realize there is only one option to make money by joining and that's recruiting people into the matrix.
You also have to look at the legal aspect of these types of systems. They may say it's legal, but these systems are based on recruiting.
The best thing to do before joining is to find out if there is a product to sell to people.
Also, does the product have any value? Can you sell this product besides recruiting people into the matrix?
If the answer is no, maybe you should disregard the sponsor who recommended any gifting matrix system to you and move on.
When people come online to make money, they come to a website. If you want to learn how to really build a business online, check out this service here.
What is your take about Free Toolbox, Tweet me @evelynbaz!

We earn a commission if you click this link and make a purchase at no additional cost to you.