The FTC made a settlement with a link posting opportunity.
If you read any of my posts, you know how I complain about those bogus advertorial style ads.
The FTC warns people to be careful, I'm just going to quote the statement.
"Be very skeptical of promises that you'll make a lot of money by working from home," said Andrew Smith, Director of the FTC's Bureau of Consumer Protection. "In this case and many others, we see companies that are just out to take your money, not help you make it."
The Link Posting Opportunity
---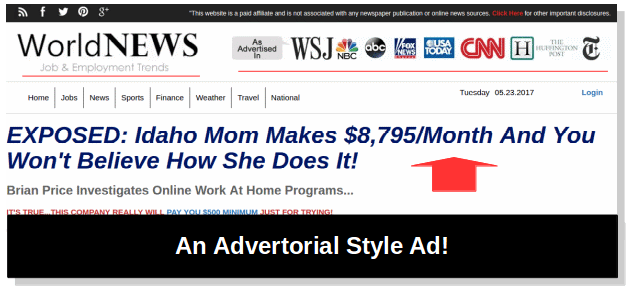 You probably saw many advertorials indicating that you can make a lot of money posting links online.
These advertorial style ads make it seem like it's easy money and in no time people will rake in lots of money by practically doing nothing.
In those ads, they even claim they will supply people with links and pay you to post them.
An ad like that makes people feel like they were going to get supplied with an opportunity to make thousand a day just with these links they were going to get supplied with that would pay them to post links online.
From the FTC complaint when people purchased the opportunity, links were not supplied and they were not getting paid to post links online like what the ads suggested.
Are Advertorials A Red Flag?
---
I'm not saying that using an advertorial style ad is a bad thing. It's always about the intent of what a person is doing.
Not only the intent but what the results are is another flag that you should find out.
People use all kinds of marketing tools to grab your attention.
It is a very competitive world we live in and there are just some people who want sales despite the fact that deception is used.
When I come across an advertorial style ad especially when it's about making money online, my trust for the opportunity diminishes.
The reason that my trust diminishes is that any business that you are going to build takes time, energy, and investments.
I feel that you shouldn't decide on an opportunity lightly.
If they are using a story that isn't true to grab your attention to make money that supposedly makes you thousands within a week or two, why use an advertorial style ad?
There is no need for deception if any money from home opportunity is out there to help you.
One Of The Advertorial Was Called Cash From Home
---
In that article by the FTC, the FTC said that they used a story about a single mother who makes millions from home and that story was a lie along with that "single mother" who never was a customer for their opportunity.
The people behind the scheme made millions from their bogus opportunity.
I see a lot of advertorial style ads that use the same tactics to this day. Obviously, schemers use them because people fall for them.
If someone is making millions from a story using bogus names and opportunities, it WILL NOT STOP unless YOU stop purchasing the lie.
Another Concern Is The Coaching
---
After people purchase the bogus opportunity, people were getting telemarketing calls to purchase one-on-one coaching.
That tactic made these schemers even more money actually, it was in the millions.
I see the coaching or consulting tactic all the time on advertorial style ads. It made me write an article about it because I felt that when people feel that they are going to get one-on-one help, their trust levels may go up.
People want help and getting help with those advertorial style ads is at an additional cost.
I'm not saying that there are coaches out there that do their job and actually coach and help people.
I'm talking about using the word coach to reel people in and they are not actually getting what is needed.
Using the word coach can lead people to buy into an opportunity. I even explained in that article the difference between getting upsold and upgrading.
There is a difference that you should know about. Online businesses these days are not expensive to start.
People can start a business online with a shoestring budget and actually make money without ever being upsold anything.
Here Are Some Of These Advertorial Ads That You Should Know About
---
Let's Address The FTC Quote By Andrew Smith
---
"Be very skeptical of promises that you'll make a lot of money by working from home," said Andrew Smith, Director of the FTC's Bureau of Consumer Protection. "In this case and many others, we see companies that are just out to take your money, not help you make it."
There is nothing wrong with being a skeptic. Actually, I advise people to be skeptical. There are way too many schemes out there claiming they will help you make money and that is not the case at all.
Making money online is going to take work. You are going to have to work at it.
If you read the last part of that quote, Andrew Smith said, "not help you make it."
When I ventured into making money from home, It started with Network Marketing, which I learned through experience it's not for me.
When I learned about affiliate marketing and how it really works that caught my interest.
Deception is used in the affiliate marketing arena as well.
What people don't realize is that a lot of affiliate services like Amazon want to know how you are going to obtain sales for them.
One of the ways to do that is by having your own website and not one of those done for your websites either.
You actually should go out and create your own website and learn about online marketing.
There are services out there that will help you do that. Again, don't think that just because you joined a service that everything is going to get handed to you.
You are getting supplied with info to help you do it. So your actions and what you apply and learn is what is going to help you.
Not only that, but it also takes work.
If you're afraid of working at it to be able to really work from home, then I recommend you don't do it.
Because it starts off with no money made and it could take months without seeing any revenue.
I don't like to sugar coat anything and I feel that people should know the truth.
Also, did I say work at it enough, Lol!
All In All
The proof is the action that the FTC took.
People get taken all the time online. If you read the FTC article, people got taken for millions.
You should be skeptical because your time and money are important.
Don't let an ad fool you. It's best to research and find out what is going on.
There are plenty of articles out there that will share their finding with you.
What is your take about the FTC Settlement with a link posting opportunity, Tweet me @evelynbaz!
Plant, Water, and Believe!
Keep faith in what you're doing.
Inspiration can be a turning point in your life. Click the link below if you need a little kick in the butt to start your journey.

We earn a commission if you click this link and make a purchase at no additional cost to you.