When I saw the title and the ad about Gaming Jobs Online, I had the feeling that it was too good to be true.
Of course, their ad made it seem like people will be testing video games from their home and getting paid.
Before you think about pulling out that buck, read this Gaming Jobs Online review.
I will give you the rundown on why you should not even pull out a dollar and save it.
Specs About Gaming Jobs Online
---

Product Name: Gaming Jobs Online
Year: 2008
Free Access: No
Price: Start off for a dollar
Website URL: gamingjobsonline.com
BeginAtZero.com Overall Rating: 0/10
---
The Rundown
What is Gaming Jobs Online aka GJO?
It's a database service that is supposed to give you a list of gaming jobs that are hiring.
How does it work?
Once you sign up and pay a fee, you get access to a database of major gaming companies that are hiring. You also get access to a list of survey sites, magazines, and CDs.
How much does it cost?
You can try it for a dollar then you pay a monthly fee of $27.
Who can join?
My Take
When I reviewed the ad, it turns out what people would be paying for is database information.
In the video, the girl said they connect you with all the major gaming companies.
Please people, I warn against paying for database information.
It is just a ripoff because you can go to Google and look up all the information yourself.
Database Sites
---
Here is a list of database sites I reviewed that are similar to GJO.
I'm sure the list will continue to grow.
As a matter of fact, GJO also has another database service. You can read more about their writing jobs service and get the rundown on the deception they used with their testimonials.
As you can see there are a number of these database services that charge people money.
If people do a little digging they wouldn't even have to pay not even a buck for the info that database services like to charge.
What Kinds Of Jobs Are Listed?
---
I dug deep for you and found out what you will be paying for is jobs that list in places that you can look up yourself.
What they do is list jobs from places like THQ, Sega, Steam, or any major gaming company.
Most of the jobs are not even game tester jobs. These jobs can be programming, animator, scripting, and so on.
They do have some game testers job listed, but you also have to fill out an application just like you would have to do do with any job that is hiring people.
What they do is send you to the major gaming companies sites.
So if you wanted to apply at Sega, you can easily just go to their website yourself and apply there.
You could even go to places like Indeed or CareerBuilder and find the same jobs listed there for free.
What Do I Get Access Too?
---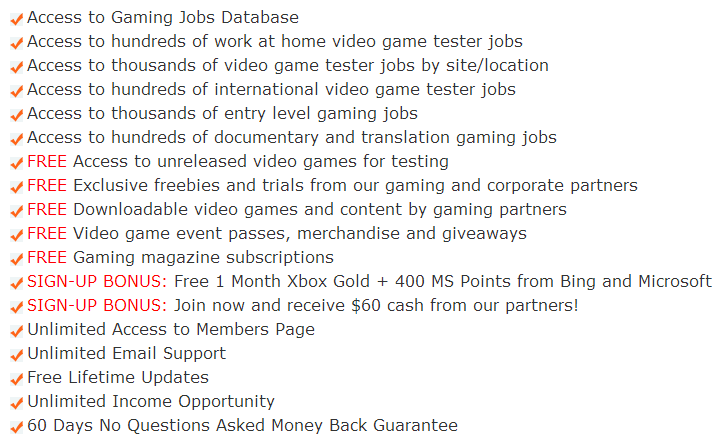 Deceptive Claims
---

In the ad, they make it seem so easy. These three simple steps were deceptive.
Create an account
Choose a job
Play and get paid
They make it seem like all you have to do is once you create an account, you pick a job and you play a game. I assumed this because it said a tester. I assumed people would give their opinion about the game and then you get paid.
That's how the ad appeared to me and that is so not the case. This is why it's so important to research before you give any of your money.
There is actually a service that does pay people to test games. This service is called PlaytestCloud. If you are looking to make money to test games well, there you go.
What's Really Odd
---

The really odd item I found about GJO is that they list surveys on their site. It's a site that is supposed to be about game testers and I don't understand why would they place surveys on their site.
The surveys they have listed are the same surveys you can find just by looking at survey sites up yourself.
The Worst Part Of Gaming Jobs Online
---

When you see a site that has a BBB image or any of these images, make sure it's real. You can check by just clicking on the images and if it doesn't click don't acquit. This tells you right there that something is wrong.

The FEE! I mean really, they are going to charge people $27 a month, not a one-time fee, a monthly fee for some information you can find on your own.
The Reality Of Game Testing
---
Most game testers must play the game hundreds of times looking for glitches. It could be the same level doing the same tedious task over and over again.
It could be a game you have no interest at all in playing. It's not like playing video games or phone games that you enjoy playing at home.
How To Become A Game Tester?
---
If game testing is your career choice, I highly suggest you first research on what it's really like. You may have to become an intern first or a beta tester. You have to understand that these are real jobs and they pay is not exactly what this ad claims.
Here is some real info from an insider. I highly suggest you check out this site. There's a lot of real information and details you can learn about from a Real Game Tester HERE.
What Are My Other Options?
---
If you have a list of games you love to play and enjoy spending your time just playing games, have you thought about starting your own business.
Let Me Explain
---
What's great about the Internet these days is that you can start your website and earn a living that way. It's a great way to do things you enjoy and earn money as well.
Of course, it's going to take work and time to build, but if you build a website and let people know what your experience with a game that you enjoy, you can build a business that way.
You can even sell the games, game consoles, and so forth as an affiliate. This is a great way to earn revenue from doing something you enjoy.
I Don't Know Where To Begin?
---
If you don't know where to start, I suggest you check it out here. This is where I learned how to build a website, generate traffic, and earn revenue.
You will find many great attributes that you will get.
It's an awesome place to learn and earn.
If you want to learn how I did it, read my review. Then sign up for Free and see if it's the way you want to go.
All In All
I felt that GJO was deceptive on what people are really paying for. GJO made it seem like people are going to get hired easily and money would be made quickly when that's not the case.
It's so important to do your research first before you give anyone a buck, especially online.
What is your take about Gaming Jobs Online, Tweet me @evelynbaz!
Looking For Ways To Earn From Home?
Check out a list of opportunities!
There are many ways you can earn from home. In this list, you can find other options that can help you make money online. Each opportunity is either earn some extra coins, find work, or start a business. Click the button below to see if any of these options fit your needs.

We earn a commission if you click this link and make a purchase at no additional cost to you.