If you read some of my articles, you know that I do surveys.
When I read the information about Get Cash For Surveys, I question it.
I say this because I've completed surveys online for quite some time now.
GCFS makes it seem like it is life-changing.
Get Cash For Surveys database information is just what it is.
I decided to do a review about Get Cash For Surveys to let you know that it will not change your life.
Specs About Get Cash For Surveys
---
Product Name: Get Cash For Surveys
Year: 2004
Free Access: No
Price: The starting price is $74
Website URL: getcashforsurveys.com
BeginAtZero.com Overall Rating: 0/10
---
The Rundown
What is Get Cash For Surveys AKA (GCFS)
How does it work?
You're supposed to get all these wonderful survey sites that are supposed to make you a lot of money.
How much does it cost?
It starts at $74, then if X-out enough time, you can get it at a reduced rate of $12.
How do I get paid?
You will get paid by the survey sites you sign up for.
Who can join?
You must be 18 years of age or older.
My Take
Like I said prior, I've been doing surveys for some time now.
I decided to cut down on it because survey sites tend to be time-consuming.
What I mean by time-consuming is that you need to do them all day long to make some decent cash.
There is no guarantee that you will be making the kind of cash that Gary Mitchell claims he makes.
I want you to imagine someone asking you the same questions over and over again.
I'm a pretty patient person. Anyone who knows me personally knows this about me.
Even though I'm a patient person, I don't have the patience to spend hours every day responding to the same questions over and over again.
What bothers me is the way GCFS makes it seem like it is so easy to make tons of money from doing surveys.
I have yet to come across someone who's made tons of money doing surveys.
People tend to do surveys for extra cash.
If you're starting off online and want to make some money doing surveys, I will show you what sites you can do.
There is no need to run out and pay for some database information that you can get for free.
Not Realistic Compensations?
---
In the image you see, Gary Mitchell claims he makes all this money from doing surveys.
From my experience with surveys, you don't make that kind of money.
He even makes it seem like you will spend 2 minutes on a survey.
I've yet to come across a survey that lasts 2 minutes that pays real great.
If this is true, we all would be doing 2-minute surveys that pay nicely.
Usually, the average time for a survey is 10 minutes and it pays around $0.50.
The Real Deal About Surveys
---
You can make some extra cash with surveys. Just don't think it's going to replace your job or you will be making a full-time income. Like I said before, it can be time-consuming.
A lot of times when you begin doing surveys, you have to enter a lot of information before you get invited to do a survey.
When you get an invitation, usually you have to qualify for the survey. Sometimes you can spend 10 to 20 minutes trying to qualify for a survey and then they tell you, in the end, you don't qualify. I've experienced this plenty of times.
Once you do qualify then usually you will complete the survey. Usually, you can get paid by points or cash. It all depends on what kinds of survey companies you're doing your surveys for.
Some cash out ratios on surveys are 1000 points. That is usually around $10. It all depends on how much time you're willing to invest. To give you an example, it can take about a month to cash out $10, with a time ratio of 2 hours a day on 1 survey site.
What Are You Paying For
---
With GCFS, you are getting a database of surveys. You're paying a fee to get something you can easily get for free online.
All you have to do is Google paid surveys and you will find hundreds and thousands of listings for free. I highly recommend you don't pay to get a listing of services that you can get for free.
Some surveys are scams so you should research the survey site before you even join. You don't want to invest your time into something that doesn't pay.
Database information can be outdated, plus you don't know what you're getting until you pay for it. I wrote a review of database information that is similar to GCFS.
List Of Surveys Sites That You Can Check Out
---
Here is a list of survey sites that I do or have tried that you can check out and see for yourself if it is right for you.
Some of these sites you can do other things to make a buck. You don't have to dedicate your time to just doing surveys.
I suggest these sites because I've gotten paid from them. Mturk, ICS, PVP, FC, IBD, and ClixSense all pay you by the dollars and not by points. TellWut and Opinion Outpost pays by points. These are all great sites to do surveys on.
I personally don't sign up for other survey sites because they usually have them listed on these sites. Like I said prior, I get paid from them. So why risk not getting paid with a survey site you may not be familiar with?
Another thing about applying to many survey sites is that you will get a plethora of emails. It can be confusing to which ones you signed up for. I would recommend getting a separate email address just for your surveys if you intend to join a lot of them.
Down-Sell
---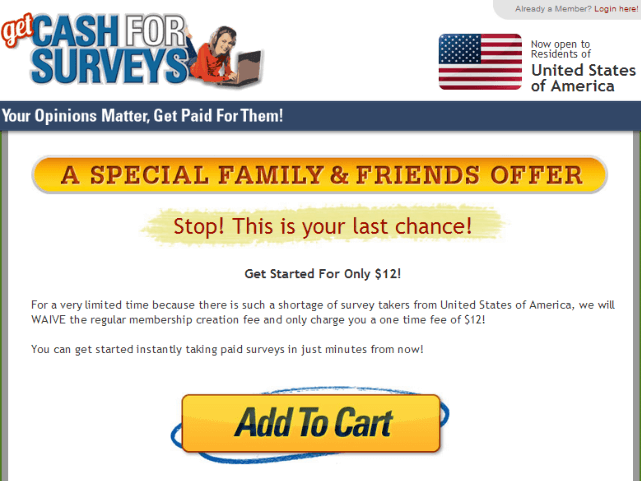 ---
One of the things I noticed with a lot of low-quality sites is that they like to reduce their prices.
This GCFS is no different. First, they say the value of this product is $74 then they give you this 50% coupon. This means you can purchase this product for $37.
When you X-out of this site, they say wait and now you can purchase it for $24, then I X-out again and it did the same thing and got a reduced price of $12. In my opinion, it's not even worth $1.
Will It Change Your Life?
---
No. If you were reading this review you know that this GCFS is not life-changing and you're just wasting your time and money with something like this.
If you're looking to change your life. You may want to consider starting your own business online. This is where it all begins for anyone who wants to generate a full-time income online.
All In All
I know Get Cash For Surveys make it sound so appealing. It sounds like something we all can do to make a full-time income from home.
The reality is it's just not that easy. I do surveys and yes, you can make some extra cash online, but it's not a full-time income like GCFS makes it out to be.
If you're looking to make a full-time income from home, you may want to consider My #1 Heroic Site. You can check them out for free to see if it's what you're looking for.
What is your take about Get Cash For Surveys, Tweet me @evelynbaz!
Looking For Ways To Earn From Home?
Check out a list of opportunities!
There are many ways you can earn from home. In this list, you can find other options that can help you make money online. Each opportunity is either earn some extra coins, find work, or start a business. Click the button below to see if any of these options fit your needs.

We earn a commission if you click this link and make a purchase at no additional cost to you.