I hope you guys don't fall for this mess again.
At some point, you just can not believe the hype, even when they say it's completely free.
This is just another rehashed game going on.
Okay, I'm speechless.
This is like those Binary Trading Software hype that keeps reinventing itself.
Please take the time to read my Gim System Review because you can end up wasting your time with such a mess.
This a new rehashed game going on.
Specs About Gim System
---
Product Name: Gim System Review
Year: 2016
Free Access: Yes
Price: Varies
Website URL: gimsystem.com
BeginAtZero.com Overall Rating: 1/10
---
The Rundown
What is Gim System?
It's a service that supposed to pay you to process emails.
How does it work?
They are supposed to give people a full email system that a person gets paid when someone clicks the emails you send out daily.
How much does it cost?
Who can join?
My Take
I'm going to add a comment I got from the reviews I did about The Email Syndicate.
I want you to take the time to read it before you even think about giving this a shot.
Most of the people who've tried MEM and TES didn't get paid.
I would hate to see people waste their time because of some video ad claims.
I don't know if this will ever stop, all I can say is beware.
The Video
---
In the video, they claim you can make all this money free.
Gim System is willing to give you $500.
Gim System will provide you with everything you need to start making money in the next hour.
The Way You Get Paid
---
They will give you an email sending system preloaded with subscribers.
They will give you all the emails to send, all you have to do is log in to your member's area daily and click a few buttons a day and you will be making all this money.
According to the video, it will take less than 5 minutes a day to make some cash.
A person will get paid if someone clicks on the link of emails a person sends out.
The Introduction
---
In the video, he introduces himself as Hunter Jamison.
He claims he's been working online for over 19 years.
He goes on and talks about his fake house, the cars he drives, travel the world, and blah, blah, blah.
Then he goes on and says this is not a scam.
Here Is The Rehashed Part
---
Now we are going to get into the rehashed part because regardless if they say it's free or whatever they want, it's the same old same old.
They claim these emails are from people wanting to be on their list for information.
These emails are not spam.
They claim they have too many emails to send out so that's why they need your help.
The Twist
---
They claim only after you start making money is when they will split the profits with you.
You will not have to pay a dime to get started.
Hunter claims he's doing this to duplicate himself because every time he duplicates himself you make money and he makes more money.
Then he goes on to say what do you have to lose by giving it a try.
The Rush Factor
---
He's only looking for 100 partners to make money.
Hunter claims he can not do this for everyone.
So if you're interested ya need to act NOW. I know this all sounds reasonable, but I went to the terms.
I Had To Go To Their Terms
---
Once I got to the terms this is when the rehashed info came to play.
These terms from Gim System went right to a site called Affiliate Site Pros.
When I look over sites like Gim System, sometimes they are just a way to funnel people to another site.
After I looked through their terms I had to find out who is this Hunter Jamison dude.
Who Is Hunter Jamison
---
Since this Bob dude from My Email Mentor was an actor, I'm pretty sure Hunter Jamison is an actor too.
Mind you, I'm not hating these actors for getting a gig.
They are actually great actors that gotta make money too.
Hunter Jamison is an actor from Fiverr.
When you come across videos that claim people can make all this money very quickly, don't take it too seriously
It's always good to do your research first even if it's free.
Now, let's get into the terms.
What's In The Terms
---
When I looked at the terms, they are extremely similar to My Email Mentor and The Email Syndicate.
You make 20 cents per click.

Just like with TES you must be in good standings with GVO.

You must have a minimum of 300 clicks a month.

Gim System payout threshold is $400, meaning you won't see any money until your account reaches $400.

This is where they get people. Before I get into this one, this is a comment I got in the review I did regarding The Email Syndicate.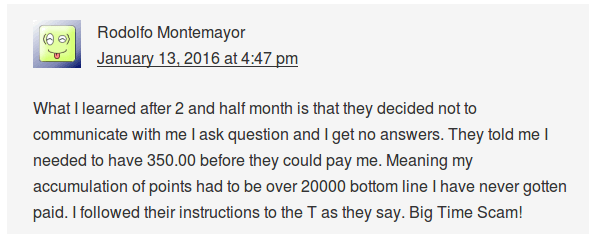 Here Is Something You Should Think About
---

Before a commission can be paid, they run a rigorous click cleaning system.
I want you to really read this before you join. I want you to know what you're getting into before you do.
Lot's of people who join these systems do not get paid.
In fact, either their clicks and money they made will be reduced or the payout threshold increases.
I'm putting this review and warning out because, in the end, it's your time. Gim System may say it's free for now and say you don't have anything to lose.
Maybe they are correct that you may not lose any money, but what you got to lose is your valuable time trying to make 20 cents per click, then next thing you know the money you earned gets wiped out.
Now your valuable time is wasted when you could have been spending your time building a real business online.
All In All
It's entirely up to you if you want to check out Gim System. If they start asking you for money then it's just time to move on.
There is no need to pay for something when they state it's absolutely free.
I get it that people want to actually make money online without getting taken for their money.
I get it that people come across system after system and no money was made. I've been there myself and it's tough.
These suspicious opportunities are why I started my site.
From my experience in the online making money business world, it takes time and works to get where you want to be.
I know that sounds exhausting, but it's the truth.
If you're interested in the way I started making money online, then I suggest you check My #1 Heroic Site.
I've been there for over 3 years now. I wouldn't advocate something that didn't work.
It takes work though and I have my good days and bad days, but it works.
What is your take about Gim System, Tweet me @evelynbaz!
Looking For Ways To Earn From Home?
Check out a list of opportunities!
There are many ways you can earn from home. In this list, you can find other options that can help you make money online. Each opportunity is either earn some extra coins, find work, or start a business. Click the button below to see if any of these options fit your needs.

We earn a commission if you click this link and make a purchase at no additional cost to you.