The last blog I wrote about I said a lot of info gets thrown out you in the make money online arena, especially when you are looking for opportunities to earn from home.
People come across what seems to be legit, especially when there is no cost involved.
Focus Groups tend to pay a lot more than completing surveys online.
When you see an opportunity that sounds promising like Global Focus Groups, it doesn't mean that it is legit.
In this Global Focus Groups review, be prepared for what I discovered because your mouth might be wide open, and you might swallow a fly, Lol.
Specs About Global Focus Groups
---

Product Name: Global Focus Groups
Year: 2019
Free Access: Yes
Price: Free
Website URL: Globalfocusgroups.com
BeginAtZero.com Overall Rating: 0/10
---
Info That You Should Know
People looking for jobs or opportunities from home may look at these ads as another source to find income from home.
Although these ad job boards are trusted sources, it doesn't mean the ad placed should be trusted.
There is just so much info online, and even job boards will advise people to research before they move forward.
Scams know how to get on these job boards, and they know they will catch the eye of millions before the ad gets taken down.
Sometimes these ads will not get taken down.
That is why it's up to you to do your research before you give out even a fake email address.
Why waste your time trying to prove an opportunity is a scam when prevented measures can take place before you give out any info.
Researching the site is what I advocate since I started my website because there is just so much deception taken place all the time online.
By not giving these schemes nothing, they will tend to go away because they know what they are doing is not working.
That doesn't mean schemers will come up with a more sophisticated scheme, but if you keep yourself well informed, more than likely, you're going to avoid a lot of these schemes.
Anyhow It's Time To Show You What I Discovered
---
The Ad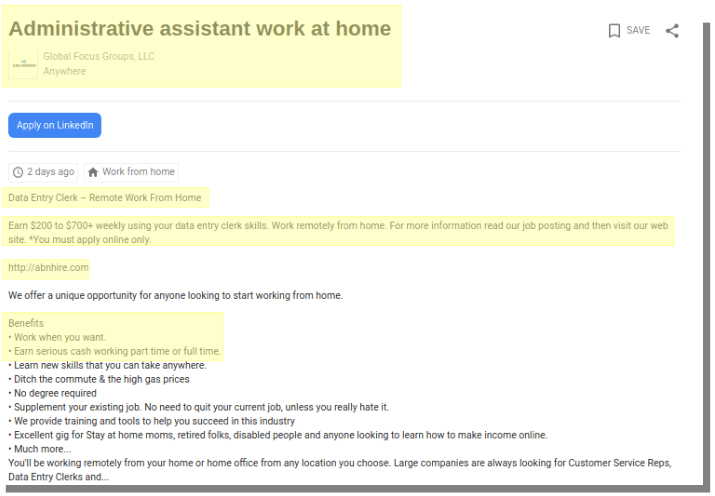 The ad is the first initial place where it all starts.
In the ad, it says Administrative assistant work at home.
Then it says Global Focus Groups, LLC.
When I saw Administrative Assistant then Global Focus Groups, I knew right then and there this wasn't administrative assistant work.
I didn't know it wasn't going to be as bad as what I discovered, but it's a sign right there that something fishy is going on.
Then it says Data Entry Clerk earns $200 to $700 plus weekly using your data entry skills.
Not much info about the company, but they have a link that shows ABNHire, which I will go over a little later.
Next, they explain the benefits of working from home. The first two benefits are the most enticing,
work when you want
earn serious cash working part-time or full time
These are all red flags because the door is open for anyone to apply, and the pay says $200 to $700 plus isn't bad for staying at home to earn money.
If they put the dollar amount any higher, people might be more alarmed than two to seven hundred dollars working weekly at any time of the day.
I Went To ABNHire First To See What ABNHire Is About
Mainly what ABNHire did was redirect to a website called AolEDirect. I already wrote a review about that site.
If you don't know this, several sites have these similar questionnaires or redirects to a place like AolEDirect.
The Gist of AolEDirect is that they ask a series of questions then they want you to join several surveys or focus group sites.
The sites they suggest aren't bad. They change from time to time; most of these sites are legit survey sites.
I do suggest that people don't just join these sites, but to research them first.
FYI, survey sites do not pay even $200 weekly. It will take you months to just cash out at $10. I've done my share of surveys and familiar with their pay rate.
That doesn't mean you can't make extra cash completing surveys. You're not going to make the kind of money these ads claim.
Since I was familiar with what ABNHire does, I went to check out Global Focus Groups.
What Is Global Focus Groups, LLC
Don't get it confused with Global Focus Group. They added an "s" to the end of their website domain name and displayed a single page of info.
Global Focus Groups is supposed to be a site that helps you make money from home completing surveys or participation in focus groups.
Their website looks pretty good; however, when I started to dig, I was like wow people can get deceived by this site.
Through the digging that I did, I noticed that Global Focus Groups has a privacy policy page, which is good, so I started to look through it.
Global Focus Groups Private Policy
Two things stood out for me in their Private Policy page.
1. How do we use your information?

When I saw make a purchase, and to send periodic emails regarding your orders or other products and services, that stood out!
People came to the site to make money from home, not purchase products.
I'm assuming this, but I couldn't help but think that people might be completing offers that might require your credit card info, or they offer other opportunities that are going to cost money.
Either way, it's a warning sign that somewhere down the line, they are going to ask you to pull out your credit card.
2. How do we protect visitor information?

Here they go again with the credit information, and it also says when a user enters, submits or access their info.
I noticed that their site is not secure when people begin the process of entering personal data into Global focus Groups.
They ask for,
Name
Email Address
Zip Code
Date of Birth
Gender
What Smartphone you own
Do you have children
Are you employed
Interested in paid online surveys
Education Level
Interested in higher education
Looking for a secure site is something you should look for before you start entering your data into a website, that way you know the website owner does have security encryption.
The last question above is when I thought about the credit card info. Is Global Focus Groups going to refer people to some sort of educational opportunity that costs people money?
I began to go back to their site and see what other red flags I could find.
I noticed the one member testimonial.

I'm like okay they only have one member that gave their testimonial.
Their one member testimonial states that Global Focus Groups is a go-to site to make extra cash. He makes money by taking part in focus groups and completing surveys.
He didn't mention any training courses or any other out of pocket expenses.
Sometimes testimonials are placed on sites to claim their site is legit.
I began to dig a little more.
The Contact Info
I noticed they had contact info.
They had an email address and an actual address.
The address listed I noticed they forgot the "e" in the word street.
I have my share of typos on my website, so I do not hate on that, Lol.
But, I look up the address, and it's a gas station. If you're familiar with gas stations, they tend to change companies from time to time.
All the addresses I saw listed online were gas stations.
I couldn't help but think that this website is a little shady. It's pretty much a one-page site that wants you to enter a considerable amount of data.
Since Global Focus Groups was a simple page, I decided to do one last dig.
What Was The Last Dig?
When I got to the "What We Do" part of their website, I searched it and found that what got written was verbatim from a legit real focus group website.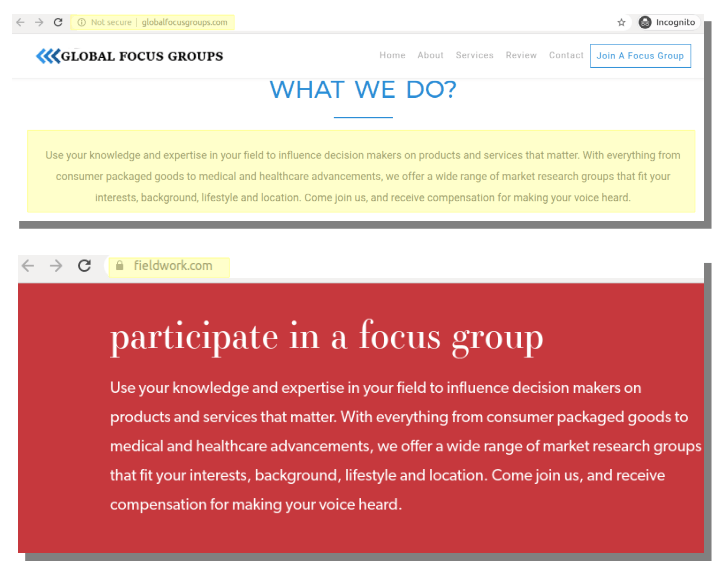 Global Focus Groups didn't even change some of the wording.
When I see something like this, I feel like they created a simple page website that wants a lot of info from people for their own personal gain.
Why I Say It's Not Legit
More than likely, their goal is to sell data they gathered to third party companies. People who put their data in their sign up form can get a plethora of spam emails.
Sites like these tend to rename their service and place another ad online, indicating that people can make lots of money online by applying for a data entry clerk, administrative assistant position, or whatever appealing title they have in mind.
A Good Eye Catching Deception To Look For
Know that surveys and focus groups are not jobs. People make extra cash by participating. However, when an ad feels or indicates that a steady income will flow in, know that isn't the case at all.
Jobs hire you, and that is when you earn a steady income.
Like I said in the beginning, a lot of opportunities would get thrown at you in the make money from home arena. Why trust any site that uses deception to get you to do something.
You can avoid a lot of scams when any pay rate is overinflated. You can prevent getting scammed by doing your research.
An excellent resource that you should look at if you do want to participate in focus groups or surveys is a site call Survey Police. They mainly cater to that field, and there are plenty of members who participate in surveys that go to Survey Police.
I have no affiliation with Survey Police, from my review about them, I found them to be a useful resource for surveys or focus groups.
All In All
I always say it's up to you in what you want to do. I try to show people my findings so they can avoid opening a can of worms.
Surveys and focus groups are legit ways to earn some extra cash. A lot of schemes out there use surveys as a way to entice people.
Schemes know that surveys are a legit way to earn cash, so what they do is overinflated the money and use wording like data entry or administrative assistant to catch people's attention.
They ask a series of questions, and that is data they can use to sell people's info. They make money that way because they know there are people out there who get easily deceived, and they will keep on deceiving people until people catch on.
So it's time to catch on and don't give these deceptive schemes the time of day.
There are several legit ways to make money from home. Some of them are jobs, some are extra cash, and some are owning a business.
I like to say figure out what you want. Do you want a job, earn extra cash, or start your own business? Within all three of these areas, you are going to see scams and legit opportunities.
I've done all three, and from my experience, all three are like finding a needle in a haystack. I did find the needle in all three, and I was able to figure out exactly what worked best for me.
What is your take about Global Focus Groups, Tweet me @evelynbaz!
Looking For Ways To Earn From Home?
Check out a list of opportunities!
There are many ways you can earn from home. In this list, you can find other options that can help you make money online. Each opportunity is either earn some extra coins, find work, or start a business. Click the button below to see if any of these options fit your needs.

We earn a commission if you click this link and make a purchase at no additional cost to you.