Anyone who is reading this article might wonder what Grammarly is about and if they should use it or not.
And if you are using the free version, you're probably wondering if you should try the premium one.
I've tried both versions, and I feel that the premium version might or might not be for you depending on various circumstances.
So, in this article, I'm going to shed some light on how you will know if the Grammarly free or premium version can be worth it to you.
Specs About Grammarly
---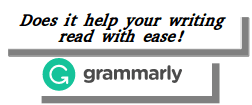 Product Name: Grammarly
Year: 2009
Free Access: Yes
Price: $29.95 a month
Website URL: grammarly.com
BeginAtZero.com Overall Rating: 8/10
---
What Is Grammarly?
Grammarly is a software that helps you automatically detect spelling, grammar, pronunciations, style mistakes, and word choices.
The way I see it, it is an easy to use writing software that helps people's writing read with ease.
Who Is Grammarly For?
---
Students
Writers
Bloggers
Professionals
Anyone
Noticed I wrote anyone! I don't want to insult people. I especially don't want to offend people who are great writers and can easily detect their personal grammatical errors.
But, no one is perfect, and those who write with ease may have little typos that the eye may not catch. Some people type fast, and letters go in the wrong place by accident.
An easy way to check and see if you have a simple typo is by using Grammarly. It will catch it, and you can quickly fix it.
Why I Use Grammarly
---
I started using Grammarly a while back. Someone in this community here recommended that everyone should try it.
When I tried it, I was pleasantly surprised by how many grammatical errors got caught with their free version. As you can see, I write my own blog posts, and writing isn't what I call my best attribute.
Let me take you back in time.
I've written a few blog posts about my writing. I'm a person who wasn't the top contender in my English classes throughout school, and writing was just a problem for me.
I did go to college for a little bit. When I had to go to my English classes, I dreaded it.
I didn't finish college so I decided to get a job. One thing that I decided to do was avoid any situation that required me to write. When I read job descriptions that needed writing, I avoided it.
Back then, there wasn't anything like Grammarly available; actually, technology was in the stone age back then compared to how we evolved today.
What I did was limited myself because I avoided something that I now do all the time.
Why Did I Start A Website?
I know I'm going off the subject a little bit, but I will try to keep it brief. I wanted to make money from home.
I knew that websites were the way, and when I found training courses, I didn't think about writing.
If I knew that I'd have to write content before building a website, I would have just said, "heck no!" The whole website idea would have left my mind entirely.
The best way I can say it, my mind was more focused on getting a website up not realizing I'd have to write content, Lol.
When that realization happened, it was too late; I was committed. I learned that website's or blog's content is more casual than writing a term paper.
Your content is more like writing to a friend than focusing on being a "writer". So I just tackled it to the best of my ability.
When I learned about Grammarly, I was like, yes! It's free too!
I thought, now I can really start editing my content to make it more grammatically friendly.
Fast forward today, the free Grammarly version did help, but I never purchased the premium version because of what others said.
What Did Other People Say?
---
People said the free version works fine and the premium version may not be a good investment.
I thought well, the free Grammarly version does correct a lot of my errors and I'm happy with that.
However, after I corrected what I could with the free version, I still would see alerts like fragmented sentences and punctuation problems.
That bothered me because I'm publishing content, and I felt I wasn't up to par with other people's content online.
So I gave in and tried the premium version.
Grammarly Premium Version Did It Make A Difference?
---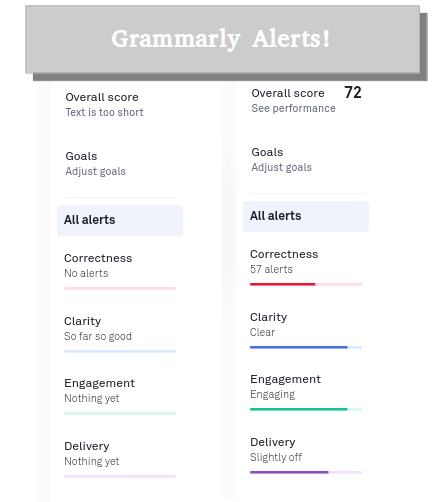 ---
Personally, yes! I wish I purchased the premium version sooner. I avoided it because I thought it wouldn't do me any good.
I will let you know who should use the premium version vs. the free version in a second.
What I learned from that experience is that, when you are doing something, whether it's a hobby or a business, you should look at what enhances what you need.
For some people, it makes sense naturally to invest or not to invest depending on a personal situation.
So I thought it would be essential to share some insights so you can decide if the Grammarly premium version is worth it or not.
Why Did People Say You Don't Need The Premium Version?
---
I do understand why some people say that the premium version is not needed.
I don't feel like people were against the premium version; I think that they were giving their thoughts from their personal experience.
From my personal experience, I recommend that everyone use the free version. It doesn't cost you anything. All you do is sign up and use it.
Who Should Use The Premium Version Then?
---
If you are writing a lot for whatever reason, Grammarly premium could or could not be for you.
So let me explain!
Some of you are naturally good at writing. If you use the free version, look to see how many alerts you have.
If there's not much in there, the premium version isn't going to do much for you.
The free version will catch little things here and there, but you have a handle on your writing and could I say to you; start a blog.
If you like to write and you're good at it, you can make some money by doing something you're good at doing.
Heck, I'm not good at this writing thing, and I make money. Imagine what you can accomplish by doing something you're good at!
Okay, I'll stop preaching to you, but right here is where you can find out where I started.
Now, there are people like me out there who are the ones that avoided writing.
The ones that when they got their papers back from English class and it was like a map of red pen errors with arrows, circles, and underlines.
Common! You know what I'm talking about, that C grade paper you immediately turned over because you didn't want everyone in the class to see the ray of red beaming throughout the classroom.
If that's you, Grammarly premium can help!
When I got the premium version, you know those errors that bugged me that I mention before, such as fragmented sentences, well, the premium version does help me resolve it.
Once you upload or copy and paste your content inside Grammarly, it will be full of colors indicating what needs working on.
When I saw all those colors, it took me back to a time where I would turn my paper around, but it didn't make me feel bad, it made me feel excited that I'm finally tackling an area that I can improve.
So, there is a use for Grammarly premium.
That doesn't mean you shouldn't avoid writing, you need a little help, and Grammarly premium can solve that area.
Some of the best writers come from people who weren't an A student in their English class. So don't limit yourself as I did for many years.
Get yourself a blog too and start releasing the boundaries and see what comes out of it. Oh, and get Grammarly too!
How Much Did I Pay For The Premium Version?
---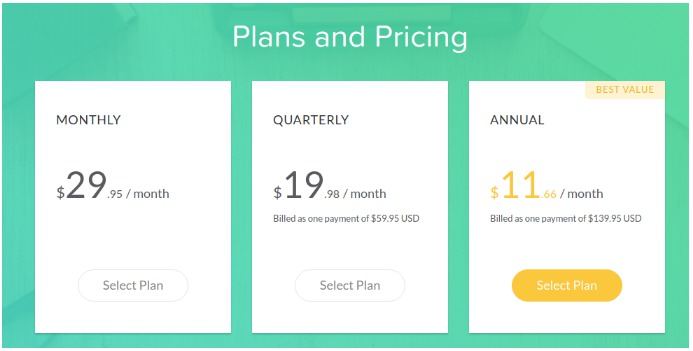 I like annual payments, and the yearly fee is $139.95. I didn't want to pay that much.
One thing I noticed was the emails I got from Grammarly. Usually, those emails would have discounts for their premium service.
I waited until I got another email that had a discount. The reason why I waited for the deduction was that I wasn't sure if I'd benefit from the premium version.
I paid around $65.00 for a year, and after using it, I felt it was a good investment.
The Down Side To Grammarly Premium: Writing Is A Form Of Art
---
Writing reflects your personality. You shouldn't compromise your nature to be entirely grammatically correct.
Sometimes people write words with intent. It could be a slang word or a word that got purposely miswritten for a reason.
Grammarly is not a human, and it won't understand it if it's not grammatically correct.
The human eye is the best editor because they are reading with feelings. A software or a program can't decipher the intent.
So there might be a way you write something for a reason, and you do have control to leave it the way you want it.
People who rely on using it to correct their writing and would rather lose their style to be grammatically correct, I feel they will lose out.
Your personality should reflect your writing because people feel where you're getting at with your words.
Even though Grammarly helps with areas of your writing, it's not perfect.
Sometimes when you are correcting your content, it jumps to the next alert and you want to read the sentence to make sure it's okay.
Then you have to go back and find it to ease your mind that it was corrected the way you wanted it to be.
Another irk, is that you might take out words and Grammarly jumps again to the next alert and now you have an incomplete sentence that you have to go back and find.
Can Grammarly Help You Write Better?
---
The more you do something, the better you get at it. That also applies when you write. The more you read and write, the better you get at it.
A service like Grammarly helps improve in areas of your writing. You can fix common errors, and the more you do that, the less it happens.
At first, it may feel overwhelming, but in time you will get the swing of things and it comes with ease.
Grammarly Extension
You can add an extension on your browser if you'd like. For me, I don't use the extension because I want it for the content I write.
If I need it, I like to sign in and use it that way.
Some people feel that the extension is annoying because it corrects everything. It can be a distraction, and it also can slow down your computer.
Some people find it handy even though they don't write much. Grammarly comes in handy when you comment on social sites and send simple emails.
Pros and Cons
---
Pros
correct writing mistakes
easy to use
offers a browser extension
you can deny a correction
helps improves your writing
use it when you want
Cons
not a human eye
jumps automatically without letting you read the sentence
the extension can slow down your computer
the extension can be annoying for some
All In All
A human eye is the best editor. We all don't have access to that, and Grammarly is the next best solution.
Not everyone will need the premium version, but if you're like me who just so happens to write a lot and need assistance with writing, Grammarly is a great software that can help.
It will take care of a lot of your grammatical errors and help improve your writing.
The more you do it, the better you get at it.
I hope I helped you decipher which version of Grammarly to use.
Either way, if you need help with corrections, Grammarly might be what you need.
What is your take about Grammarly, Tweet me @evelynbaz!

We earn a commission if you click this link and make a purchase at no additional cost to you.