Hello all, I thought I'd give a review on Scammers claiming to hire people to work for Hospira.
This is a very sophisticated scam that people must be aware of.
I wanted to do this review because Hospira is a reputable company.
Scammers will use reputable company's names to take your money.
If you got an invitation to work for Hospira, yet even better to work from home, please take the time to read my Hospira, Inc review so you can avoid being hoax out of your money.
Seeking Jobs
---
There are plenty of people looking for work or working from home.
The problem is that there are a lot of scams out there.
It's getting to the point that these scams are getting a little more sophisticated because people are more inclined to do their research or are just hip to the game.
These Scam Artists are applying more sophisticated techniques so they can appear to be legit.
They are using a reputable company's identities, but in the end, their scam is old school.
The Scam Seekers
---
People may add their Resume in places like Indeed's website.
Lots of people do this as a convenient way to obtain a job.
The problem is that sometimes these Scam Artists are reading people's resumes in search of people who fit their fake job descriptions.
By reading people's qualifications, they are able to target people who may fit the bill.
How Does The Scam Work
Once these Scam Artists find a particular profile, they will send a person an email stating that they are interested in conducting an interview.
They will even add a fake verification code that makes it seem legit.
In the email, what they will want a person to set up is a Google Hangout App or account via their cell phone or computer.
They will also state in the email the times and dates they are conducting the interview.
These Scam Artists will interview the Internet.
Just so you know, there are legit jobs that use places like Google Hangouts, but you should always have your guard up when you come across interviews like these.
Mainly, what I suggest you do is never to give out your most sensitive information if you're going to do an interview this way, and please do your research about the company hiring first.
Let's get back to how the scam works.
The scammer will ask you for the duplicate verification code that they give out to everyone to make it seem legit.
Other Legit Appearing Factors
---
These Scam Artists will even go over a spiel that makes what they are doing legit. They will go over things like:
Company History
Health care and benefits
Salary
Duties
Training
They will ask a series of questions that people are familiar with. They also say that people will be able to work from home with a high paying salary. Once they get into the end of the spiel, this is where the old scam shows it's the real face.
What Is The Old Scam
---
Here is an actual image of what they request someone to do.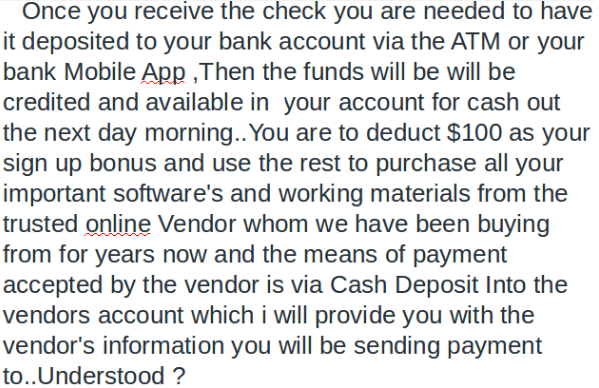 How it works is that they will tell people you will get a FREE HP Laptop, with fast Internet. Then the check scam comes into play.
They say they will provide the Interviewee with a check for an undisclosed amount. The Interviewee is supposed to deposit this check via ATM or through a bank Mobile App.
They tell the Interviewee that they will be able to deduct $100 for their sign-up bonus. The remaining of the undisclosed amount will be used to purchase software that is recommended by the scam artist.
Let's Go Over The Red Flags
I wanted to go over the red flags because people may feel this is a reasonable request until someone gets informed through their bank that an extensive check they deposited hasn't cleared.
One of the red flags is that the interview gets conducted via text message in Google Hangouts. No one is talking to a person.
When they go through the company's history it's similar to what Wikipedia says. You can cross-check this yourself through the text you get if you went through the interview.
The pay is a big red flag. You know the salary in your employment field. If the fee is over-inflated, most likely, it's too good to be true.
The biggest red flag of them all is that they want you to purchase items. Think about this; a check is getting sent with a laptop, shouldn't the company hiring already installed the software in their laptops?
Why would you have to purchase any software via a check they are going to send to you? They also request that you use the ATM machine or via a bank Mobile App. This way, you won't go into your bank so that the teller can inform a person that the check is fraudulent.
Again, If they ask for sensitive info, please don't do it because this could lead to identity theft.
What Should You Do
---
If you already agreed to their terms and are supposedly going to get this HP Laptop along with a "check", please look over the check. You can get the info about the check mailed to you. Call that bank and ask them if this is a fraudulent check.
Most likely the bank will inform you if the funds are available. Also, you can call the company that these Scam Artists claim they are hiring from such as Hospira and see if they conduct interviews this way.
You can even check the company that is supposedly hiring you and go to their actual website like I did. As you can see in the image below, Hospira even says on their website that there are fictitious scams that claim they have job openings using their name.
---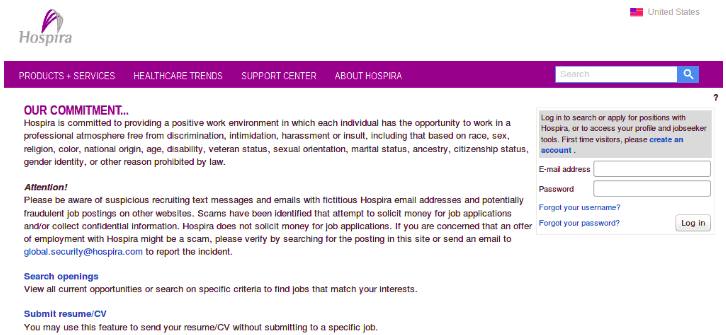 ---
Just like what Hospira suggests, check to see if they are hiring for that actual job. I would also highly recommend if you did an interview this way and they are using Hospira's name, report it. Send your email to global.security@hospria.com and report the incident.
We can't allow this to happen as people are really looking for real work. Who has time for this mess? People are putting in the time to try and obtain a job, yet these Scam Artists are wasting people's time plus, they are trying to take people's money and put people into a bind with their bank.
This really gets to me. Especially when someone doesn't have a job. Even if it's a work at home job, you shouldn't have to pay a dime for work.
Most work at home jobs will disclose that they will NOT pay for training and will disclose what type of equipment a person needs in order to qualify for the position in their ads.
All In All
A scammer will go to great lengths if they know they can dupe people out of their money. They will even go as far as to put up a legit looking website and do research on a person via their resume. In the end, it's you who has to protect yourself.
How you do it, is by doing your research first before you even go any further. That first email or text message you get is a clue to see if that position is available.
You can do that by going to the companies website or calling the actual company that claims they are hiring.
If you're looking for ways to make money online, don't hesitate to check out the info here.
Please stay safe and keep those fraudulent checks away from your bank account.
If you're interested in a business opportunity you can check out this website.
What is your take about Hospira's Inc, Tweet me @evelynbaz!
Looking For Ways To Earn From Home?
Check out a list of opportunities!
There are many ways you can earn from home. In this list, you can find other options that can help you make money online. Each opportunity is either earn some extra coins, find work, or start a business. Click the button below to see if any of these options fit your needs.