---
DoorDash is a legit way to earn extra cash. It isn't an opportunity that you work completely from home, but it is a way you can earn money independently.
Unlike Uber where you are picking up passengers and taking them to their destination, you're picking up food and taking it to the destination so people can get their grub on.
In this Doordash review, I'm going to let you know how much DoorDash pay and if it does bring home the bacon.
Specs About DoorDash
---
Product Name: DoorDash
Year: 2014
Free Access: Yes
Price: Free
Website URL: doordash.com
BeginAtZero.com Overall Rating: 7/10
---
My Take
If you can hustle, enjoy driving, listening to the radio and being out of the house to make money, you might want to consider services like Merchandiser and DoorDash.
Some people don't really like to deal with people or don't want people in their car and if that is you then DoorDash might be just what you are looking for.
In a nutshell, you just pick up food and take it to its destination.
What Is DoorDash?
---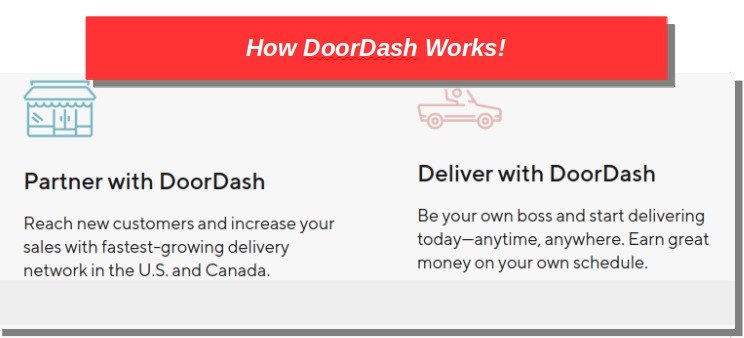 ---
Doordash is an app where people order in and get door-to-door delivery to their location. It is a service that has been in business for over five years. DoorDash is available in 15,000 cities where over 200,000 local businesses participate.
These orders have to get delivered by someone and DoorDash offers opportunities to people to deliver the takeout. They call them Dashers. What a Dasher does is accept a delivery, take the order to the location requested and get compensated.
That is pretty much how their service works in a nutshell.
We are going to get into the Dasher side of DoorDash since this website is about getting compensated from home or independently without really answering to the man.
More Details About Becoming A Dasher
Before applying to become a dasher there is some info you need to know.
You will be an independent contractor. You can decide your own hours and schedule. Dashing may not be available in your city. Here is an image of Cites Dashing is available.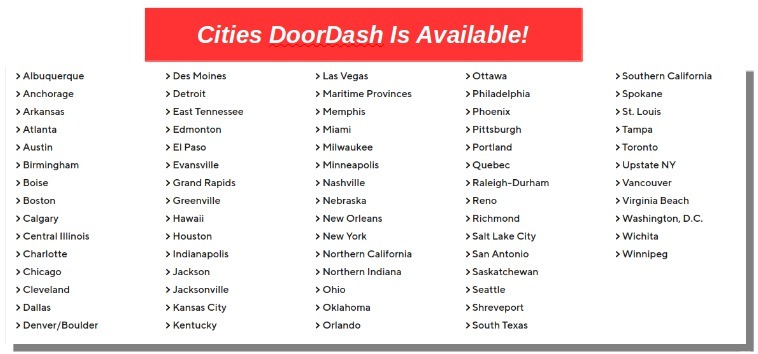 Also, some other details that you should know like,
18 years or older
2 years of driving experience
background check
valid drivers license
make and model of your vehicle
SSN
DOB
Live in US/Canada
If you are going to apply to become a dasher, the info listed above is info that you will be asked. They will also check on your driving history and do a criminal background check.
So if for any reason you don't qualify, then being a dasher might not be for you.
==> Check Out My Heroic Site And Find Out How I Earn Completely From Home!
If you decide to apply, all you have to do is download the DoorDash app. Go to their menu and select become a dasher. The screen will show where you place your email, phone number and zip code to sign up.
Once you do that it will take you to another screen where you will put in more in-depth information about yourself. Such as your full name, create a password and the info that was listed above.
If you pass the vehicle and background check, you then sign up for dasher's orientation kit at a local location or you can get your kit via snail mail.
What Is In The Activation Kit?
---
First, you will complete a W-9 form. Then you will get either via mail or at a local DoorDash location,
DoorDash Red Bag
Red Card
Instructions
Why Do I Need That, All I'm Doing Is Delivering Food?
---
If you order pizza, you noticed that once they get to you door they pull out your pizza in one of those insulated box looking thing. What it does is keep your pizza warm once the delivery arrives at your door.
This also applies to the Doordash red bag. It is an insulated bag that helps keep customers food warm.
The instructions are to help you download the app and set up the Red Card. I know the red card sounds alarming, but what it actually is, is a debit card.
The reason why you would set up a red card is for customers that request a Dasher use the red card to pay for their orders once you arrive at a local participating restaurant.
Just so you know, the red card is not connected to your bank account nor is it a card used to compensate your personal earnings through DoorDash.
It is also recommended that you bring your red bag and red card with you every time you start dashing.
Gas Is Expensive, Do I Get Compensated For Gas Or Millages?
---
Unfortunately, DoorDash doesn't compensate you for your millage. You are an independent contractor.
But there is a way to get compensated for your mileage and other expenses when you do your yearly taxes.
Normally, if you make $600 or more you will receive a 1099-MISC from.
Know that you can deduct expenses you have such as,
mileage
vehicle costs
car insurance
phone
parking
toll cross fees
other expenses that are for your DoorDash business
To get more info on what you can deduct on your taxes, I would suggest you consult with an accountant.
According to Penny Hoarder which is one of my favorite read sites, they list several millage tracking apps that you can use to easily track your mileage.
Everlance
Stride Drive
TripLog
Hurdlr
MileIQ
Mileage Expense Log
You can go here to read further details that Penny Hoarder listed.
I'm not stopping here. There is one other method and that you can use. I'm not hating on this method either because everyone does things their own way. A more primitive approach would be to use a ledger to track your millages.
Some people just like to write things down and don't mind it being done electronically.
Just so you know, DoorDash does provide estimate millages for their Dashers. These estimated millages are conservative estimations so I suggest you keep track of your own millages.
Now That I Know The Gist About DoorDash, What About The Bacon, Does It Bring Home The Bacon?
---
Yes if you live in an area where a lot of people use DoorDash, you can bring home the bacon. You get paid weekly via direct deposit.
However, there are areas that DoorDash might not be feasible for you. If DoorDash isn't available in your area or you have to drive miles to accept dashes, I wouldn't even bother.
That doesn't mean things will change in the future. It would be best to wait because DoorDash is a growing service.
I'm sure in time what isn't available now might be available later.
If You Live In An Area Where DoorDash Is Booming!
Then it might be worth your time. You can make around $70 working 3 to 4 hours a day.
If that's you, it may be time to get started and learn how their app works.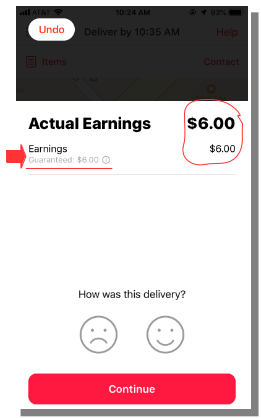 Each dash will let you know how much it pays. You have the option to decline or accept the dash. The range can be anywhere from $6 to $10 per dash.
The way it works is through their app when you got your activation kit. They recommend that you have a full tank of gas and have your phone fully charged.
The app even lists what is recommended before you start your shift.
Full tank of gas
Fully charged phone
Red bag
Red card
Once you check off the list and click start dashing, it's time to dash. On their app each day it starts off with how much you made.
Of course, it begins at zero and to start becoming your own hero, it's time to make those zeros into dollars. The app will show hot spots and areas where dashes are available.
If you don't see anything in your area, you can click on show more hotspots. You can see closer potential dashes that you can do.
If there are available hotspots, you can click on them and see instructions when you get an order.
You will see,
how much a dash pays
miles
restaurant
delivery time
If it's worth your time, it's time to accept the dash.
All you have to do is drive to the location of the restaurant and let them know you arrived through the app.
Then the app will indicate what was ordered and if you need to pay with the red card.
Once you got that info, you go to the restaurant pick up the food and place it in the red bag. Don't eat it cuz you didn't pay for it, Lol.
What you do next is check off everything that was ordered then take it to the location.
On the app, there will be drop off instructions. Follow those instructions and take the food to the customer.
The app will show a screen regarding how was the delivery. If there were no issues, you click the happy face. Once you click submit, now those zeros turn into dollars.
Check out this video that this dude did. I really like this video because this dude shows you realistically how it works.
He even had hiccups and technical errors, yet he still made money. So I suggest you look at the video below.
The Pros And Cons Of Being A Dasher
---
Pros
Work independently
The app shows how much you get compensated
Pay weekly
Don't have to carry cash
Don't have to deal with passengers in your car
Great in metropolitan areas
Cons
App has issues
Their map isn't updated
Not great if there isn't much work
No gas compensation
Slow restaurants cause you to be late
Low scores may not be your fault
All In All
DoorDash is no joke and can bring home the bacon if you live in an area where it is booming. It is a legit way to earn money independently without having a boss breathing down your neck.
You are an independent contractor. If you make over $600 using DoorDash, there are plenty of tax deductions available. I suggest you consult an accountant especially if you hate dealing with all that tax stuff.
If you live in an area where it's just not happening yet, I suggest you check their site from time to time to see what is available. Better yet, you may want to check out my Heroic Site and see how I make money completely indoors.
With any business especially when it comes to technology, updates will take place to improve their service. DoorDash has been in business for over 5 years now and I feel they are not going anywhere. If you want to learn about other ways to earn from home, get info here!
I'm sure many of us such as myself crave certain foods and really don't want to drive to get them. An app like DoorDash is what people like to satisfy a need. A good Dashers will help the need for those cravings.
Anyhow, you can apply here if you want to become a Dasher!
If you have any questions or comments about how much DoorDash pays, you can leave a comment below, thanks!