InstaCash Keywords is a service that is supposed to help cut that long road down to your financial freedom.
According to ICK, (InstaCash Keywords) taking shortcuts is not a bad thing after all.
InstaCash Keywords are very thankful for those shortcuts we have in our daily lives.
I too am thankful for those great shortcuts that make our lives a little easier.
In today's time, we have a need for speed.
Will InstaCash keywords shortcuts lead you to a speedy fortune?
Read my review and I will give you the rundown.
Specs About InstaCash Keywords
---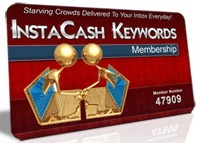 Product Name: InstaCash Keywords
Year: 2009
Free Access: No
Price: Start at $4.95 for 7 days
Website URL: instacashkeywords.com
BeginAtZero.com Overall Rating: 6/10
---
The Rundown
What is InstaCash Keywords aka ICK?
It is a service that provides you with keywords.
How does it work?
You get access to low competition keywords sent to you via email. These keywords are supposed to get you ranked high in the search engines.
How much does it cost?
$4.95 7 day trial
$47 a month
Who can join?
My Take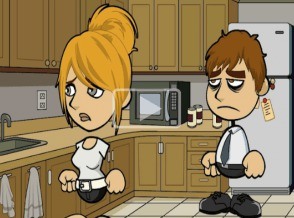 When I got to ICK's site, the first thing I did was watch the video.
I thought the video was well done and very entertaining.
I thought it was a bit long, but it had personality.
I even liked the limbless cartoon characters that they use in their video.
The main service that ICK offers are keywords that are supposed to help people rank high in the engines.
These keywords are products or services that a starving crowd craves.
According to ICK, you don't have to be a great salesperson to be in front of a starving crowd.
You pretty much throw that needed product to that starving crowd and they will buy, buy, buy.
I must say, if people have a need for something and you have what they want, ICK is correct on that.
We all will go out and buy that product.
People don't care about that salesperson. The buyer's main focus is on the need and the product they want.
Is A Starving Crowd A Shortcut?
---
Absolutely it is, if you think about a product or service that people want and need, they will even wait in a line for days for that product.
You see it all the time on the news or you've been the one waiting in a long line.
People will sleep outside wanting to be the first one to purchase a game console, concert ticket, or toys for their children.
Check out this video, for the iPhone 6. Every nationality you can think of, age group, skinny, not so skinny, beautiful, not so beautiful, man and women were in that line.
You name it you got it, they were there. You may even find yourself in that video too, Lol.
That's what a starving crowd looks like. In the video, practically everyone has a phone in their hand. If you watched the video people are standing in line using their future old phone to get a new phone.
If everyone had flip phones, I could understand the need. As you can see, obviously that phone is not a need. If people want it and have a desire for it, they will go out of their way to get it.
Do Short Cuts Really Work?
---
Yes and No. Let's look at a bridge for an example. A bridge is a shortcut instead of going around the water to get to your destination.
To get a bridge built will take some time. If you look at the Golden Gate Bridge, it took 4 years to build to get that shortcut going.
What Is Your Point?
---
My point is, you have to build that bridge before you walk the shortcut route. What I mean is that building takes time and work, even when you start building a business.
The Cost
---
You can try ICK for 7 days at $4.95. After the 7 day trial, you will be charged $47 a month.
I feel this is a little pricey for some Keywords. Especially because there are a lot of other alternatives a person can use to research keywords.
InstaCash Business Model
---
When I was reviewing what they offer, It is a pretty cut and dry service. You get easily ranked keywords in your inbox every week. You also get 5 written articles for each keyword list that you can use to your liking.
If you're new to Affiliate Marketing, they also provide you with training manuals that teach you how to get started.
Who Is This Service For?
---
I feel this service is for experienced marketers who are familiar with affiliate marketing and familiar with building a business fast online.
This service may be for people who may want to get ideas for another niche market site.
I also feel this might be for someone who just may want another alternative for keywords strategies.
Who Is Service Is Not For
---
I believe this service is not for anyone who's new to affiliate marketing. Here are my reasons why remember that bridge I was telling you about earlier in this article?
Well, you have to build that bridge to get to the other side. I feel that people who are new to making money online world need to learn how to get around.
If you're unfamiliar with keywords, SEO, article marketing, building a list, websites, short reports, and so on, you may be a little lost in what you need to do with these keywords.
You also may have competitors ranking higher than you for the keywords you selected.
A good keyword doesn't guarantee you will rank high on the net. The Internet changes all the time. Knowing how to get around these obstacles is important.
I believe when starting off, a person may have questions and may need help. My #1 Heroic Site has all the questions plus a keyword tool a person can use when beginning their journey online.
It is essential to get help and answers a person needs because you will be surprised at how many questions a person may have.
Getting these questions answers, asap, does make a difference in a person's success online.
Something To Think About
---
Having control of your keywords and how you want to build your business is essential. I have a keyword tool I like to use. I guess you can say each marketer has their quirky little way of using their keywords.
Even though ICK offers keywords that may be to your advantage, if you plan on writing articles, you want to build your business around something you like and enjoy doing.
By selecting a niche that you like and enjoy decreases your chances of quitting.
There is a starving crowd for every niche. As you have seen in the video, people were standing in line with a cell phone in their hand, but they will still stand in line for another one.
Is There A Need For Speed When Building An Online Business?
---
We all want that speed. We all want results fast. With ICK, they offer you tools you can use, but you still have to learn the service.
It takes time to build your business. There is no easy way out. Even when you build a bridge. You do have to get educated and learn your way around the block. As you're building your bridge, it will get easier to get to the other side.
You want those crowds like in that video you just saw above. Even Apple has to make the product first before they can get their phones to those hungry crowds.
All In All
I feel ICK is not a scam. They actually tell you what you will get before you buy it. They actually do it in a fun way. I really enjoyed their video too.
I personally feel that all services are not for everyone. We all have different needs at some point and time. Yeah, we all are a starving crowd to make a great living. Who wouldn't want that?
If you want to check out your other options, here's another service you can look into. I call it My #1 Heroic Site.
What is your take about IsntaCash Keywords, Tweet me @evelynbaz!

We earn a commission if you click this link and make a purchase at no additional cost to you.