Someone asked me to do a review of the Instant Income Code.
When I got to their site, there was no info there.
It was just a few lines that they are supposed to help you with making money online.
I've come across a number of services online, but this one had the least info of them all.
I'm like where is the beef, where is the info, there is not much to go by.
I wrote what does your instinct says because what does your instinct say when you come across a site with hardly any info?
For me when I come across info with little info, I move on.
It may not be the same case for you and if it's not, please take the time to read this review so you can discover other reasons why my instincts said what it did.
Specs About Instant Income Code
---

Product Name: Instant Income Code
Year: 2015
Free Access: No
Price: $47
Website URL: instantincomecode.com
BeginAtZero.com Overall Rating: 1/10
---
The Rundown
What is Instant Income Code aka IIC?
How does it work?
It's a guide that is supposed to help you grow an online business.
How much does it cost?
Who is it for?
Anyone interested in starting an online business.
My Take
Sometimes you just gotta follow your instincts.
If your instincts say to buy, then do it, if your instinct says to research, then do it and if your instincts say not to buy, then move on.
I'm going back to if your instinct says to buy.
If you want to purchase IIC, I highly recommend you select your PayPal account and an email address just for this account.
The reason being is that PayPal will work with you on refunds and not only that, I will give you the rundown on why else a little later.
What Did I Do To Research?
---
I like it when people do their research, unfortunately, there wasn't much info online about this service, but you can get a lot from a site's fine print.
I went to the fine print to see what else I could discover. When I read what I read, the fine print is what stopped me from purchasing this service.
The Fine Print Says A lot
---
Funny thing, I just did a review about the fine print and it told a lot.
With IIC, I know there's no beef of info with this site, but when you go to the fine print, you can find out a little more and decide what you want to do.
For me, I moved on and I decided to write this article to let you know what I discovered.
What Did I Discover?
---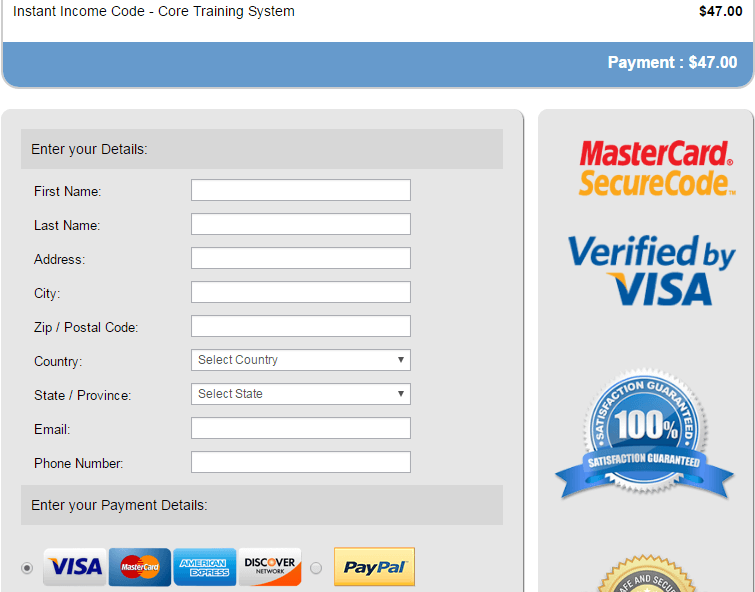 When I read the fine print, I was not comfortable paying at all, even with PayPal.
With any service that you want to try or check out, you should feel comfortable paying.
Sometimes your instincts will tell you to move on and that is what my instincts told me. When I clicked buy now, they were asking for a lot of info.
First/Last Name info
Address info
City info
Zipcode info
Country info
Phone Number info
Credit info
All this for a one-time fee? I didn't see https when I clicked the click here to pay.
I noticed that when I clicked PayPal it lead to a more secure screen. If you want to pay for IIC, I would suggest people go through PayPal and use an email just for this service.
What Did The Fine Print Say?
---
Once I saw all that info that IIC was asking for, I went straight to the fine print.
Red Flag One
The info you put in there is to process billing and to send you other offers of other products that may interest you.
For me, I don't like that, you may be fine with that, but I'm not.
Red Flag Two
I get enough junk snail mail, I really don't want any more. This could lead you to get other junk or other business opportunities through the mail.
I'm not saying this could happen, but you could be added to a list and get snail mail through a service similar to Instant Postcard Wealth.
Red Flag Three

It said for customers who place orders within the U.S.
For me, this is a no-no, not just no, but heck NO. No PayPal No nothing, it said, they may share my info with an outside shipping company to ship your order and a credit card processing company to bill you for goods and services.
For me, it sounds like I'm going to get billed for other things I may not want. This is why I didn't go any further or wanting to know more about this service.
I do not want to spend the time trying to cancel something that they make it seem easy to cancel.
Red Flag Four

In the fine print, it even says that you may get telemarketing phone calls.
For me, it sounds like I'm putting myself on a list that I may not want to be on. For me, it looks like you're going to get:
Snail Mail
Telemarketing Phone Calls
Spam Mail
Unauthorized/Or Billed Charges
It sounds to me like you may pay for some info, but in the long run, you're paying to get unauthorized bills, phone calls you don't want plus mail in your inbox and mailbox.
What Wasn't There
No Transparency says a lot too. There were around 7 sentences by Bob Patrick. You can't ask questions or find out more info, the beef patty is just too small.
The Fine Print Will Give You Info
---
If you can't find anything online, read the fine print. As a matter of fact, it doesn't hurt to read the fine print.
There's info in the fine print that may keep you from trying to get your money back plus prevent you from getting phone calls and all this spam and snail-mail you may not want in your boxes.
You Want The Beef
---
I know you want to make money from home, if you're looking and wanting to learn to build a business from home, a service that gives you the beef is where you should feel comfortable checking out.
You want the whole package, not just the bun. Yeah, I found a little beef once I opened the bun, and that little beef that I read made me move on.
Update:
Boy did I find out some more info, Yep, I found more beef, Lol. I found two sites:
instantincomecode.co
coolhandle.com
When I got to instantincomecode.co there was a 45-minute blah, blah, blah video about the usual mess they talk about in those ad videos.
Apparently what this service is supposed to do, is give you pre-written content websites along with lead capture pages, plus what I call the waiting tactic to bug you when a person tries to leave a site.
This service is not free there is a fee of $49.95, there is no beef about a monthly fee or anything else on this instantincomecode.co site.
With coolhandle.com they are working with IIC and they provide the hosting and domain name. The hosting and domain name is not free and it's at an additional costs
1 year hosting around $179.40
2 year hosting around $262.80
3 year hosting around $358.20
I'm not against getting your own domain name and hosting, this is something I highly recommend you do to make money from home. I would suggest doing your research on hosting companies.
Pre-Written Content
---
I do not recommend anyone buy pre-written articles because you may have a problem with SEO. I personally feel that everyone can learn SEO and rank on the net.
As for getting leads on your site, as you're building traffic you can add an autoresponder to your site and build pertaining to the niche you choose.
Yeah, it takes time and work, but if you want a growing business you gotta put the blood, sweat, and tears into it. I'm not going to say it's going to be easy, but any service claims these quick and easy ways, have your guard up.
All I can say if there was a quick and easy way I would be doing it too, you think I wouldn't, I sure as heck would and I know millions of others will be doing it too.
All In All
I know there wasn't much info about the service when people come across IIC. It is so important to read the fine print.
The fine print can tell you a lot and allow your instincts to give you an idea of what you should do. With so many services out there online, most of the time you're headed into up-sells.
I'm not against upgrading when the time is right, but if you haven't made a dime yet and then you may be headed into getting billed for stuff you're not ready for if you come across anything like that, it's time to start going to your gut instincts.
I want to thank the person for asking me to review this service. I hope I have given people enough info to think about what they want to do.
For me, I wasn't comfortable about giving any info to this service after what I found out and if you feel the same way, move on. As I said, a service that gives you the beef is what you should be looking for.
If you want beef, well I got some beef for you. This service will give you 10 free lessons, a website, and hosting at no cost to you. No need to try and get your money back to check out some good prime beef.
What is your take about Instant Cash Code, Tweet me @evelynbaz!

We earn a commission if you click this link and make a purchase at no additional cost to you.