In this Instant Payday Network review, I noticed some red flags that you should be aware of.
I understand that it's free to join, and I don't doubt that people do make money by using IPN, but I'm not too fond of offers.
The offers that Jeff recommends are offers that require you to have a credit card handy.
Even though you can cancel these subscriptions, please don't let the offers fool you.
Not only the offers are a red flag, but I wanted to point out some other things that you should be aware of.
Update:
This service is closed!
Specs About Instant Payday Network
---
Product Name: Instant Payday Network
Year: 2012
Free Access: Yes
Price: Cost varies depending on the offer
Website URL: instantpaydaynetwork.com
BeginAtZero.com Overall Rating: 5/10
---
The Rundown
What is Instant Payday Network aka IPN?
How does it work?
By completing two steps, you get access to promote IPN. You will get paid a commission if people complete the offers.
How much does it cost?
It's free to join, but you will need a credit card or debit card handy to complete the offers required to move forward.
Who can join?
Any country that offers a PayPal account.
My Take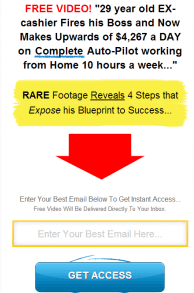 In the IPN video, I felt that Jeff did go over everything pretty well.
I think he explained how the system works and how you can make money by using his service.
I felt he generally didn't give people a deceptive outlook on what you can do.
One of the problems I have with IPN is that it's a funnel system.
You don't have to get funneled into it, but I want people to be aware of what they are getting into.
Let's go over some of the red flags so you can determine if you won't move forward with IPN or not.
When I Got To Their Site
---
When I got to IPN's site I noticed he wanted my email right away before I can even get to know what IPN was all about.
I've stated this before and I will state this again, I really don't like just giving out my email address.
I feel this is a tactic to get you on their list so they can send people emails to join or get spam mail from other offers.
This is something you should consider when you land on a website that asks for your email as blatantly as IPN.
The image above is what was stated in IPN's Privacy Policy.
If you're new to the online world, just be aware that once you give out your email, don't be surprised when you go check your email that it may be infested with spam emails that you don't know where they came from.
Once I Placed An Email
---
I got to Jeff's video. Like I stated before, I felt he went over how his service worked.
There were four steps that you can do to make money with what Jeff offers.
How Much Can You Get Paid?
---
You can get paid $20 to $55 when you refer someone to complete these offers.
So what you're really doing is getting people to complete offers by promoting IPN.
How Does IPN Work?
---
What you do is sign up for IPN. Then you go to step one and complete offers that add up to one point through a service called Express Cash Freebies.
Step 2 you complete other offers that add up to 2 points. After that, you're done with doing offers forever. Now you have access to step 3.
In step 3 Jeff gives you training materials and a number of ways you get others to join IPN.
Step 4 is a funnel to get you to join Empower Network.
Let's Go Over The Steps
---
In order to finish the first step, you need to have 1 point to get to the next step.
In most cases, people will probably have to complete several offers.
Don't think a free offer doesn't require a credit or debit card you will need that handy too.
Let's say you finished step one, with step 2, you're gonna have to complete even more offers because it's now 2 points.
I really recommend before you complete anything that requires you to use your credit or debit card, please make sure you cancel the offer in time.
If you don't, your card is going to get charged.
The FTC has a video about offers. I did a review about offers and some of them can be misleading.
I also placed the FTC's video in a review I wrote about MyFlexJob.
You can also read the complaints people had on the Consumer Affairs site about these Free Credit Scores sites.
A lot of people complained about how they missed reading the fine print because it was so small.
So if you're willing to try these offers, you may need a magnifying glass or you better start zooming in.
I'm being serious because if you DO NOT want to get charged you better start reading.
Just like in what I read in the consumer affairs site, they will not give you your money back because you agreed to use their service and you didn't read the tiny little fine print.
Training Materials
---
It's nice the IPN provides people with training material and services they can use to promote IPN.
Jeff does give you a blueprint of what you can do to make money by promoting his service.
The main training in step 3 is learning how to place ads in classified areas and doing YouTube videos.
He does provide people with capture pages that they can place in places like traffic exchange sites and classified ads, but you must be aware that these places do not convert well.
He does do training on blogging, but don't think this is free either.
Yes, Jeff says it's free to join, but if those classified ads and YouTube videos and landing or capture pages are not working for you, then there is step 4 the funnel I was talking about earlier.
Step 4

This is when you get to step four and the funnel begins. Step 4 is where you can join Empower Network.
This is when free isn't free anymore because Empower Network is not inexpensive at all.
I've done reviews that funnel people to Empower Network and when that happens you better have your guard up.
I call Empower Network a funnel system and an opportunist frog. Here is a list of fees that you should be aware of.
Viral Blogging $25 a month
Inner Circle Mastermind $100 a month
Top Producer Formula $500 a one-time fee
Team Building Formula $1,000 one-time fee
Mass Influence Formula $3,500 one-time fee
Affiliate Program $19 a month
This will give you an idea of what this is going to cost you if you decide to do step 4.
Mind you, you do not have to do step 4, but now you have an idea of what it will cost you to get going with step 4.
So if you feel IPN is the right business to join, well then go for it. I'm not going to try and steer people away. I just want you to know what you're going to get into before you get into it.
All In All
I don't doubt that people can make a buck by using IPN.
Don't think you will make all this money that these people claim you will make by promoting IPN.
Any time you want to make money online, it will take time and effort.
When you finished 2 steps and get to the third step, you're gonna have to learn some stuff.
Even though Jeff provides you with lead capture pages and places to place these capture pages doesn't mean you will get all these people to sign up.
A lot of people are placing these ads at the same places Jeff suggests so you're gonna have some competition.
What really bothered me the most is that this is just another funnel system to Empower Networks so buyer beware, don't let these offers fool you.
If doing offers is not your thing and you would like to build your own business and not Jeff's business, please check out this website here.
What is your take about Instant Payday Network, Tweet me @evelynbaz!
Looking For Ways To Earn From Home?
Check out a list of opportunities!
There are many ways you can earn from home. In this list, you can find other options that can help you make money online. Each opportunity is either earn some extra coins, find work, or start a business. Click the button below to see if any of these options fit your needs.

We earn a commission if you click this link and make a purchase at no additional cost to you.