IPW (Instant Postcard Wealth) is supposed to give you step by step instructions on how to make money utilizing a postcard system.
The problem I have with this system is that it's not a business but a system.
Before you think about starting to use their system, I want you to read my Instant Postcard Wealth Review because it's a waste of your dime and time.
Specs About Instant Postcard Wealth
---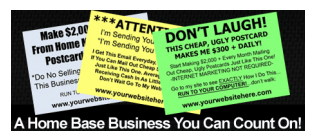 Product Name: Instant Postcard Wealth
Year: 2015
Free Access: No
Price: $98 Monthly
Website URL: instantpostcardwealth.biz
BeginAtZero.com Overall Rating: 0/10
---
The Rundown
What is Instant Postcard Wealth?
It's a service that teaches you how to make money utilizing postcards.
How does it work?
What you get is a template of information on where you can send these postcards out. If anyone decides to do the system, you make a monthly residual income.
How much does it cost?
Who can join?
My Take
When I research this service I found it to be a waste of time because there is no business here.
Just because someone has made a few bucks with a system doesn't mean you should do it.
I know they say you get their business license to do this, but really how could just sending out postcards and asking people to pay you $98 a month really be a business.
It's like those envelope stuffing scams or email systems where you place ads in places like craigslist.
It's more of one of those gifting chain letter scams because there's no tangible business here.
It's just some sort of system that uses postcards that ask people for money.
The Business Model
---

What happens is that if you pay for this system, you will mainly get a list of homes you can send these postcards to.
You will also get a template of different types of postcards to send out.
They claim the more postcards you send out the more money you can make.
Here Is An Example Of One Of The Postcards They Will Have You Print Out
---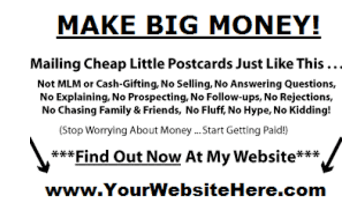 If you read the postcard, it may seem like the answer to what someone may be looking for.
All you have to do is print out some postcards and send them to the list they provide you with.
Here is the problem, you're mainly recruiting people to do the same thing you're doing.
It's a gifting scheme or one of those envelope stuffing schemes or placing ads in Craigslist.
You're not really doing anything, but recruiting people to do the same thing that they want you to do.
What It Cost To Do Something Like Instant Postcard Wealth?
---
If you look at the cost of $98 a month, I personally feel the price for trying something like this is outrageous. Let alone the business model is not a business.
Like I expressed before, the way you make money by doing this is by having other people pay you $98 a month to do the exact same thing.
To Send Anything Cost Money And Besides $98 A Month, You Are Looking At Other Out Of Pocket Expenses
---
There is also the cost of sending out these postcards on a daily basis.
To send out one postcard it's 34 cents.
If you send out 100 postcards on a daily basis, you're looking at nearly $3.50 a day.
There is also the cost of the ink you will use to print out these cards.
If you go to Kinkos to get your mailing labels, postcards printed, plus your stamps, you're looking at around $250 a week to make around 500 postcards to send out.
When you look at this system as a whole, is this really feasible?
Where Do They Get The List?
---
These types of lists can get obtained from services that usually trade their lists.
Most of the people on these lists are most likely vulnerable to scams.
These people probably requested to be removed from the list, but most likely they were never removed, instead, they may have been recycled into another list.
How Do I Get Off The List?
---
If you got one of these postcards, you may get another one.
I would suggest checking out the FTC's website and request to get your name off the list.
Even though it may be difficult to get off a scammer's list, it's important to report it because you can help deplete the amount of these postcards being sent out.
Very Important Red Flag
---

I always try to express to people the business model.
While doing my research, I noticed that IPW's other website was suspended.
I went to the Wayback Machine site to make sure it was the same business.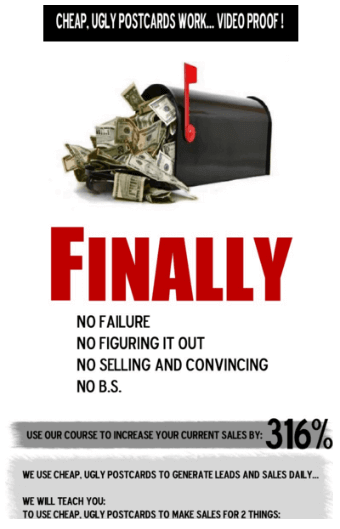 As you can see it may look a little different, but the business model is the same.
I felt this was important because where is the trust when a site was suspended?
Usually, a site that gets suspended is because they were unable to pay their hosting fee.
I want you to know they could of just let the site go and moved on to their new site name instantpostcardwealth.biz.
My point here is, in my opinion, this is very sketchy.
I personally wouldn't even think about giving a dime or my time to IPW if the site name was changed.
Not only that, the price tag to do something like this is quite expensive.
All In All
In my opinion, this system is similar to those email processing systems where you place wants ads in certain areas on the net such as Craigslist.
It's also like those envelope stuffing scams where they recruit people to pay a fee, the only difference from this system is that you are mailing postcards.
There is no business here just recruiting people to do the exact same thing.
Also, where is the trust when a site changes its name?
Where does that leave you if the site is gone or allegedly can't pay their hosting fee?
If you're looking into having a real business please check out this website here.
They have been helping people build their OWN business for over 10 years.
What is your take about Instant Postcard Wealth, Tweet me @evelynbaz!
Looking For Ways To Earn From Home?
Check out a list of opportunities!
There are many ways you can earn from home. In this list, you can find other options that can help you make money online. Each opportunity is either earn some extra coins, find work, or start a business. Click the button below to see if any of these options fit your needs.

We earn a commission if you click this link and make a purchase at no additional cost to you.