If you ever ran across an opportunity to make money online, sometimes sites do a really good job of making it appear to be a legit service when it is not legit.
Then there are websites like Dollars True that most of us will be able to detect that there is just something not so legit with their website.
Just in case you are new or really wouldn't know what to look for, I will show you what I mean.
If you are curious about why I call Dollars True a scam, I'm going to show you the blatantly obvious facts of why I call their service a scam.
Specs About Dollars True
---
Product Name: Dollars True
Year: 2017
Free Access: Yes
Price: Free
Website URL: dollarstrue.com
BeginAtZero.com Overall Rating: 0/10
---
My Take
The opportunity to make money online is out there.
Unfortunately, an opportunity to scam people is out there too. It's that yin-yang thing about the online world.
With so many types of services out there that allow you to make money from home, you have to really, really start putting up your guard and do your research.
I also want you guys to know that lately, I see a surge of scams using surveys as a way to dupe people.
Now that we got that out of the way, I will start with the main gist of what Dollars True site provides.
What Is Dollar True?
---
What Dollars True service is supposed to do is allow its members to make money from home by completing offers, surveys and refer people to join their service.
When I Landed On The Actual Website
---
When I got to DT's (Dollars True) website at first glance their website seemed similar to services like Inboxdollars.
What Inboxdollars services do is allow their members to make money in various ways such as, completing surveys, offers, watch videos and more.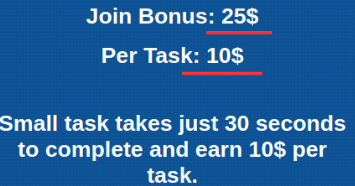 That was at a glance. When I took a closer look at DT's website, I noticed that their dollar sign was behind the numbers where it said join bonus and per task.
Being that DT is supposedly going to pay you in dollars, we all know that the dollar sign goes in front of the number.
When I see something like that, where the dollars sign is behind the numbers, you can get an idea that you are not doing business with a site inside the USA.
There is nothing wrong with another country paying you to do these types of tasks (to all my people outside of the USA, you're great).
But what I'm getting at here is that if something were to happen, you might have a tough time getting whatever issue you may have resolved because a site is not in your country.
The Pay Is Over-inflated
Pay rates are a big red flag because it can entice people to sing up.
Usually, sites similar to DT, their sign up bonuses are around $5.
To those who ever completed tasks on a site similar to DTs, you already know that by completing tasks their pay isn't as high as $25.
In the image above, It also states on their site that, "Small task takes just 30 seconds to complete and earn 10$ per task".
For those who never tried a site similar to DT, tasks usually pay you by the cents.
You may find higher-paying tasks in places like Mturk, but you have to go through a screening first. It could take an hour or more to complete these higher-paying tasks.
The Image Of The Man With That Great Smile
The image of the guy with the great smile is a stock photo.
---

---
When I saw the image of the guy with the great smile, it was obvious to me he is a model.
If you ever look at an image that appears kind of modelish, know that it could be for marketing purposes.
There is nothing wrong with a modelish look, but sometimes these testimonials are fake.
Using fake testimonials is a lie. These lies lead people to pay or sign up for services that can dupe you out of your info, time, or money.
At this point, I tend to click around and read the other data they have on their website.
And boy did I find more red flags.
What Are The Red Flags Inside Dollars True
---
When I went to click on register, I noticed something odd.
In the image above see where it says cheque pay to: (Full name).
For me when I see that my thought was, heck no, no, no, no way, NOO!
For me, that is a Big Red Flag because with so many red flags already, I would feel uncomfortable entering my full name.
---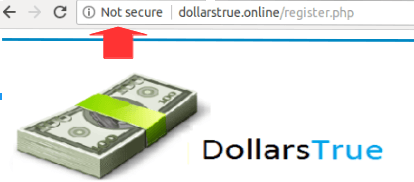 ---
Also, look to see if their website is secure.
Security is important because these memberships sites store your data and if they're not encrypted, that shows a lack of care for your info.
I know that it doesn't cost anything to sign up or register, but with so many crazy things going on online these days, you should be cautious.
---
---
What I did next was I clicked on their support and Q and A page.
When I went to click on those two tabs, it didn't even work.
Obviously, something odd is going on because you are not able to get more details before you join.
What I Did Next
---
What I did was go to their terms and conditions.

---
In the image above, that is all you get in regard to their terms.
You can't even click to read in full detail what DT's site will do with your data that you enter if you register.
Being that DT is supposedly a service that you can become a member of, you have the right to know what DT will do with your information.
If that info is unavailable, run. Obviously, there is something fishy going on.
I Got Curious At This Point And Just Wanted More Details
---
Me being the type person that likes to research online, when I Googled Dollars True, I found out that their tasks were mainly for you to get other people to join Dollars True and that was the only task available.
Warning:
Okay, I'm going to do the math here.
It is free to join DT.
According to DT, you will get paid 10$ (I'm putting the dollar sign in the back cuz you are not going to make any money, no offense to my people living outside the USA) for each "referral" you get.
How Is this Dollars True making money to pay you?
No one is paying a membership fee, yet you're going to get paid "10$" (yep, with the dollar sign in the back) for getting referrals.
What Is Really Going On Here
---
When you see a red flag such as your full name to get your cheque, they are wording it in a way to get you to register your accurate information.
It is blatantly obvious that DT is doing this as a way to obtain your info to sell.
Not only that, but their site also is not fully functioning for members to get the full details in their Q and A and Terms.
All In All
You can nip a site in the bud just by doing some quick clicking on their website and find red flags.
Red flags like,
over-inflated pay rate
stock photos
the not secure domain name (especially when it is a membership site)
make money in just a few seconds
can't even click on their FAQ
no real terms
Those red flags are a sure sign that it is blatantly obvious it's a scam.
If you are looking to make money from home, here is a list of sites that you might find useful.
What is your take about Dollars True, Tweet me @evelynbaz!
Looking For Ways To Earn From Home?
Check out a list of opportunities!
There are many ways you can earn from home. In this list, you can find other options that can help you make money online. Each opportunity is either earn some extra coins, find work, or start a business. Click the button below to see if any of these options fit your needs.

We earn a commission if you click this link and make a purchase at no additional cost to you.