I told a friend about DoorDash because I know my friend like other alternative ways to make money.
My friend responded to me that she doesn't want to become a dasher because her friend says she hadn't got paid in three months.
My friend told me that her friend said the pay wages were excellent, but it doesn't do any good if dashing doesn't pay.
I'm like WHAT! So I wanted to know if DoorDash is paying their Dashers and if not who is eating the bacon.
I Know It's A Friend Of A Friend
---
Sometimes we hear rumors about people, companies and dah, dah, dah. I've already written an article just recently about DoorDash.
From my gatherings at that time, the biggest complaint Dashers had is that their app can be a little glitchy.
I get it that a friend of a friend told me that they didn't get paid in three months, so they decided not to drive for DoorDash anymore.
With any technology, glitches and weird things can occur.
However, you know that saying, "Beyoch better have my money!" when people are working as an independent contractor relying on DoorDash to pay them.
I Decided To Dig
---
I wanted to dig because I don't want people not getting paid for their hard work.
DoorDash doesn't pay for your car expenses, and people are not employed by them if they are Dashers.
When I did my digging, the most significant controversy was the pay model that DoorDash has.
The way DoorDash pay their Dashers is $1.00, and the rest is by tip per dash.
Usually, each dash averages around $7.00 per delivery of food to DoorDash customers.
That's not bad if you get paid!
If the tip is less or in a more remote area, DoorDash may even increase the pay so their Dashers can make money along with getting food to their customers.
I Didn't Write About DoorDash Pay Controversy
---
I knew about the pay structure that DoorDash offered before writing my original article.
I decided to leave that part out in the article I've written because I was looking at it from a future dasher's perspective.
I just felt that DoorDash does indicate on their app a break down of how much each order pays.
I felt that Dashers wouldn't mind that because they are more concerned about the total amount and not how much DoorDash breaks down their pay per dash.
I also felt that being that Dashers are independent contractors and not employed by DoorDash that they agree to their terms.
The biggest concern I have after hearing a friend of a friend rumor is if Dashers are or are not getting paid.
I Had To Dig A Little Deeper
---
What I found out was through Twitter.
The complaints started with DD's customer service number, not working.
Then I scrolled down and read all kinds of complaints.
Apparently, from the number of complaints in that twitter feed which is way too many, you can't help but think that there is a customer service problem that DoorDash has.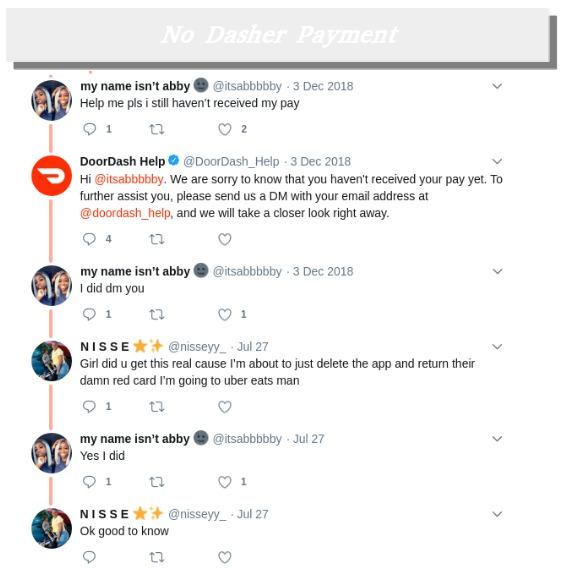 I read several complaints.
The three common complaints are that some Dashers are not getting paid, customer service is hard to get a hold of, and some Dasher's accounts got hacked.
I feel for them because I've experienced the same thing where I couldn't get a hold of customer service and didn't get paid through other services that I thought would pay me.
DoorDash didn't respond to everyone in that Twitter feed, but to be fair, they did respond to some people.
You can read it for yourself here!
That is concerning!
Hacks And Glitches Can Be A Problem…! It Would Be A Good Idea To Follow These Tips
---
When hacks happen, it's challenging to decipher precisely how and why it happened. But if you're dashing it would be a good idea to keep your end safe.
These tips can help you avoid glitches or hacks. Note: nothing is full proof.
When you're using mobile devices, I feel that people should not take for granted the hacks that can occur.
To avoid hacks on your devices, these tips I learned through time.
Tips
I like to restart my phone from time to time, and sometimes I might even turn off my phone and remove the battery for 5 minutes. I do this to avoid glitches that happen every now and then.
Update your phone software. Most updates are because of vulnerabilities, so it's essential to keep your devices updated.
Do not use public WiFi. You're dealing with personal accounts, and you don't want your phone hacked because you were using public WiFi.
Sometimes you might see something on your browser that is appealing to download or click. Don't click or touch those popups. Avoid them because they might compromise your devices.
Besides reading reviews about apps that I'm thinking about downloading, these are tips I learned through komando.com.
Only download apps you trust.
Google play store and apple app go through security checks before they allow apps to be in their platform.
Other third-party apps where you can download apps don't do rigid security checks like Apple and Google play store.
You don't want to download apps from some copycat; it would be safer to check for the original app developer.
You can do this by doing a simple Google search for the original app developer.
I always read reviews about apps. I suggest you do the same thing. If there is something funky going on, it might be best to avoid the app.
Also, some reviews will give tips if something glitchy is going on.
This link here gives you advice from DoorDash to troubleshoot their app.
So Who Is Eating The Bacon?
---
From what I gathered, it appears the bacon falls on DoorDash's hands.
They offer the opportunity to Dashers, and they develop their service.
So they need to follow through.
I see that DoorDash is growing and with growth customer service needs to grow too.
People are excited about the pay and are willing to become dasher to earn either a full-time living or extra money.
So I hope DoorDash will get this resolved.
Should I Become A Dasher?
---
Nothing is ever perfect. There is always going to be problems. I still like to say; people will always experience something different.
I'm sure there are plenty of Dashers out there that didn't have problems and Dashers that does.
DoorDash is not a scam. I believe they need to work on their customer service area to help Dashers get paid for their work and troubleshooting problems resolved.
After my experience when I didn't get paid, I decided to start my own business, because this beyoch needs to get her money, Lol.
All In All
No one doesn't want to get paid after completing work.
Getting help seems to be a problem with DoorDash, and your best bet, if you are not getting answers, is to try that Twitter feed.
DoorDash seems to have an excellent service in place, but if enough people are not getting paid, DoorDash isn't going to have anyone deliver food to customers.
Let's hope they get this resolved.
What is your take about DoorDash pay, Tweet me @evelynbaz!
Looking For Ways To Earn From Home?
Check out a list of opportunities!
There are many ways you can earn from home. In this list, you can find other options that can help you make money online. Each opportunity is either earn some extra coins, find work, or start a business. Click the button below to see if any of these options fit your needs.

We earn a commission if you click this link and make a purchase at no additional cost to you.