Sites that make it seem easy to make money by referring people into their system should be a red flag in itself.
These types of systems tend to entice people to sign up because they claim you can make $500 today.
I'm sure you're wondering is Referral Pay a scam or if it is any different.
Well, I'm going to shed some light and show you why I call it a scam.
Specs About Referral Pay
---
Product Name: Referral Pay
Year: 2019
Free Access: Yes
Price: Free
Website URL: Referralpay.co
BeginAtZero.com Overall Rating: 1/10
---
My Take
If you are thinking about referring people or recruiting people as the basis of a business, you better believe you're signing up for one of those recruiting schemes.
No one pays a membership fee.
You're not selling a product; you're just getting people to sign up and yeah, where is the money that Referral Pay gets for their system to pay you the amount of money they claim.
If you look at something like InboxDollars, which is entirely free to join, you don't make that kind of money like Referral Pay claim.
InboxDollars takes a while for you to accumulate money and a lot of referral programs aren't going to pay you a large sum of money without a service having a fee.
So, let's look at the numbers and the amount of money you are supposed to get paid.
Ways The Referral Pay Claim You Can Get Paid
---
create a YouTube video $50
complete surveys $25
download App $10
get paid per click $2
refer friends make $10
If you look at the list above, you are supposed to create a YouTube video and add it to their channel, and if anyone joins through your channel, you make $50.
Referral Pay claims you can make $25 per survey completed. There are no surveys, so don't even count surveys.
Make $10 when you get people to download their app. Um yeah! Before you download anything on to your phone, research the company first. After my findings, I wouldn't recommend anyone download their app.
If you get people to click, you're supposed to make $2 per click. I've never seen any site pay people to click on their referral link and get paid. If it were that easy, everyone would be on a clicking frenzy.
Make $10 per referral. Again, there is no fee to join Referral Pay, and you're getting paid $10 every time someone signs up!
What's My Point Here
---
Anytime money claims are too good to be true, you should research and find out if it's too good to be true.
That way, you're not placing your personal data in a scam site where they can use your info for their gain.
At this point, I'm going to show you what I dug up, and in the end, it's entirely up to you if you want to try anyway, but don't say I didn't warn you.
What I Discovered About Referral Pay
---
What I Noticed When I Read What Makes Referral Pay Different

When I read what makes Referral Pay different, if you look at the image above, it says Viral Dollars?
What happened to Referral Pay? When I Googled Viral Dollars, it redirected to Referral Pay.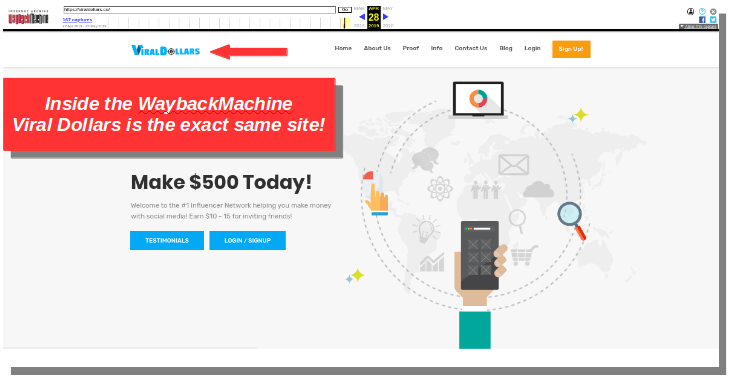 What I did was go to the Waybackmachine site to see if there were any differences between Referral Pay and Viral Dollars.
As you can see, the only difference between Viral Dollars and Referral pay is the domain name.
In Their FAQ Page

I like to click around and research a site to see if I find anything odd. When I went to the FAQ page, I was looking for the payout threshold.
Being that Referral Pay, supposedly pays big, I wanted to know how much you have to make before you're able to cash out.
I'm going to quote them,
"Usually, payments are sent instantly when scheduled. However, in rare cases, some problems may arise."
Why would they add, however, in rare cases some problems may arise!
If there are rare cases, why would they even say that?
Shouldn't there be a more specific FAQ section about these rare cases?
I'm just thinking here! Or, these rare cases are when you try to cash out, and you are the rare case!
For me, that statement is questionable and I don't trust it.
Been In Business Since 2015
---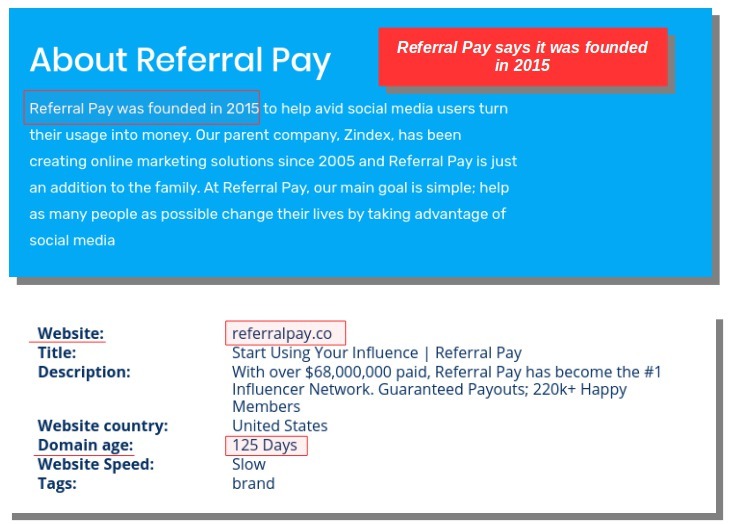 ---
They claim they were in business since 2015 but when I looked up their domain age, it is 125 days old.
For me, I wouldn't trust this site after that and I wouldn't even sign up or refer anyone to this site.
For me, I feel like they want my data for their gain.
But I did one more dig.
Testimonials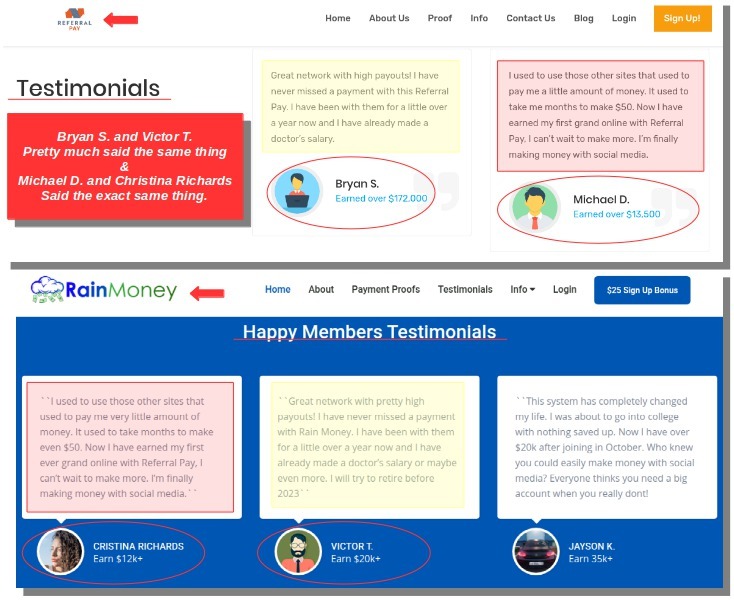 Oh my, I always say testimonials are great if they are real. You get an idea of what people are experiencing.
If you look at my Self Made Millionaire review, their testimonials were rehashed and fake.
That is also what I found with Referral Pay. I noticed that they had the same testimonials written; however, different people said the same thing from another website.
If you look at Rain Money site which I wouldn't recommend either, Christina Richards and Victor T. said the same thing as Bryan S. and Michael D. in Referral Pay.
Are There Any Pros About Referral Pay?
The only thing I can say to that is that it appears scamming pros are conning people.
To Sum Up These Findings
---
They used to be Viral Dollars.
That rare case bothers me.
It appears their site is only 125 days old and not founded in 2015.
Testimonials are fake.
The business model is recruiting people into a system.
The pay is overinflated.
Just because a site says you will get paid all this money doesn't mean a thing, especially when they are brief about these rare cases.
They claim people are making a lot of money, but if you look at their testimonial, it seems like they copy and paste words, added names then put large amounts of money to get people excited to join.
If they are that deceptive, how can you trust anything on their site!
Even if it's free to join doesn't mean you should. In my opinion, no one is going to make a dime here.
All In All
It is a good idea when you come across opportunities that offer a lot of money, to do your research.
You don't want to waste your time and energy, promoting a system that uses deceptive measures to get you and other people to join.
With all the deception they used, how can you even trust they are going to pay you!
My suggestion is that you move on.
What is your take about Referral Pay, Tweet me @evelynbaz!
Looking For Ways To Earn From Home?
Check out a list of opportunities!
There are many ways you can earn from home. In this list, you can find other options that can help you make money online. Each opportunity is either earn some extra coins, find work, or start a business. Click the button below to see if any of these options fit your needs.