The way I learned about Survey Voices is through an email I got.
When I read the email that I received and clicked on the link to Survey Voices' website, for me, it didn't coincide with the email I got.
It may sound like I'm nitpicking a bit about an email and the Yeah, but part of my website title, but Yeah, you will know what I'm getting at about Survey Voices' Legitimacy.
When people are looking for jobs or ways to make money, I don't know about you, but for me, when I click on the email link, I'm expecting the email to get to the point.
I didn't get that with Survey Voices which caused me to write that Yeah, But the part in my title.
So with that being said, let's get into what I'm talking about.
Specs About Survey Voices
---

Product Name: Survey Voices
Year: 2015
Free Access: Yes
Price: Free
Website URL: surveyvoices.com
BeginAtZero.com Overall Rating: 5/10
---
My Take
I'm going to start off by saying that I do find what Survey Voices has to offer is legit. If you find what they offer is worthwhile, then it's all good.
Some of the sites that Survey Voices have on their website I'm familiar with while other sites I'm not.
What is concerning is with the email I got. There was nothing wrong with the email, but when I got to Survey Voice's website as I said earlier, it didn't coincide with what they offer.
So let me explain what I'm talking about.
So Let's Get Into What Is Survey Voices
---
Survey Voices is a survey aggregator. Mainly what that is, is a list of opportunities that you can join on their website.
On their website, they say they use vetted tactics that allow people to join trusted websites.
Here is a list of some vetted websites that Survey Voices recommends
Opinion Outpost
Survey Junkie
Swagbucks
Vip Voice
Emile
Samples & Savings
National Consumer Center
The Bill Wizard
OMG! Sweeps
Jobs On Demand
The ones I'm familiar with is Opinion Outpost, Swagbucks, National Consumer Center, and OMG! Sweeps.
Opinion Outpost has been in business for years and it is a legit service that will compensate you for completing surveys.
Swagbucks is another legit site that is a pay to site. I tried them back in the day and it is a good site, but it just wasn't for me.
OMG! Sweeps are similar to Click 4 Riches. It is owned by the same company and they offer pretty much the same thing. OMG! Sweeps is a sweepstakes site and they do follow the FTC guidelines.
As for National Consumer Center, if you ever got an email that indicated you won a prize or try to obtain a $1,000 gift card then you are familiar with what I'm referring to.
If you ever filled out one of these offers, you know how it goes.
You fill out your info, but yet it's an endless amount of info they want for each offer. If you don't read the rules, you are more than likely NOT going to get the reward or gift card.
As for the other vetted services that Survey Voice's offer, I haven't check them out just yet.
What I recommend you do is dig deep before you decide if you want to join any of Survey Voices' vetted opportunities.
What About That Email?
---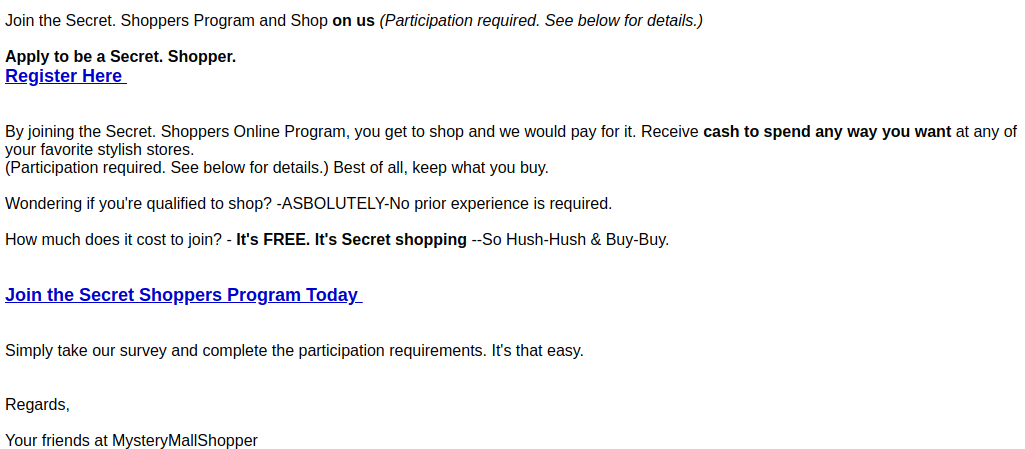 ---
The email was very specific. The email indicated that I would be able to join some sort of secret shoppers program once I clicked the link.
If you look at the list above of the vetted services that Survey Voices provides, there isn't anything that indicates a secret shoppers opportunity.
For me, that leads me to say Yeah, but because where is their vetted secret shoppers' service.
If you look at a review I did about merchandiser by survey.com, they get right to the point.
They let you know on their website what they are all about and how you can make money by completing projects.
That email I got about some sort of secret shopper wasn't transparent at all. When I clicked the link, it felt to me like a way for me to check around in Survey Voices' website.
If you were interested in mystery shopping, you won't find it unless Survey Voices add some sort of vetted secret shopper opportunity on a later date.
To be fair, the email is most likely from one of Survey Voices' friendly third party advertisers.
Are You Saying That Survey Voices Is Scamish?
---

---
Survey Voices Owned by Reward Zone. If you ever got that email as I stated above in regards National Consumer Center, you have to dig deep to find the rules, otherwise, you are just inputting your info for nothing.
If you go to BBB's website, you can read a number of complaints.

---
---
Inputting your info is what people end up doing because they are not exactly upfront with you on how to obtain your "prize". That causes me to say it's a bit sketchy.
If you look at a service like My Cash Freebies, their whole website is catered around exactly what they do and it is pretty much the same thing that Reward Zone does. Yet, My Cash Freebies, indicates that people should read the rules on their website.
What I will say about Survey Voices is that some of what they offer on their vetted website is great, but there are other opportunities that I wouldn't recommend like National Consumer Center.
Being that third parties are emailing people that use nontransparent tactics that could cause people to diminish their trust with a website like Survey Voices.
This is my opinion and that is whoever sent that email whether it was approved or not, caused me to click everywhere once I got to Survey Voices' website. I was trying to find a link to mystery shopping which I didn't find.
Clicking around is great for Survey Voices because it causes Survey Voices to obtain SEO juice by me clicking, reading, and trying to find what I was looking for which I didn't find.
I just want you to know, I'm not hating about it the clicking and reading part, it just can be a time-waster when I couldn't find what I thought I'd find.
All In All
On Survey Voices website, more or less it's a list of websites that you can join. You can join through their website or you can go to the actual website and join there.
I will say that the email I got didn't coincide with what Survey Voices have to offer. That can cause people to waste their time.
The email I got pertained to Mystery Shopping and that was what I expected to find once I clicked on their link and it wasn't there.
For me, that made me think they did that for SEO tactics, and if people joined any of there other vetted services it's all good for Survey Voices.
I did find out that Survey Voices is owned by Reward Zone and Reward Zone is known for popups and endless amounts of info where you input your data yet you don't get the reward unless you learn about their rules that take a bit of digging to find out.
Some of what Survey Voices offer is great, so there shouldn't be a reason for any party to use such nontransparent tactics to get people to their site.
What is your take about Survey Voices, Tweet me @evelynbaz!
Looking For Ways To Earn From Home?
Check out a list of opportunities!
There are many ways you can earn from home. In this list, you can find other options that can help you make money online. Each opportunity is either earn some extra coins, find work, or start a business. Click the button below to see if any of these options fit your needs.

We earn a commission if you click this link and make a purchase at no additional cost to you.