There are many ways that people can make money online.
Making your first buck online is a lot easier today rather than when I started.
It is still essential to do your research first before you dive into any opportunity online.
A lot of people tend to get duped out of their money and time with a lot of opportunities, even if it's free.
In this UserTesting review, I'm going to share if UserTesting is legit, my conclusions and if the ten bucks are worth your time.
Specs About UserTesing
---
Product Name: User Testing
Year: 2004
Free Access: Yes
Price: Free
Website URL: usertesting.com
BeginAtZero.com Overall Rating: 7/10
---
What Is UserTesting About?
It is a market research panel.
UserTesting service is based on marketers getting feedback about their digital products.
What their service does is allow marketers to get their apps or websites tested by people and gain feedback from their experience.
As for the testers, testers get compensated for testing apps and websites by giving their opinion through audio or video feedback.
Is UserTesting A Scam?
---
Nope, I wouldn't call it a scam. UserTesting has been in business for over 15 years.
Granted, you will see complaints out there, and we will cover those a little later.
However, that doesn't mean complaints are lies. What it does mean is that people are explaining their experience.
I can understand people's viewpoints, and this is why, by reading this review, you will determine for yourself if it's worth your time or not.
But for now, let's cover more about becoming a tester.
How To Become A Tester
---
Since my website is about people making money online in various ways, becoming a tester is another opportunity to make money online.
Anyone can join UserTesting, where PayPal is available globally.
The closest site similar to UserTesting is PlayTestCloud.
Unlike PlayTestCloud, where it is geared only by testing video games, UserTesting tests digital products such as apps and websites.
Just like PlayTestCloud, if you want to become a tester, you will have to get approved by completing a sample test.
If you're approved, you can get notified via email, or you can log in their website to find available tests.
What Do I Need To Become A Tester?
---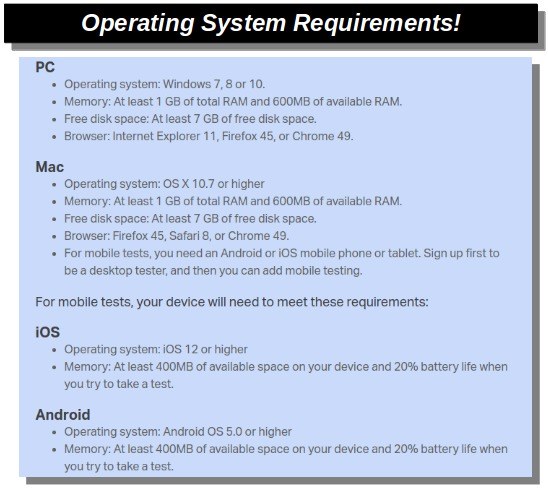 Of course, you will need a computer or a mobile device. The image above shows the operating systems that will get approved for testing.
Also, what is required is a headset with a mic.
I understand why services like UserTesting requires a headset and mic combo. From my experience as a tester, the headset and mic combo does reduce outside noises, and the audio is much more precise.
You will also need to download a screen recorder that UserTesting supplies.
Who Is UserTesting For?
---
If you're one of those people that like those "Get Paid To" types of websites, UserTesting might be a good fit for you.
People who generally like to do "Get Paid To" types of websites know typically the pay and effort needed to get compensated.
It wouldn't be for is anyone who doesn't check their emails daily or wouldn't even log in to UserTesting.
I'm going to be real here!
You're not going to make any money if you're just want to get approved and do nothing else with it. You're just wasting your time trying to get approved for nothing.
Anyone new to the "Get Paid To" arena, I'm not suggesting to avoid UserTesting, but you should understand that it can be a hustle.
Here is an example!
When you see ads or people promoting services and they say make $30 an hour testing products online, it makes you jump the gun.
I know for a fact because I was one of those people who jump the gun back in the day.
I would think I would make that kind of money, and that is not the case at all.
Those memories bring me to the full-time income myth.
Will I Make A Full-Time Income?
---
Nope. Generally, what happens is that most test has a demographic requirement. That eliminates many testers.
The reality is, when you see something like getting paid up to $60 to become a tester, true, you might see a test opportunity that pays $60, but usually, that is very rare. Most tests pay $10 for 20 minutes per test.
Here is the reality, you might get one 20 minute test once a month that pays $10. That means you're making $10 a month and not $2,400 a month working four hours a day, five days a week.
That doesn't mean you can't make extra money, but I'm being real here. You might make $20 or $30 a month, but not a full-time income, nope.
Ads or promotions that say make $30 an hour isn't necessarily lying because you can make $10 per 20-minute test that comes to $30 an hour.
You may want to call that finagling!
Here is the reality!
The Testers who are qualified will take the test.
Most of the time, the people who are qualified tend to experience that the test is over once they click the link to take the test.
It can be quite a hustle for people to make even $20 or $30 a month.
I'm not saying it's impossible, but being that their pay rate is reasonable, lots of people tend to stay with services like UserTesting, and they tend to qualify for more testing than the new kid on the block.
How Come Testers That Has Been There Longer Tend To Make More Money?
---
UserTesting has clients who want genuine feedback. The testers who give useful tests will be rated higher than someone new.
Generally, you have to prove that you're a trusted tester. Being that most people can join globally, some people don't give it their best shot.
The audio could be bad, and their clients aren't getting the feedback that they paid to get.
If I Join How Do I Get Paid
---
You get paid via Paypal.
You get paid seven days after completing a test. The reason why they do that is that UserTesting listens to the audio, and if it's not clear, you don't get paid.
Is Ten Bucks Per Testing Worth It?
---
From what I've seen out there in the "Get Paid To" arena, that is pretty good pay for 20 minutes of your time.
If you ever tried to complete a survey, they tend to pay $0.50 to $1 on an average per survey that takes around 20 minutes to complete.
As you can see, completing a 20-minute test for ten bucks is not a bad payday.
The problem is that you have to go through a screener questionnaire. Usually, the more you take, the more likely you'll get a test.
Screener questionnaires are more for demographic placements. Screener questions are done through surveys as well.
You don't get paid to complete these questions, and it doesn't guarantee that you will find tests to take.
Complaints On The Web
---
The biggest complaint is those screener questionnaires. People feel like even though they complete these questions, there are no available tests.
Here is the gist of it all. Getting paid $10 for 20 minutes of your time, in reality, is good pay for a "Get Paid To" site.
It's also a global opportunity. That means that there are a lot of people grabbing and completing whatever they can, leaving the majority of the people to move on to other places.
It makes people wonder if they are giving out free info and not getting compensated for those screener questions.
Maybe UserTesting should reevaluate this issue in regards to how they can get more people qualified.
Pros And Con
---
Pros
Pay is good
Easy to become a tester
Global Opportunity
Pay Thorough Paypal
Low payout threshold
Cons
Can't make a living from their service
Can be a challenge to complete a test
Might not ever finish a test
Don't get paid if the audio isn't clear
No referral program
All In All
UserTesting is a legit way to make extra cash online.
Know that people are not going to make a full-time income through their service.
If you're one of those people who like to do "Get Paid To" type sites, if you haven't check out UserTesting, you can do so here.
Promotions out there online can make it seem like people can make a decent amount of money every month, but the reality is that you can make extra cash online.
Every site isn't going to be perfect. You have to determine for yourself if hustling for around ten to twenty bucks a month is worth your time.
The hustle I like to do is through Affiliate Marketing because you're not online on several sites trying to make a few bucks. With Affiliate Marketing through time and effort, you can bring in some sweet bacon.
What is your take about UserTesting, Tweet me @evelynbaz!
Looking For Ways To Earn From Home?
Check out a list of opportunities!
There are many ways you can earn from home. In this list, you can find other options that can help you make money online. Each opportunity is either earn some extra coins, find work, or start a business. Click the button below to see if any of these options fit your needs.

We earn a commission if you click this link and make a purchase at no additional cost to you.