I feel that it is important to know when starting a business is that you know exactly the type of business you are building.
If you're attempting to start a business online, you should feel confident with the business you're building.
I noticed at times people think they are joining an MLM opportunity when they sign up at WA.
In this article, I'm going to let you know if Wealthy Affiliate Is an MLM business along with what is really going on with this Wealthy Affiliate service so get ready to get the tea here!
I Get It That You May Think You're Joining An MLM Business
---

There are many people that attempt to try one of those MLM business models.
They learn about downlines, uplines, and complicated comp plans.
At times there may even be a product to sell.
When they learn about other services out there, they might assume that every business falls under one of those MLM business models.
I get it because a lot of services out there have that downline structure.
Some of them even call what they have to offer affiliate marketing with one of those complicated comp plans.
I was one of those that also started out attempting an MLM business back in my day. After attempting a few, I realized that MLM is just not for me.
When I learned about Affiliate Marketing, I was excited because the focus wasn't on comp plans and recruiting people into that downline.
The focus was on the fundamentals of affiliate marketing and how to become successful at it.
What Exactly Is An MLM Business Model
---
MLM business models are structured where you recruit people into their business.
Once you do that, there is a comp plan structure similar to a pyramid.
You are at the top.
When you bring in two people you can make a commission.
It really depends on the way the MLM comp plan is structure, but the gist of how it works is when you start signing up people into their comp plan.
When the two people you got in get two people you make a percentage from their labor.
This comp plan structure can go down levels depending on a particular MLM business.
Most comp plan downlines tend to go down 6 levels deep.
Not all come plans are structured in a pyramid format.
The gist of an MLM business model is by you making money when the people you recruit into the system bring in people and you make money because of that.
I know this sounds all good by you making money when you really didn't do anything.
Heck, I even find it to be a good thing to make money without doing anything.
There Is A Problem Though
---
The problem is the business model itself.
The main flow of the business model is recruiting people especially when there is no product to sell.
That can fall under a scam and by recruiting people into a system, you're not building a business.
Eventually, the pyramid collapses because these types of schemes are very difficult to maintain which causes many people to quit.
Even if there is a product to sell, you gotta ask yourself is the quality of the product you are tempted to sell worth your time?
Like I said at the beginning of this article, you should stand behind the business you are building.
You gotta ask yourself is the quality of the product useful or are they using "their product" to get people to recruit into a system.
The CRAZE Can Grab Your Attention
---
I know I'm kind of gearing off the subject however I feel this is important.
I noticed that there is a lot of making money online that uses some sort of trend to get people in.
It could be with their comp plan or a trendy product that everyone is into at the time.
The way that works is by the business owner knowing that they have a trendy comp plan or product. Believe it or not, with any fad or craze, people gravitate towards it.
These business owners know this and they know they are going to make a pretty penny despite the fact that the craze will fade in time.
If you get in early enough, you may make money, but what usually happens is that the ones that have a great following in social media or on their YouTube channel are the ones that will not hesitate to promote these fads.
Your best bet is to look at what they are promoting. Now I don't want you to think that if a person is promoting different types of services that enhance your business as a whole is a red flag.
Some people just like to try a number of businesses and let others know what works or what doesn't work.
Your job since the money is coming out of your pocket is to really look at what they are asking you to do.
Is Wealthy Affiliate An MLM Business?
---
NOPE!
Wealthy Affiliate product is hosting and training that helps people make money with their OWN personal website.
If I were to join Wealthy Affiliate and I make money with any niche, the person who recommended Wealthy Affiliate to me wouldn't make a dime on the sales I made.
Sales end there. There are no downlines or any type of pyramid scheme that Wealthy Affiliate service provides.
I Read That People Make Money Promoting Wealthy Affiliate Is That True?
---
Yes, that is true. Wealthy Affiliate has its own independent affiliate program that allows people to promote their service.
Again, If I were to recommend Wealthy Affiliate and someone decided to join through me, I would make a 50% commission, however, it ends right there.
I don't make any commissions on any sales through anyone I invited to Wealthy Affiliate. All sales made through their own personal website is between the Website Owner and the Affiliate Marketing programs they decided to use.
Being that Wealthy Affiliate is a service that allows people to purchase their hosting and domain names, by promoting Wealthy Affiliate people make recurring commissions.
The Fundamentals Of Affiliate Marketing
---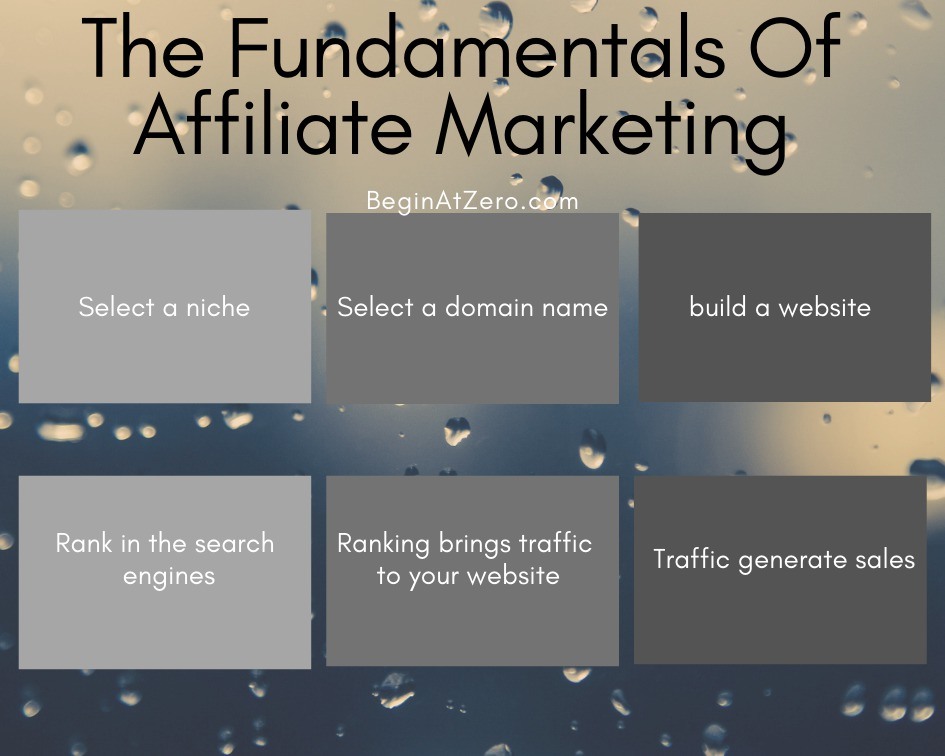 Affiliate marketing is an excellent way to make money online. A service like Wealthy Affiliate does a great job honing in on everything you need to know about affiliate marketing.
It starts with any niche or hobby you're interested in. From there you select a domain name and start building your website.
Once your website is ranking and building authority, you start to get traffic to your website. If people purchase through any of your affiliate links, you make a commission.
There are no complicated comp plans or downlines. It's actually a simple process that can be done by pretty much anyone.
Recurring Sales Is Another Great Way To Make Money Online
---
There are sales made online through one time fees.
Recurring payments are another awesome way to make money online. Sales are made through people who are interested in a membership type of service.
If you look at any bills you have, Yuk that is a recurring bill that you pay on a monthly or yearly basis.
That can also apply to great services that people benefit from if they find great affiliate services that offer recurring payments.
Know that it is a win-win situation though. An example would be hosting services. People who want to be seen online find independent hosting companies that help their websites get seen online.
Yearly and monthly recurring payments are how people make money through affiliate programs. There is no downline there however, people may receive monthly or yearly payments for their recommendation depending upon each individual affiliate program.
All In All
There is a difference between MLM businesses and affiliate marketing. Wealthy Affiliate is a service that has the training to help people succeed by building great businesses online.
There are no downlines or complicated comp plans if you join Wealthy Affiliate. Wealthy Affiliate manages to help people build businesses online for over 10 years.
Know that you are in good hands if you join Wealthy Affiliate. You are building your own brand and not building those MLM brands.
What is your take about Wealthy Affiliate and MLM, Tweet me @evelynbaz!
Wealthy Affiliate
COVID-19 has put a lot of time on our hands. So why not find out how easy it is to build an affiliate business with no obligations. No credit card needed!
We earn a commission if you click this link and make a purchase at no additional cost to you.