Boy, do I write a lot about job listings on this site. I do it because people are looking for legit jobs from home.
The good news is that a lot of companies are gearing towards people working from home. However, we still have a long way to go.
The problem right now is that there are a lot of so-called job listings online that appear to be an appealing work from home opportunity, but when people apply, it's not what it seems.
In this WorkAtHomeJob review, I'm going to let you know my findings. I'm also going to share some tips and why I call it a scam.
Specs About Work At Home Job.net
---
Product Name: Work At Hom Job
Year: 2019
Free Access: Yes
Price: Free
Website URL: workathomejob.net
BeginAtZero.com Overall Rating: 1/10
---
My Take
I've said this before, job listings like Work At Home Jobs.net, I can tell off the bat where it is going to lead people. I've seen so many of these types of listings through the years, and some things never change.
I get it that people who are new to finding jobs from home may feel that every job listing they see is legit.
I hate to say this, but unfortunately, before you apply to any work from home job, research the company first before you apply to anything.
Why Should You Research Companies First
---
Even if you're looking for a job that isn't from home, it is a task. A lot of job listings are old. It is always best to either call companies first or go to the location and apply.
Finding work from home jobs is a little different. Most locations are not local, and they usually want you to apply online.
The problem with that is that there are a lot of scams out there wanting your info. Some of these listings may not necessarily be a scam but use deceptive tactics to get you to join through their link.
If you're looking for work at home jobs like I did back in the day, you're going to find a lot of not legit opportunities.
In one article I wrote, I indicated if a site passed the test or not. I did that because I feel that people who are looking for jobs, should research and I list ways that they can do that.
Let's Go Over The Job Listing
---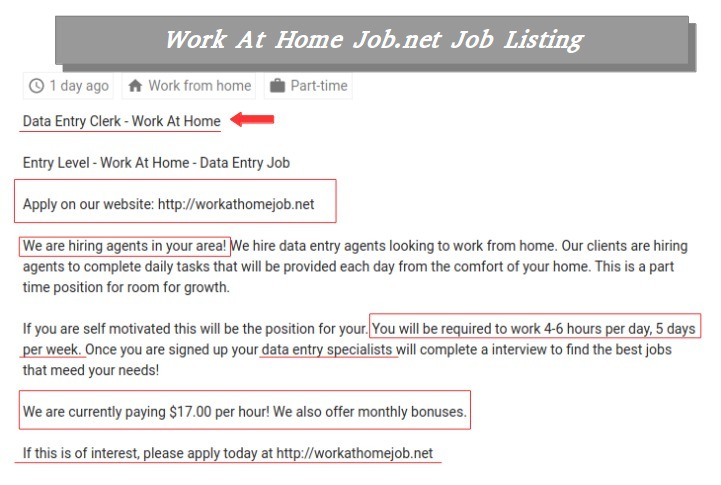 ---
I always say that some of these job listings grab people's attention with the data entry job-wording. As you can see with this job listing above, they use data entry to get your attention.
They say you will sign up as a data entry specialist and you will work 4 to 6 hours 5 days per week.
What is the kicker is that they say it pays $17 per hour. Okay, now people might be interested in that position.
So now they go to the website to start the application process.
What Is Work At Home Job.net?
---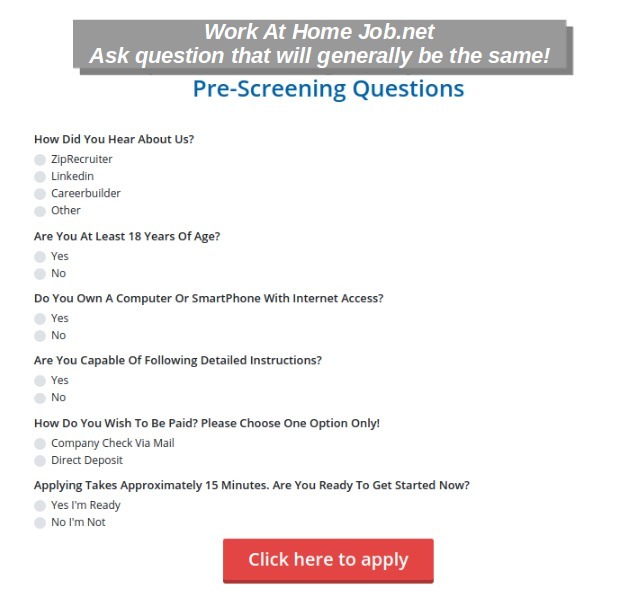 ---
It is a questionnaire site. It shows these job listing sites that there is a website, but the website isn't much.
You are lead to a pre-screening questionnaire. As you can see in the image above, pretty much everyone will answer the same way.
There is nothing specific about these questions. I didn't even answer the questions, and it led me to where they wanted.
Here We Go Again, Another Market Research Company. This Time It's Called LifePoints
---

---
I already knew that this job listing wasn't a job, but another way that it leads people to a market research company.
You will be completing surveys. Anyone can join these sites and the pay isn't what the job listing claims.
Survey sites don't pay $17 per hour. The only data entry you will be doing is placing your data over and over again in these survey sites.
I know because I've done my share of survey sites and the average pay per survey, if you qualify, is $0.50 to $1.
Most of the time, you will spend your time trying to qualify for the survey and not get compensated for that.
You could end up spending hours trying to make money, and at the end of the day, you made nothing or $0.50.
LifePoints Terms Says It All
---
---
I recommend that people read the terms to find out info. I'm going to shed some light here about LifePoints.
I'm not calling LifePoints a scam. I'm pretty sure that a third party site made that job listing to get people to join LifePoints.
If you read number four, it says, and I'm quoting it.
"LifePoints Points can currently be redeemed for gift vouchers."
According to Wikipedia, a gift voucher or gift token is a term people use in the UK. In North America, it's known as a gift card or gift certificate.
So, what happened to that $17 an hour for data entry?
Let's Go Back To That Pre Screening Questionnaire
---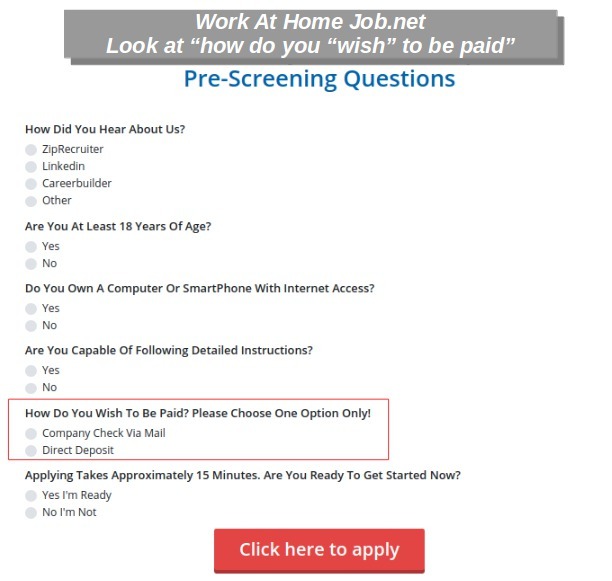 ---
In that pre-screening questionnaire, they asked, and I'm quoting again.
"How Do You Wish To Be Paid? Please Use One Option Only!"
I don't know about you, but the word WISH I believe they mean that literally!
In the questionnaire, they give you two options,
company check via mail
direct deposit
As you can see, there is no gift voucher option in the question.
There Are Other Market Research Companies That Work At Home Job Redirect To
---
If you see job listings by Work At Home Job weather, it's dot whatever, you are lead to a site that asks questions.
These questions they ask are general questions that they know the answer you're going to say.
Then you are lead to a market research company that they want you to join.
They've done this with another site called AOJ AKA American Online Jobs.
And I wrote an article about applying for jobs online.
I feel that people should be cautious because if you're looking for a job, you know that gift cards or gift vouchers aren't going to pay the bills.
Take A Look Here
---

---
I went to Scamadviser to get more info about Work At Home Job and if you look at the image above, someone indicated the same results.
It leads her to American Online Jobs, which is mainly completing surveys and not an actual job.
So Are You Calling Work At Home Job.net A Scam?
---
Yep! In the ad above they said we are hiring agents.
You are not applying for a job.
Not only that, when you get to their pre-screening questionnaire, but you're also not even getting compensated the way it indicated.
In fact, in that article I written about being cautious of jobs online, they pretty much had the same questionnaire.
So know you are not applying for a job, but pretty much signing up to complete surveys.
All In All
It is a good idea to research jobs before you apply. I get it that bills need to get paid when people are looking for employment.
No one has time for games. When a job listing is using deceptive tactics that lead to no employment, it has to be frustrating!
Gift cards or gift vouchers are not a paycheck, nor does surveys pay you $17 per hour.
If you see data entry in a job listing that is an indicator to be very cautious, more often, these so-called data entry jobs tend not to be jobs.
What is your take about WorkAtHomeJob, Tweet me @evelynbaz!
Looking For Ways To Earn From Home?
Check out a list of opportunities!
There are many ways you can earn from home. In this list, you can find other options that can help you make money online. Each opportunity is either earn some extra coins, find work, or start a business. Click the button below to see if any of these options fit your needs.

We earn a commission if you click this link and make a purchase at no additional cost to you.